The 6 Questions That 'Better Call Saul' Season 6 Must Answer
Better Call Saul is returning for a sixth and final season that will show how Jimmy McGill becomes the Saul Goodman (Bob Odenkirk) we all know and love.
Season 5 of the series landed on Netflix in the U.S. and Canada on Monday, April 4 ahead of the show's return to AMC on Monday, April 18.
The drama's 13-episode final season has been split into two parts, with the first half consisting of seven episodes and the second having six to round off the story.
And there is plenty for the Breaking Bad prequel to explain in these final episodes, including some unanswered questions from Season 5.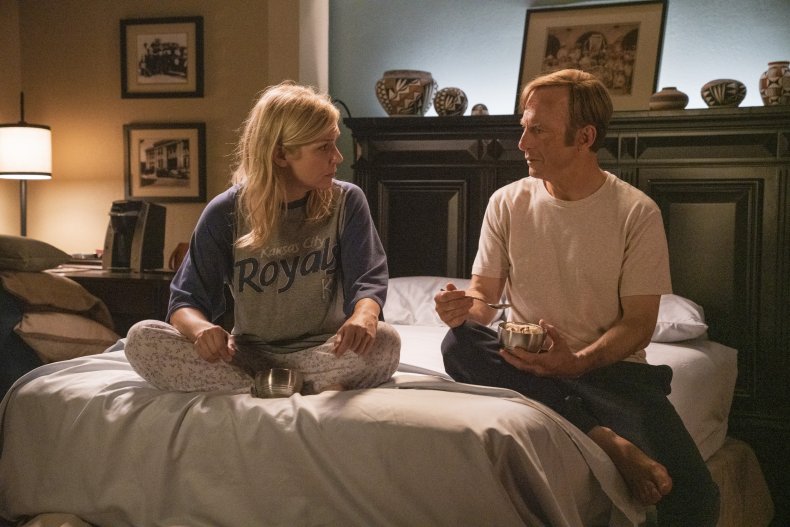 1. Will Lalo Salamanca Kill Nacho Varga?
Season 5 ended on a rather dramatic note, with Ignacio "Nacho" Varga letting in hired gunmen sent by Gustavo "Gus" Fring (Giancarlo Esposito) to kill Lalo Salamanca (Tony Dalton) at his home in Mexico.
The attempt failed and Lalo managed to evade and kill all the men sent after him, but he then realized that it was Nacho who betrayed him.
The finale ended with Nacho escaping into the desert and Lalo in pursuit, so Season 6 will no doubt see the pair go head-to-head at some point, if not instantly.
Nacho's betrayal of the Salamanca cartel will not bode well for his survival, and given he doesn't appear in Breaking Bad it may well mean that Lalo will kill him, though perhaps he'll manage to get away.
Lalo is also a character whose fate remains up in the air because he is not in Breaking Bad, so Better Call Saul Season 6 will need to explain why. Whether it means he'll go down in a hail of bullets is yet to be seen.
2. What is Going to Happen to Kim Wexler?
Like Lalo and Nacho, Kim Wexler (Rhea Seehorn) is a character who isn't in Breaking Bad, so Better Call Saul Season 6 is going to need to address what happened to her for her not to be with her husband anymore.
There are many ways that Kim's storyline could go; she could choose to leave Saul or vice versa, she could end up in prison over her legal conduct, or, heaven forbid, Saul's ties to the cartel could lead to her death.
Kim is important to Saul, and her influence has helped his passion for the law, so the latter option seems unlikely because surely Kim's death would prompt Saul to quit the profession entirely, not double down on being a criminal lawyer.
3. Are Saul and Kim Going to Go Against Howard?
At the end of Season 5 Saul and Kim discuss the Sandpiper case, the lawsuit he started earlier in the show to help senior citizens at the Sandpiper retirement-home chain get money they were owed.
Kim suggests that they could sabotage Howard Hamlin (Patrick Fabian) in order to force a settlement, and this would also see Saul receive a seven-figure sum.
Based on what is shown in the Season 6 trailer it seems that Saul and Kim are thinking of going ahead with their plan, but the question is will their scheme work?
4. How Will Gustavo Fring's Plans Play Out?
Arguably, fans of Breaking Bad already know how things between Hector Salamanca (Mark Margolis) and Gus will play out.
However, it will be interesting to see how Gus' plans in Better Call Saul will lead him to the point he's at in Breaking Bad, especially given he made a move against Lalo at the end of Season 5.
Gus also has yet to complete work on the state-of-the-art meth lab that fans know from Breaking Bad, so how this is finished should be something addressed in the prequel series.
5. Will Walter White and Jesse Pinkman Make an Appearance?
So far, almost everyone who starred in Breaking Bad has made a cameo in Better Call Saul, or been main characters in the case of Gus and Mike Ehrmantraut (Jonathan Banks).
It stands to reason, then, that Breaking Bad's iconic lead duo will also, somehow, make an appearance in Better Call Saul.
Aaron Paul's Jesse Pinkman could easily have a run-in with Saul because he already knew the lawyer in Breaking Bad, but Bryan Cranston's Walter White may be harder to include.
Walt is still the meek chemistry teacher he was at the start of the original, not the power-hungry kingpin he becomes, so it's not clear how he could make a cameo.
But, if Walt can appear in Jesse's spin-off film El Camino he can do it in Better Call Saul, and, let's be honest, show creator Vince Gilligan will surely find a way.
6. How Will Saul Deal With Being Found Out?
At the start of Season 5 Saul, now Gene, was discovered by a taxi driver who recognized him in Omaha, Nebraska in scenes post-Breaking Bad.
The taxi driver all but forces a confession out of Saul but reassures him that he won't tell anyone he's hiding there, but the former lawyer obviously doesn't trust the man and calls Ed (Robert Forster) to get him a new fake identity.
In the last minute, though, Saul decides not to go through with the deal and says he will sort things out himself, so this is one thing the sixth season has to address.
Saul's story needs to reach a satisfying conclusion, in terms of how the prequel leads into Breaking Bad and also what happens to Saul after the iconic show ended, they wouldn't have included these flashforward scenes for no reason.
Gilligan gave Jesse a worthy send-off in El Camino, so it seems likely he'll do the same for Saul in Better Call Saul.
Better Call Saul Season 6 premieres with two episodes on AMC on Monday, April 18.