Better Call Saul is racing towards its dramatic conclusion with a two-part sixth season that'll complete Saul Goodman's (Bob Odenkirk) story.
Season 5 of the AMC series landed on Netflix in the U.S. and Canada on Monday, April 4, so fans might be wondering when the sixth will be released on the streaming platform.
The Breaking Bad prequel will end with a 13-episode season released in two halves—seven episodes in the first and six in the second.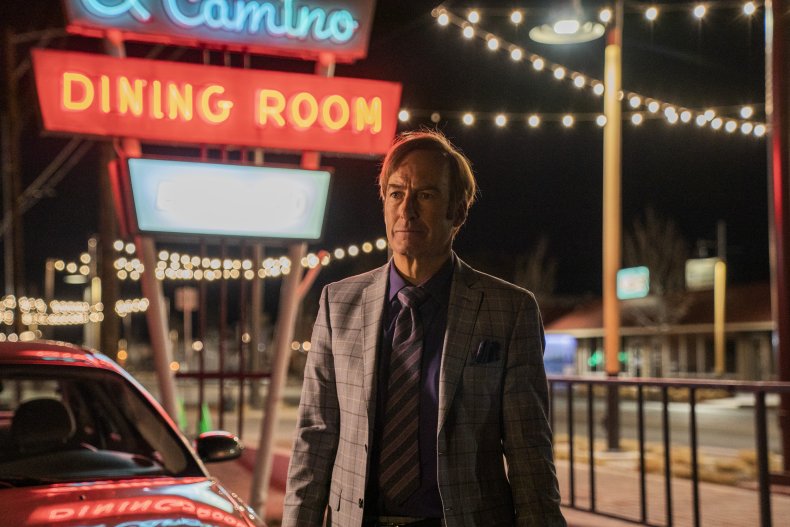 Here is everything that fans need to know about when the show will become available on Netflix in the U.S. and Canada.
When Is 'Better Call Saul' Season 6 Coming to Netflix?
Better Call Saul will see how Jimmy McGill finally transforms into criminal lawyer Saul Goodman fans know and love, as well as what happened to him post-Breaking Bad.
It will also show the conclusion of the cat-and-mouse game between Gustavo Fring (Giancarlo Esposito), Mike Ehrmantraut (Jonathan Banks), Nacho Varga (Michael Mando), and Lalo Salamanca (Tony Dalton).
Better Call Saul airs on AMC in the U.S. and Canada, so it will first be coming out on the channel and its streaming service AMC+.
As with previous seasons of the show, and indeed several over AMC series, Season 6 will be released on Netflix, it just won't be instantly.
In 2011, AMC announced a multi-year deal with Netflix in which it said the streaming platform would have the rights to its shows "just prior to the premiere of subsequent seasons."
This is why Season 5 of Better Call Saul has just been released on Netflix in the U.S. and Canada, as Season 6 is about to start airing on Monday, April 18.
Season 6 of the Breaking Bad prequel will launch with two episodes and then air weekly thereafter until May 23, the second half will then be released from July 11 to August 15.
Given it is the final season of Better Call Saul the last episodes are likely to be released on Netflix after it has come out in its entirety on AMC.
AMC and Netflix have yet to confirm when the final season will become available on the latter, but it is expected to take at least a year so the final episodes are unlikely to be released until April 2023.
Outside of the U.S. and Canada, Better Call Saul Season 6 will be released the day after it airs on AMC, so the two premiere episodes will come out on Tuesday, April 19 and it will then air weekly.
The same will happen with the show's second half, with it landing on Netflix outside of the U.S. and Canada on Tuesday, July 12.
Better Call Saul premieres on AMC with two episodes on Monday, April 18.