'Better Call Saul' Season 6 Release Date, Trailer, Plot
Better Call Saul Season 6 is coming to AMC this April—and "Slippin' Jimmy's" transformation into the Saul Goodman (Bob Odenkirk) we know from Breaking Bad is nearly over.
However, before that transformation is complete (and we finally know how those black and white flash-forwards end), we have a final 13 episodes to enjoy.
AMC has now revealed the Better Call Saul Season 6 release date, and the cast and crew have dropped plenty of hints about what plot details are in store in the final installments of the show.
We also know when the episodes are coming to Netflix.
So, here's what we know about the finale season of Better Call Saul.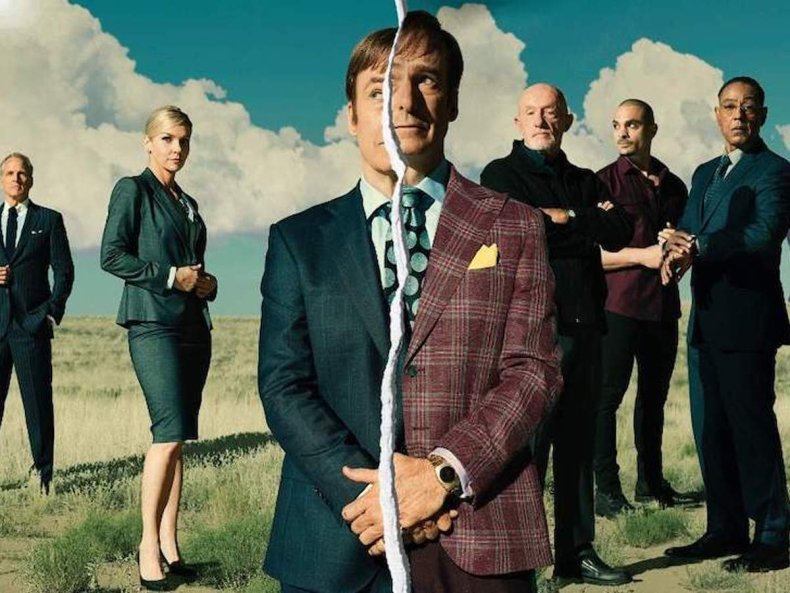 When is Better Call Saul Season 6 Out?
The release date for the Season 6 premiere is set for April 18, when the first two episodes will air back to back on AMC from 9 p.m. EDT.
After that, episodes will air on Sundays at 9 p.m.
Outside of the U.S., meanwhile, those same episodes will air weekly on Mondays from midnight PDT from April 19.
U.S. viewers, meanwhile, will have a much longer wait before Season 6 comes to Netflix. The previous set of episodes only comes to the American version of the streamer the first week of April, so the final season is not expected to have a U.S. Netflix release date until spring 2023.
The final season will have 13 episodes—three more than the show's seasons usually do. However, it will be split into two halves, with Part 1 comprising seven episodes and Part 2 six.
This second part of the season begins on July 11, meaning that the 13 episodes have the following release dates:
Episode 1: April 18, 2022
Episode 2: April 18
Episode 3: April 25
Episode 4: May 2
Episode 5: May 9
Episode 6: May 16
Episode 7: May 23
Episode 8: July 11
Episode 9: July 18
Episode 10: July 25
Episode 11: August 1
Episode 12: August 8
Episode 13 (series finale): August 15
What Will Happen in the Final Season of
Better Call Saul
?
The official AMC plot synopsis reads: "Better Call Saul's final season concludes the complicated journey and transformation of its compromised hero, Jimmy McGill (Bob Odenkirk), into criminal lawyer Saul Goodman.
From the cartel to the courthouse, from Albuquerque to Omaha, season six tracks Jimmy, Saul and Gene as well as Jimmy's complex relationship with Kim (Rhea Seehorn), who is in the midst of her own existential crisis.
Meanwhile, Mike (Jonathan Banks), Gus (Giancarlo Esposito), Nacho (Michael Mando) and Lalo (Tony Dalton) are locked into a game of cat and mouse with mortal stakes."
Of course, the biggest question fans have is what will happen to Kim: after all, she does not appear in Breaking Bad.
In an interview in 2020, showrunner Peter Gould hinted to Deadline that things will not go well for the character. He said: "As [the show] comes to a close, it's a question of where her head is at. Is she going down a bad choice road?...I'm a little bit worried for her."
In a separate interview, Odenkirk told the same outlet: "I can't wait for the fireworks, really... towards the end, it gets super supremely intense."
The trailer, meanwhile, has Mike the Cleaner (Jonathan Banks) declare: "It's not gonna go down the way you think it is."