Tony Dalton Teases 'Shocker' in 'Better Call Saul' Season 6 Part 1 Finale
Better Call Saul's final season may feel like it's only just started but it's already almost at its halfway point, and it's hurtling towards the finale of Part 1.
The Breaking Bad spinoff has seven episodes in its first half and the next six episodes will be released from July 11, bringing the story of Jimmy McGill's transformation into Saul Goodman (Bob Odenkirk) to a close.
Airing on Monday, May 23, Better Call Saul Season 6 mid-season finale is going to be a "shocker" for fans, Tony Dalton, who plays Lalo Salamanca, told Newsweek.
Tony Dalton on the 'Better Call Saul' Season 6 Mid-Season Finale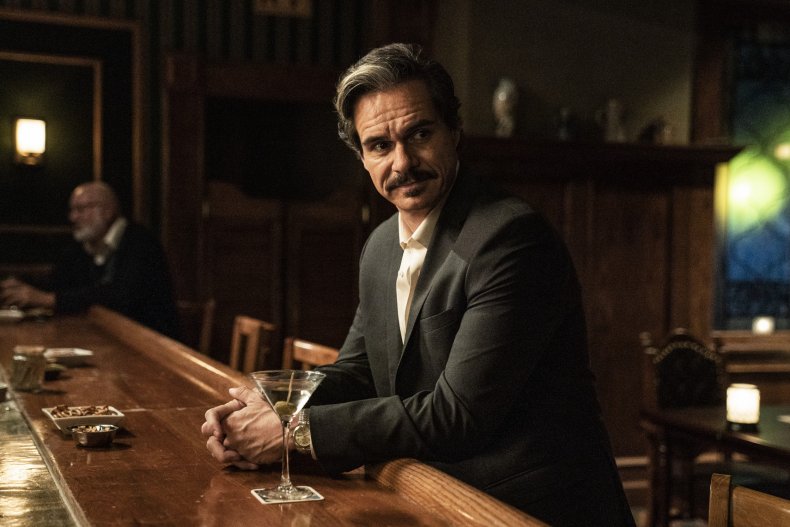 Fans of Breaking Bad will remember how the iconic AMC show's fifth and final season was split into two parts, with the episodes to part 1 and part 2 airing almost a year apart.
Part 1 ended with the dramatic moment when Hank Schrader (Dean Norris) finally realized that his brother-in-law Walter White (Bryan Cranston) was the notorious kingpin Heisenberg.
Better Call Saul Season 6 will have an equally incredible reveal at the end of its first half, Dalton shared with Newsweek, though he was careful not to give any spoilers away.
When asked about how Breaking Bad had a shocking mid-season finale in its last season and if this meant Better Call Saul might have the same, the actor admitted there was a "huge shocker."
Dalton, who portrays villain Lalo Salamanca, said: "I will tell you something, at the end of the first part of this last season, like you said, is a shocker. It's a huge shocker.
"I mean, the way it ends from, I guess it's episode eight or seven, to what's going to happen in the second part it's going to leave everybody with their mouths open, for sure.
"When I read it, I jumped up and down in Albuquerque I was like, 'oh my god, I can't believe what happened.' That's the truth."
Of course this could mean a multitude of things since there are so many stories at play in Better Call Saul Season 6 including with Lalo, who, in Episode 5, was last seen looking for clues to Gustavo Fring's (Giancarlo Esposito) plans at the home of Werner Ziegler's (Rainer Block) widow Margarethe (Andrea Sooch).
Other plotlines in the show include, but are not limited to: How Saul and wife Kim Wexler's (Rhea Seehorn) scheme against Howard Hamlin (Patrick Fabian) will pan out, how Lalo will get revenge on Gus, and also how Walt and Jesse Pinkman (Aaron Paul) may play a part in the show.
What is almost certain is that Vince Gilligan, who created Breaking Bad and is co-showrunner on Better Call Saul with Peter Gould, has no doubt come up with something fantastic to bring the lawyer's story to an epic conclusion.
The Better Call Saul Season 6 Part 1 finale airs Monday, May 23 on AMC at 9 p.m. EDT.