Saul Goodman and Kim Wexler won't fare well in Better Call Saul Season 6, Giancarlo Esposito has suggested in an interview with Newsweek.
Teasing what's to come in the final episodes of the Breaking Bad spin-off, the Gus Fring star shared that things aren't "going to be good" for Bob Odenkirk and Rhea Seehorn's characters.
"Fans can expect to see a very, very different Gus this season... firstly I think we start off right where we left off after Season 5, in a moment that Gus' plans seems to not be going very well," Esposito told Newsweek of his character, who first appeared in Breaking Bad.
"And so, for me, I think you see a Gus who is certainly as calculated as always, and certainly gives the impression that he's ahead of everyone, but a bit frustrated with Lalo Salamanca [Tony Dalton], and with the relationship he has with Mike [Ehrmantraut, played by Jonathan Banks], who is taking orders, but not really.
"Who is allowing a lot of personal feelings to come in to sway him and he tries to sway Gus into making certain decisions that Gus is not going to want to make.
"The hole gets dug deeper and deeper and deeper, as we move into the episodes beyond one and two... that I think our fans can expect to be really titillated, on the edges of their seat, in regards to what will happen."
Going on to tease how Gus' plans and other aspects of the final season will impact couple Saul and Kim, Esposito added: "There's some real danger flash points here that really tie into the world of Saul Goodman.
"S'all good man, but it's not gonna be all good for Saul Goodman soon, and it's not going to be good for Kim Wexler either, his partner in crime.
"So you're going to be really surprised by what happens in the decisions they have to make in their lives, as well and how it connects to Gustavo Fring."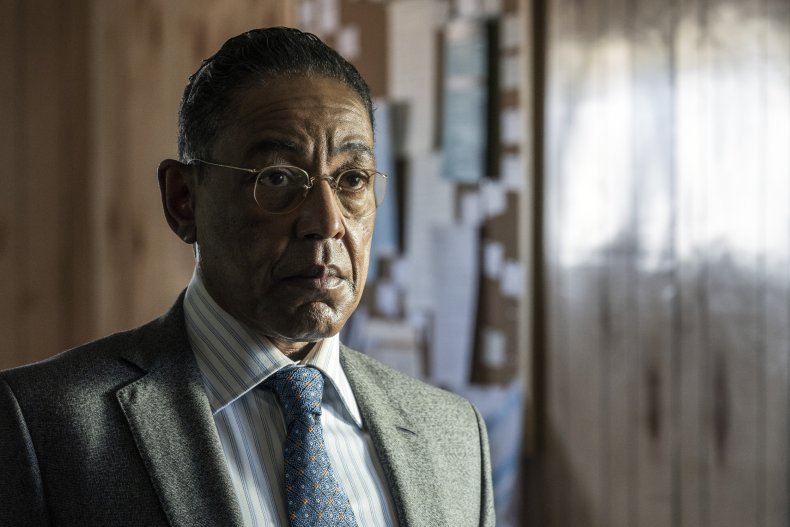 'Better Call Saul' Season 6 is The Best 'By Far'
Michael Mando, who portrays Nacho Varga in Better Call Saul, shared that the show's final episodes were "bigger than life" while speaking to Newsweek alongside Tony Dalton, though he was keen to stipulate how little he could say about it.
"Here's what I can say, to the fans: We love you so much, you're the reason why we still can do six seasons because you guys keep watching, we feel humbled and grateful and responsible to keep giving back," he said before joking: "And what we can tell you... we can't give you any spoilers because we're doing this chat but there's all these AMC people looking at us with snipers and stuff.
"We can't say anything, but what we can tell you is that this season is our best by far. It's bigger than life, it's operatic, it's tragic.
"It's heroic, it's romantic, it's the finale that all the Breaking Bad fans want to see and all the diehard Better Call Saul fans want to see. This is the season for everybody, and we can't wait for you guys to see it."
Sharing a similar sentiment with Mando, Esposito said of Season 6: "There's no way you're not going to be excited and titillated and really, really galvanised by what you're going to see."
Michael Mando on Nacho Varga's Season 6 Journey
Fans last saw Mando's Nacho run away from Lalo's home after letting in mercenaries hired by Gus to kill the cartel boss.
The betrayal of the Salamanca cartel is meant to be his last act as a double agent for Gus, except Lalo survives the ordeal and is seen walking after him in the closing moments of Season 5.
The new episodes see Nacho in a more vulnerable position than he has been in previous seasons, but Mando said he sees his character as one being driven by love, not fear, especially after experiencing his own personal loss.
"Peter [Gould, co-showrunner] and I spoke about this and we were talking about it, I think around Season 4 and we said the love for his father was his weak point, it was his kryptonite," Mando said while discussing Nacho's journey in Season 6.
"His father was such a righteous guy... first Hector Salamanca [Mark Margolis] goes after his father, then Gus Fring goes after his father.
"Both of these families kind of see [Nacho] as this prodigal son, this very valuable person that can help them win the war and he wants nothing but to get out of it. That love of his father was kind of his weakness.
"My father passed away last year, and that's when it changed the way I looked at the character, because I realised that love is not a weakness, it's a strength, and that this character was able to endure so much, because he really, truly loves his father.
"So that to me was really the approach [in Season 6], I realised that it wasn't so much that he was being manipulated and was suffering so much, but it was that he loved so hard that he was able to endure, and walk through the fire. I think that's how it informed me. Love is his power."
Tony Dalton Says Lalo Salamanca Will 'Get Vengeance'
Lalo Salamanca is a character who is very much not driven by love, and, while Tony Dalton did not wish to give away too much about what the ruthless villain has planned, he told Newsweek "vengeance is coming" and added: "He's angry, and he's gonna get his vengeance one way or another."
Dalton also said of playing the character: "This character of Lalo was one of the best ones I've ever had the fortune to be able to play because to begin with he was written as a very sort of happy-go-lucky kind of guy with obviously a very dark and evil side.
"So, to be able to sort of explore those kinds of layers where you can, you know, just have so many different layers to a character that at very top of it he would seem like somebody that you can hang out with and have a good time with, and you can kind of like the guy.
"And then the more you get to know him you know that maybe that's not such a good idea. That's amazing to be able to see how that unfolds, every episode they just kept piling in more information about the character and how to do it. We just had fun with it."
On How 'Better Call Saul' Season 6 Has 'Perfect' Ending
Dalton also shared that it was "bittersweet" to say goodbye to the show, but that the ending showrunners Vince Gilligan and Peter Gould have made is "perfect."
"It's bittersweet because, I mean, you're happy to be working in this wonderful environment with these very talented creators, and actors, and writers, and photographers, and everything, but also everything has to have an end," Dalton said.
"And I think that this is perfect. These guys [Gilligan and Gould], I really think that they thought it through and this is the moment that they decided to finish this up, and I really think that it's perfect.
"It's a testament to their 10-plus years of doing all this, that it's such a complete and perfect sort of ending to this universe.
"I mean, look, the last day of shooting it was sad, I didn't think it was gonna be sad when I was there, I thought I was gonna to be fine and then you get there to set and some people say some nice things and you start getting a little bit choked up, and you go, 'Oh my God, man. I mean, this is it, I might never see these people again,' this was such a wonderful experience but then, on the other hand, it was perfect.
"It was great, it wasn't one of those things where it's like, yeah we're gonna end it because the fans don't care anymore and you guys overdid it too much, and it's 15 seasons later, we're done. It was a perfect moment and these guys did a great, great job with it."
Better Call Saul Season 6 premieres with its first two episodes on AMC on Monday, April 18 at 9 p.m. ET.