'Better Call Saul' Season 6: What's Next for Lalo? Tony Dalton Teases 'Vengeance'
What is Lalo Salamanca's next move? That's the question many Better Call Saul fans have been wondering since Season 6's first episode premiered on Monday, April 18.
In the episode, titled "Wine and Roses," Lalo was last seen readying himself to travel to the U.S. from Mexico using illegal traffickers, only to change his mind and head back after a conversation with his uncle Hector (Mark Margolis) but to where is not revealed.
The character has remained absent ever since, though the threat of his presence was certainly felt in Episode 4, titled "Hit and Run."
Tony Dalton, who plays Lalo, told Newsweek that the villain is planning on getting "vengeance" when he teased what is to come in future episodes.
"He's angry, and he's gonna get his vengeance one way or another," Dalton said of his character's plans post-Episode 1.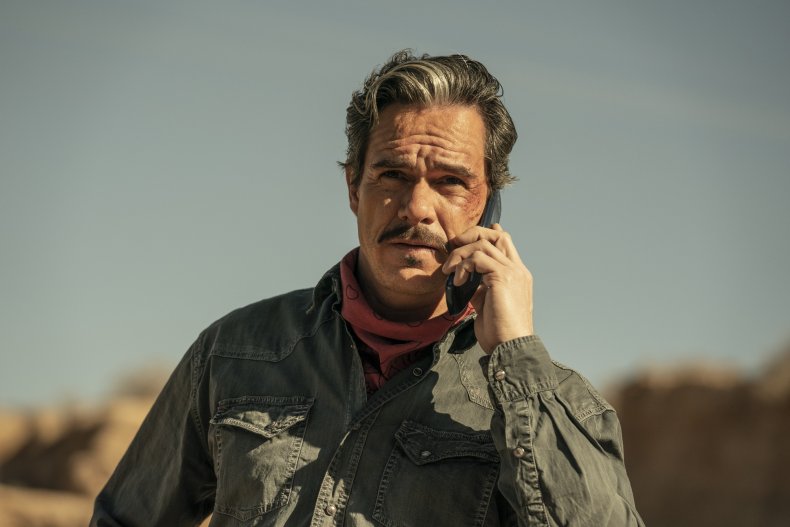 What's Next for Lalo Salamanca in 'Better Call Saul' Season 6?
In "Wine and Roses," Lalo tells his uncle he is alive and it was Gus Fring (Giancarlo Esposito) who tried to kill him, adding that he wanted to kill the Los Pollos Hermanos owner himself, but Hector told him to get proof of his betrayal instead.
Lalo tells his uncle that he knows exactly where to get the proof he needs, and he drives back towards Mexico to find it.
The wording of Lalo's final remark to his uncle suggested that he planned on catching Nacho Varga (Michael Mando), who was on the run, to make him confess it was Gus he was working for, but that clearly wasn't the case following the events of Episode 3.
Episode 3 saw Nacho return to the U.S. with Gus and Mike Ehrmantraut's (Jonathan Banks) help, and he agreed to take the fall and pretend that he was working for a Peruvian cartel in exchange for his father's safety.
Nacho then killed himself in a shocking twist at the end of the episode, so he clearly isn't the "proof" that Lalo is looking for.
Episode 4 saw both Gus and Kim Wexler (Rhea Seehorn) begin to feel concerned about Lalo's whereabouts, both looking over their shoulders—literally in Kim's case—to see if the villain is coming after them.
It almost felt like Lalo was behind the next corner, but Dalton was keen not to give away any spoilers when discussing Better Call Saul Season 6 with Newsweek.
When asked for a teaser about what Lalo was planning, he repeated the word "vengeance" several times and he said that Lalo would get his revenge "one way or another," but on whom is not certain at this point.
What is also unclear is where Lalo has gone because if he is looking for proof then that could lead him to several places, especially given he's not going after Nacho.
There's any number of people Lalo could target, the most obvious is Gus but he could also go after Saul Goodman (Bob Odenkirk) and his wife Kim, as they are still firmly on his radar after their encounters with him in earlier seasons.
Gus and Kim definitely appear to be terrified by the prospect of Lalo coming after them, with Kim worried for Saul as he starts to gain clients because of his connection to the villain, and Gus hiring guards and using surveillance 24/7.
If Lalo is out for vengeance, as Dalton teased, then it seems like the person he'd most go after is Gus, who betrayed him and the Salamanca cartel.
Better Call Saul fans have been asking where Lalo has gone ever since the first episode aired but they will have to wait to find out, though it feels like it won't be long before the other shoe drops.
Better Call Saul continues airing Mondays on AMC at 9 p.m. ET.