Who Dies in 'Better Call Saul' Season 6 Part 1?
Better Call Saul is nearing its end with its final season, which features just 13 episodes to bring the Breaking Bad prequel to a close.
**Warning: This article contains spoilers for 'Better Call Saul' Season 6**
Heading towards the start of the iconic AMC show, which saw chemistry teacher Walter White (Bryan Cranston) turn to cooking Crystal Meth to make money for his family after being diagnosed with cancer, Better Call Saul has a lot of loose ends to tie up.
Unfortunately for fans, this does mean that some characters meet their demise in the spin-off's final episodes.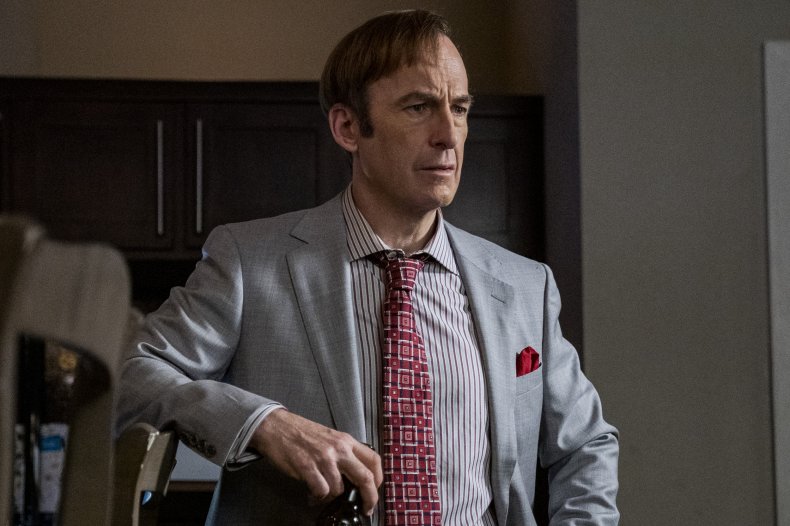 Who Dies in Better Call Saul Season 6 Part 1?
The first major character death to take place in Better Call Saul's final season happens as early as Episode 3.
Titled "Rock and Hard Place," the episode opens with a tracking shot in the desert showing a blue flower growing where others are dead, before it starts raining and the camera pans down to a shard of glass on the ground.
While the scene appears to be innocuous at first, it actually bears significant meaning to what happens later on in the episode.
Nacho Varga (Michael Mando) is still on the run from the Salamanca family after he betrayed Lalo (Tony Dalton) to Gus Fring (Giancarlo Esposito) by letting the Los Pollos Hermanos owner's militiamen into Lalo's home.
In Episode 3, Nacho persuades Gus to help him return to the U.S. from Mexico by agreeing to say whatever the drug cartel owner wants in exchange for the safety of his father from the Salamanca family.
Gus agrees and stages an elaborate ruse to trick the Salamancas into thinking that he had caught Nacho, and was bringing him to the cartel to receive punishment for betraying Lalo.
He tells Nacho he must confess that he worked with a cartel from Peru and had been on their payroll for a year before getting caught. After his false confession he was expected to run past Gus and his men and be shot down.
Nacho is brought to Hector Salamanca (Mark Margolis), his twin nephews Leonel and Marco (Daniel and Luis Moncada), and Juan Bolsa (Javier Grajeda).
At first he keeps quiet, but then Nacho tells them what Gus wanted them to hear: that he worked with a Peruvian drug cartel leader named Alvarez to go after Lalo and he was the one that caused Hector's stroke by swapping out his heart medication.
Nacho then uses a shard of glass to break his bonds and attack Bolsa, taking his gun and holding it to his head as the others train their sights on him.
Rather than run away and be shot down as Gus planned, Nacho chooses to take his own life instead in a shocking twist.
The shard of glass is the same one seen earlier in the episode, and the flower seemingly grew where Nacho fell.
Prior to the show's return, Mando spoke to Newsweek about what was to come and even called the final episodes "tragic," though he never stipulated how and reiterated how little he could reveal.
Mando said: "Here's what I can say, to the fans: We love you so much, you're the reason why we still can do six seasons because you guys keep watching, we feel humbled and grateful and responsible to keep giving back," he said before joking: "And what we can tell you... we can't give you any spoilers because we're doing this chat but there's all these AMC people looking at us with snipers and stuff.
"We can't say anything, but what we can tell you is that this season is our best by far. It's bigger than life, it's operatic, it's tragic.
"It's heroic, it's romantic, it's the finale that all the Breaking Bad fans want to see and all the diehard Better Call Saul fans want to see. This is the season for everybody, and we can't wait for you guys to see it."
Better Call Saul Season 6 Part 1 airs Mondays at 9 p.m. on AMC and AMC+.