Between Missile Launches, China Ally North Korea Lashes Out at U.S. Over Taiwan
In the interim period between launching two sets of missiles over the past several days, North Korea lashed out at the United States over its increasingly intimate ties with Taiwan, which is claimed by China.
Two days after announcing weekend launches of a "new type long-range cruise missiles," North Korea's official Korean Central News Agency published an article Tuesday featuring an article by an analyst criticizing the U.S. for stirring trouble with China as a result of diplomatic and military moves perceived as defying Washington and Beijing's precarious yet formative understanding on the status of the island-based Taipei government.
Kim Myong Chol, who has been cited in lieu of officials in previous commentaries in strictly state-run outlets, recalled President Joe Biden's relaxing of travel and political restrictions with Taiwan in April, a trip by U.S. senators to the island in June, the landing of U.S. military planes there in July and last month's latest arms package from the Pentagon to Taipei.
Kim Yong Chol also remarked on speculation that the Biden administration would extend an invite to Taiwan President Tsai Ing-wen to attend a virtual conference among democratic nations in December, and balked at the U.S. bringing up the subject of Taiwan in meetings with Asia-Pacific allies South Korea and Japan and across Europe.
"The aim sought by the U.S. through its attachment to the sensitive Taiwan issue is to use it as a means for putting pressure on China so as to deter China from making growth, disintegrate the country and stamp out its socialist system in the end," Kim Yong Chol wrote, according to the Korean Central News Agency.
"Preventing division of the country and achieving its unification is an issue pertaining to the sovereignty, security and territorial integrity of China and, therefore, no one is entitled to intervene in it," he added.
Kim Yong Chol went on to accuse the U.S. of seeking to further its extend its global hegemony into the region, and lauded China's response.
"The U.S. moves clearly prove the nature of the American empire that is leaving no means untried in a bid to attain its sordid purpose," he wrote. "Now China is strongly standing against the U.S. moves designed at the permanent division of the country."
Hours after the commentary was published, the South Korean and Japanese militaries announced that North Korea had launched another pair of projectiles, this time two short-range ballistic missiles later revealed by North Korean media to have been fired by a railroad-based platform. The National Defense Ministry of South Korea, officially the Republic of Korea (ROK), confirmed North Korea's report that the missiles flew about 800 kilometers, about 500 miles, and added that they reached a maximum altitude of around 60 kilometers, or 37 miles.
"ROK and US intelligence authorities are analyzing the specific details," the South Korean National Defense Ministry told Newsweek.
State Department spokesperson Ned Price condemned the launches during a press briefing Wednesday, calling them violations of United Nations Security Council resolutions, while at the same time calling for dialogue.
"We do condemn the DPRK's missile launches,'" Price said. "These missile launches are in violation of multiple UN Security Council resolutions, and we know that they pose a threat to the DPRK's neighbors and other members of the international community. We are in the midst of this, committed to a diplomatic approach to the DPRK, and we call on the DPRK to engage in a meaningful and substantive dialogue with us."
But North Korean officials have repeatedly said the U.S. must first drop its longstanding "hostile policy" toward the country before Pyongyang answers the phone.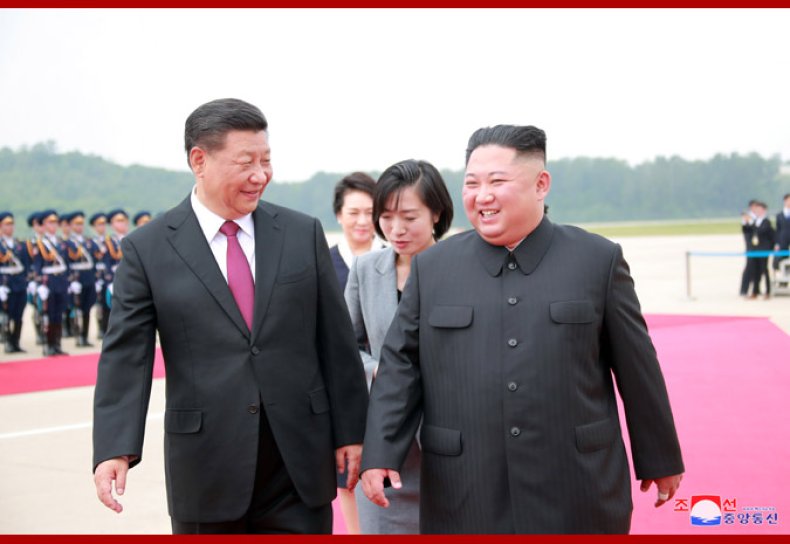 Less than a full year after North Korea, officially the Democratic People's Republic of Korea (DPRK), was established from the Soviet-controlled half of the post-World War II Korean Peninsula in 1948, the People's Liberation Army would declare victory for the People's Republic of China (PRC), the world's largest communist country, as fleeing nationalist forces took refuge in Taiwan.
The following year, in 1950, war broke out between the Soviet-backed and U.S.-backed satellite states of the Korean Peninsula and China came to the aid of the former, leaving a bitter, deadly stalemate that lasts to this day.
And across the Taiwan Strait, the situation is also stuck as both the mainland and the island claim to be the rightful successor to China. Initially, the U.S. and a number of Western countries recognized Taiwan, but the majority of those opposed to Beijing would come around in the decades to come, leaving Taipei today with only 14 countries, as well as the Vatican.
Washington's turn came in 1979 and, in doing so, the U.S. severed official relations with Taiwan. This move was central to the U.S. "One-China policy" that recognizes China's sovereignty—but not China's "One-China principle" position of claiming Taiwan—as well as three joint communique dictating newfound ties between Washington and Beijing.
But these ties have frayed significantly in recent years, especially under former President Donald Trump's administration, which expanded U.S. interactions with Taiwan. His successor, Biden, has so far followed suit, further angering China, which has vowed to reunify with Taiwan, by diplomacy or force, if necessary.
In his commentary, Kim Myong Chol felt Beijing had every right to be upset.
"The U.S. hell-bent on the preparations for a new war is steadily building up armed forces in and around the Korean peninsula in its persistent moves to perpetuate the division of the Korean nation and territory and disrupt peace and stability in the region," he wrote.
And he vowed North Korea's support for defending China's sovereignty and their shared ideology.
"The Korean people reject the U.S. moves for interference in the internal affairs and division and will always stand with the Chinese people on the road for defending the socialist cause," Kim Myong Chol wrote.
Both Koreas also officially believe in reunifying their sharply divided peninsula, but the two rivals have not even managed to establish a peace treaty to officially end their Cold War-era conflict.

Hopes for such an agreement hit a potentially all-time high in 2018 and 2019 as the U.S., South Korea and North Korea held a series of separate summits seeking to produce a framework for North Korean Supreme Leader Kim Jong Un abandoning his country's nuclear weapons in exchange for peace with the U.S. and South Korea and relief from international sanctions.
But no deal would emerge and talks unraveled in the years since, leaving the Korean Peninsula once again rife with tensions. South Korean President Moon Jae-in continues to pursue hopes for inter-Korean reconciliation in his final months in office, while Biden's foreign policy has been wracked with a number of other pressing, high-profile issues.
A meeting held Tuesday in Tokyo among senior officials tasked with handling the North Korea issue from the U.S., South Korea and Japan produced little new language on the matter. That same day, however, Chinese Foreign Minister Wang Yi traveled to Seoul to meet his South Korean counterpart, Chung Eui-yong, signaling Beijing's desire to maintain close ties on both sides of the Korean Peninsula.
While Japan has issued more committal language on Taiwan's defense in recent months, South Korea has sought to steer clear of the issue, and of the overall worsening dispute between the U.S. and China, which is South Korea's top trade partner.
After The Korea Times published a commentary last month by Taiwan Foreign Minister Joseph Wu calling for greater support from Seoul, Chinese ambassador to South Korea Xing Haiming, who derided the rival diplomat's "despicable action."
"There is only one China in the world, the government of the PRC is the only legitimate government representing the whole of China, and Taiwan is an inalienable part of China's territory," Xing wrote. "The one China principle is a basic norm governing international relations and a universal consensus of the international community."
And he concluded by urging South Korea to also uphold this understanding.
"The next year will present important opportunities to deepen bilateral ties," Xing wrote. "So I sincerely hope that all sectors of South Korea's society, including media, will never forget the original intention of the establishment of our bilateral relationships, upholding a correct position on Taiwan-related issues and take concrete common actions to protect the political foundation of China-ROK relations."
"Therefrom our bilateral relationship will maintain sustainable development and move to the next level," he added.