How Hillary Clinton Wound Up Trading Owns With Zach Galifianakis on 'Between Two Ferns'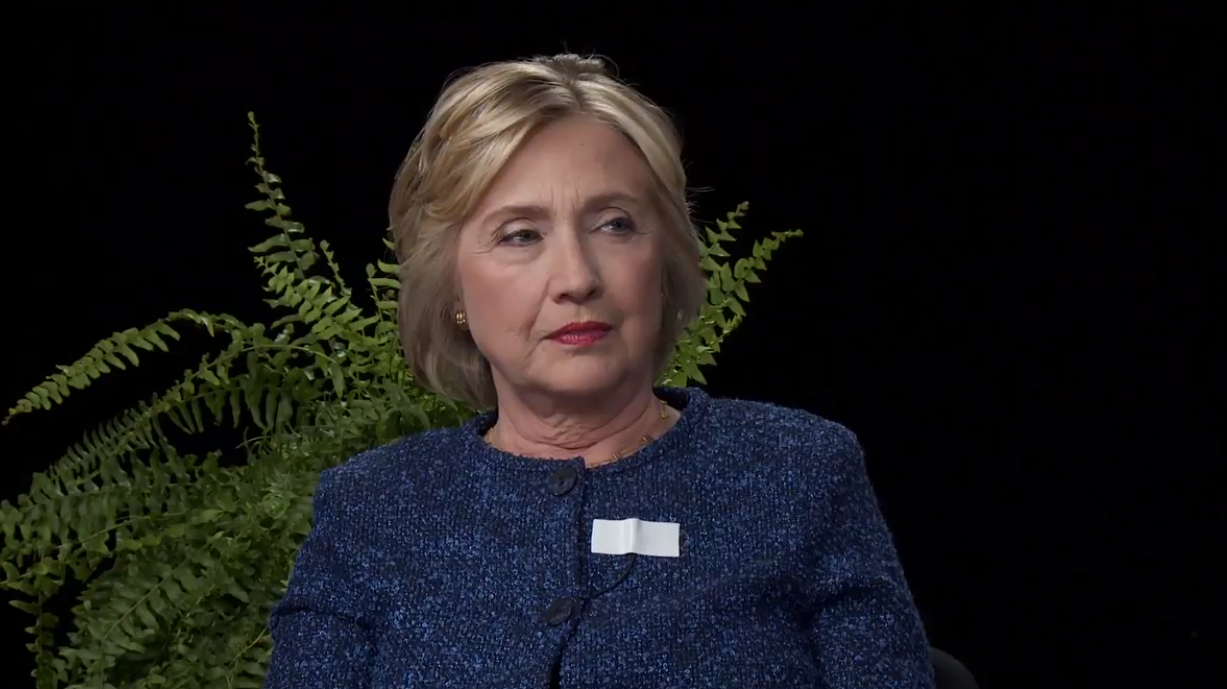 On a funny new episode of Between Two Ferns, Hillary Clinton seems a little exasperated as she endures a tortured line of questioning from Zach Galifianakis. "I really regret doing this," the Democratic nominee deadpans at one point, and it can be tough to tell whether she is joking.
She is. In fact, the entire episode was Clinton's idea.
While meeting with the Senate Democratic Caucus this summer, Clinton mentioned that she had watched President Barack Obama's 2014 Between Two Ferns appearance and thought it a great way to reach young people. The president had used the comedy series, which is featured on the site Funny or Die and designed to parody a low-budget public-TV show, to plug his Affordable Care Act.
"Ms. Clinton actually told her people that she wanted to do it," says comedian Scott Aukerman, who co-created Between Two Ferns in 2008 and directed this episode. That was a surprise, he told Newsweek. "I'm always surprised when anyone wants to do it. Our jokes in them are kind of hard.... We were genuinely surprised when she was willing to just, like, be roasted like that."
The episode was filmed in New York on September 9, the same day Clinton was diagnosed with pneumonia. There is no evidence of her illness in the clip, and her health is not brought up during the interview. (It would become a campaign issue two days later, when Clinton became "overheated" at a September 11 remembrance event at Manhattan's Ground Zero.)
Galifianakis typically plays the role of a bumbling host who asks awkward, clueless questions. (His roast of Justin Bieber has become somewhat legendary.) He did not break character for the former secretary of state: In the video, Galifianakis asks her what she will wear to the debate, if she's excited to be the "first girl president" and whether she will lead a civil war against Donald Trump if he wins the election.
Clinton has some decent comic timing. Asked what might happen if she gets pregnant during her presidency, she responds, "I could send you some pamphlets that might help you understand." When the jokes turn lewd—like a reference to Trump's "huge" bowels—the nominee awkwardly scoffs and shakes her head.
Some viewers have expressed surprise with what Galifianakis got away with. (The segment concludes, for instance, with a dig at her email use.) But Aukerman says nothing was off-limits and none of the questions were cleared in advance by Clinton's campaign. The interview itself was largely improvised.
"This was surprisingly pretty relaxed of a shoot," says Aukerman, whose Comedy Bang! Bang! show is premiering next month. "They were supportive of what we had to do to make a funny video.'" Galifianakis is usually nervous, because he feels bad about playing such an ass, but he was put at ease. During the shoot, he bonded with Clinton over an obscure novel he was reading.
"It always starts off with all of us hoping it'll go well and nothing will be considered too insulting. [Clinton] laughed at one of the early jokes, and we just immediately felt relaxed, like, 'OK, she gets it,'" says Aukerman.
Clinton's campaign likely saw the video as a guaranteed way to reach millennial voters, who remain skeptical about the Democratic candidate. Clinton's press office did not immediately respond to questions about the segment, but the video has already gone viral and received several million views.
Will Trump be making his own Between Two Ferns appearance soon? There are no plans for that.
"I can't imagine a situation in which he would feel comfortable doing it," says Aukerman. "I can't imagine he would ever agree to it."