Beyoncé LGBTQ Fans in Dubai Speak Out Over Concert Backlash
Beyoncé has been criticized by Western LGBTQ people after she performed an exclusive concert in Dubai, part of the Gulf nation of the United Arab Emirates (UAE), where homosexuality is illegal.
People claimed she should have boycotted the UAE over its laws but LGBTQ people there are not sure what all the fuss is about, describing it as a "non-issue."
The singer was reportedly paid $24 million to perform at the grand reveal of Dubai's latest luxury hotel, Atlantis the Royal on January 21.
While she performed 19 songs during the invite-only event, none were from her most recent album, Renaissance, which has been hailed as a tribute to Black LGBTQ culture.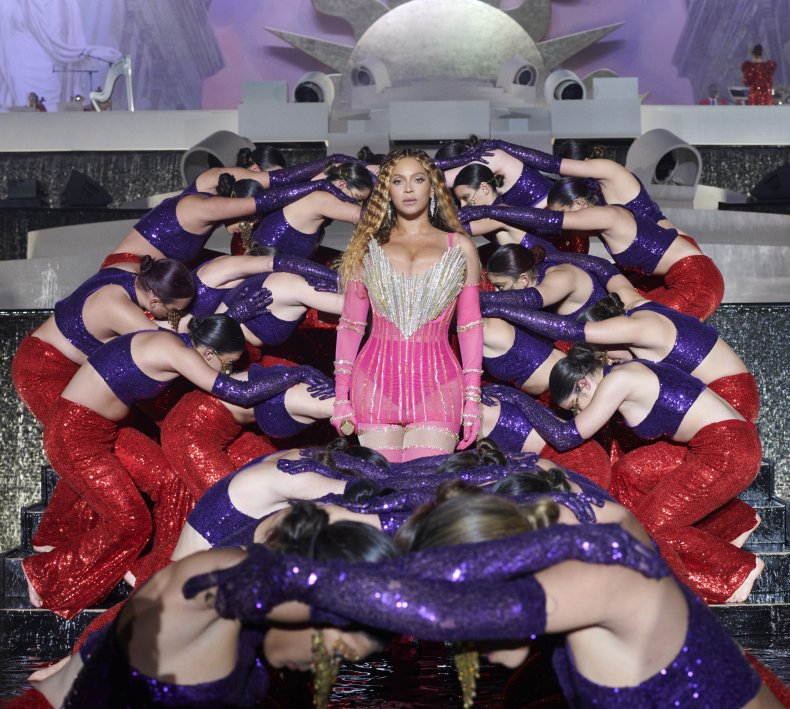 Following her performance Beyoncé came under fire for performing in Dubai where consensual same-sex male sex is punishable by up to 10 years in prison, according to Article 117 of the UAE's penal code.
"Sorry, Bey. Love ya and all but Dubai ain't it. It's not like you need the money. You've just made a pretty f***** gay album and you repay your LGBT fans by performing in a city that outlaws our existence. Not cute.@Beyonce," tweeted one fan.
Another added: "Playing for Dubai, who criminalizes being gay. You are bad person for that. You take money from people who hate gay people. They will kill gays. You accepted millions. Shame on you and your family."
But those sentiments were not necessarily shared by Emirati LGBTQ people themselves.
"Honestly we always had world class performers visit Dubai that identify as LGBT or are allies," queer Emirati woman, Malika*, told Newsweek, pointing out that the likes of Lady Gaga, Elton John, Adam Lambert and Boy George have all performed there.
She added: "From my circle, none of us discussed the significance of Beyoncé performing here for the queer community, so it was quite surprising to see the reaction from international audiences."
'Exclusive gig'
JBB*, a gay man born and raised in the UAE, described how the LGBTQ community there was actually more disappointed with the fact it was an exclusive gig.
"Why not make it public?" he told Newsweek. "Her fans are always her fans and even though the country is against LGBTQ by law, whoever loves her still wants to go to her concert, like any other country,"
He also said he "wished people could understand" what the life was actually like for LGBTQ people in the UAE and expressed frustration at the Western notion that it was an oppressive "super harsh" existence.
"People from abroad always ask me 'is it safe?' My opinion is 'why would it not be safe?' I've lived my whole life here, I'm making friends, I'm going out as much as I want," JBB explained.
He even described regular LGBTQ events that are organized in Dubai that receive police protection and even a weekly event that the government has full knowledge about because "it's not easy to do something as big as this event without the government knowing."
"It's not as scary as it seems for people outside," he said. "The stereotype is changed when someone comes here and sees it's not that at all."
Malika added that she believed "the outrage comes from an international audience with little knowledge of the UAE and the type of events that periodically take place here."
While the locals there thanked "international LGBTQ activists out there" for their support, Malika reminded them "don't speak on behalf of us," especially because "your actions can be detrimental to our safety."
This sentiment was also expressed by LGBTQ people in neighboring Qatar during the recent FIFA World Cup.
"We might be silenced legally and for security purposes but we have ways to be heard," Malika said. "We live in an extremely volatile region politically, that's undergoing rapid changes."
'Treading carefully'
"Some of these changes are affecting rights and liberties for minorities, women, LGBTQ and many more. We are treading carefully by claiming our right to exist without risking the safety of us and our community. Please don't speak or act on our behalf."
For legal expert Radha Stirling, Beyoncé's concert sends a "mixed message" to foreigners hoping to visit the UAE while "whitewashing" the reality of the laws there.
Stirling founded Detained in Dubai, a legal advocacy and human rights group helping people escape "unjust detention and wrongful prosecution" in the UAE and the wider Gulf region.
"Celebrities performing in Dubai send a mixed message to fans that the UAE is a tolerant country and while tolerance might extend to celebs wearing skimpy clothing or sharing a hotel room with their same sex partner, it doesn't necessarily extend to the visiting population," she told Newsweek.
"Fans who follow their favorite singer to Dubai could face extreme human rights violations if accused of infringements of the UAE's strict homosexuality, offensive behavior and alcohol consumption laws," she said.
Stirling added: "Celebrities like Beyoncé who perform in the UAE are whitewashing the country and putting fans in danger of being arbitrarily detained and subject to forced confessions, human rights violations and torture."
JBB explained he had many trans friends who lived openly and that the UAE's laws were mainly understood by locals to prevent public acts of indecency and nudity which he said also existed in "many other countries."
Despite JBB's experiences, the UAE ranked a low 10 out of 100 on Equaldex's equality index for LGBTQ rights. The index measures anti-discrimination legislation and laws about conversion therapy, military service, marriage equality, censorship and other issues.
In 2022 the UAE banned the Disney film Lightyear over a same-sex kiss and there has been a recent crackdown on the LGBTQ community in the UAE, including the closure of a bar. This mirrors a trend across the Middle East and Turkey, but one academic has claimed LGBTQ people are being used as political pawns.
"Saudi Arabia and the UAE have been re-framing their relationship with Israel, which is highly unpopular with some parts of the population," Mostafa Minawi, a professor of Middle Eastern and Ottoman history at Cornell University, told Deutsche Welle in 2022.
"So what better method is there to send a message to the local population that they are still holding on to their traditions?" he asked.
*These names have been changed to protect their identities.