Beyoncé's Grammy Post Sparks Conspiracy Theory
Beyoncé sparked a Grammy conspiracy theory online when she shared a celebratory post for this year's award wins.
The legendary singer was nominated for nine gongs, and won four prizes at the 2023 Grammy Awards: Best Dance/Electronic Recording, Best Dance/Electronic Album, Best Traditional R&B Performance and Best R&B Song. She won the most awards at this year's ceremony, tied with the group Maverick City Music.
Beyoncé's prizes made her the most successful artist in Grammy Awards history, with 32 wins in total.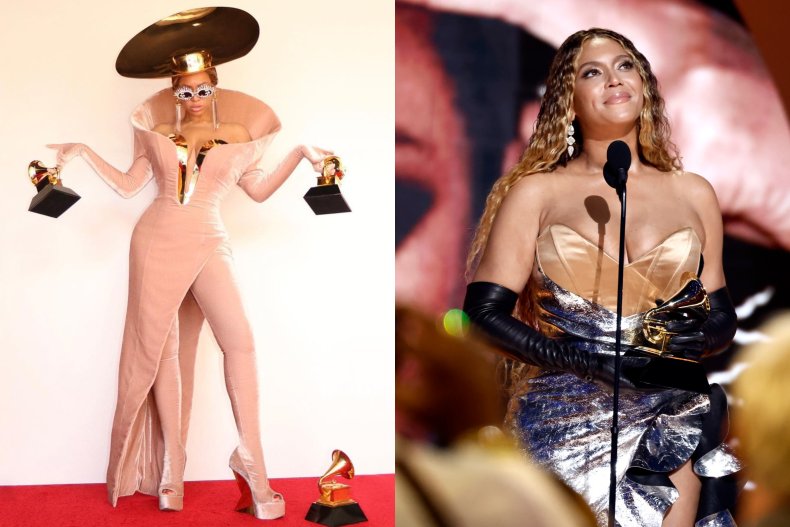 Suspicions were aroused online among some people when Beyoncé shared a post on Instagram posing with some Grammy Awards and writing a thank you to her fans. Twitter users discussed the post, claiming that it seemed as if she had known beforehand because the picture was "taken and drafted," while others suggested she also stood up before they announced her name as the winner.
On Sunday night, while the 2023 Gammy Awards ceremony was still in full swing, Beyoncé wrote a social media post that celebrated winning just three awards.
"We won 3 y'all," the Instagram post read. "To my Hive, thank y'all so much for all of your love and loyalty! Big thank you for the BREAK MY SOUL and CUFF IT wins!!! To The Dream, Tricky, HOV, and Big Freedia. I love y'all!"
Beyoncé continued by thanking members of her team and continued: "It feels great to be honored for the vocal performance. Thank you to all the talented vocalists who killed those beautiful TikTok renditions! I feel very grateful and filled with joy!"
The accompanying picture showed Beyoncé posing with two Grammy Awards in her hand, and another placed at her feet. It was posted while the ceremony was ongoing, and before she'd won her fourth award.
"So she's not winning more..." one Twitter user commented after it was shared across social media. "So she's leaving!?!?" asked another.
Others (correctly) assumed the post meant she wasn't going to win the coveted Album of the Year prize.
Sharing their suspicions, Twitter user @felipemnzp wrote: "So they all know beforehand cause why was this pic taken and drafted."
Weighing in, advertising exec Michael J. Miraflor added: "Feel like she got up before they called her name."
"I knew Beyoncé wasn't winning when she posted her Instagram post about her 3 wins waayyyyy before the show ends," wrote @DrunkOffPain on Twitter.
Te Album of the Year prize was won by Harry Styles' Harry's House, which beat Beyoncé's Rennaissance. He also beat Adele, Lizzo, ABBA, Bad Bunny, Mary J. Blige, Coldplay, Brandi Carlile and Kendrick Lamar.