Beyoncé Inspires A New Meme Thanks to Her Expressive Grammys Reactions
Beyoncé made history at last night's Grammys, becoming the woman with the most Grammy wins of all time—but the "Halo" singer is also the inspiration behind the birth of a new meme.
Thanks to the singer's expressive reactions at the 63rd Annual Grammy Awards ceremony on Sunday night, Queen B is now a new meme with thousands of tweets joining the new trend.
The queen of R&B and pop now has 28 Grammy Awards after netting four more trophies on Sunday but was nominated for nine awards in total this year.
"I am so honored and I am so excited, thank you guys," the singer said when she stepped onstage to accept the award for Best R&B Performance. "As an artist I believe it's my job and all of our jobs to reflect the times and it's been such a difficult time. I wanted to uplift and encourage and celebrate all of the beautiful Black queens and kings that continue to inspire me and inspire the whole world."
She continued: "This is so overwhelming. I've been working my whole life since 9 years old."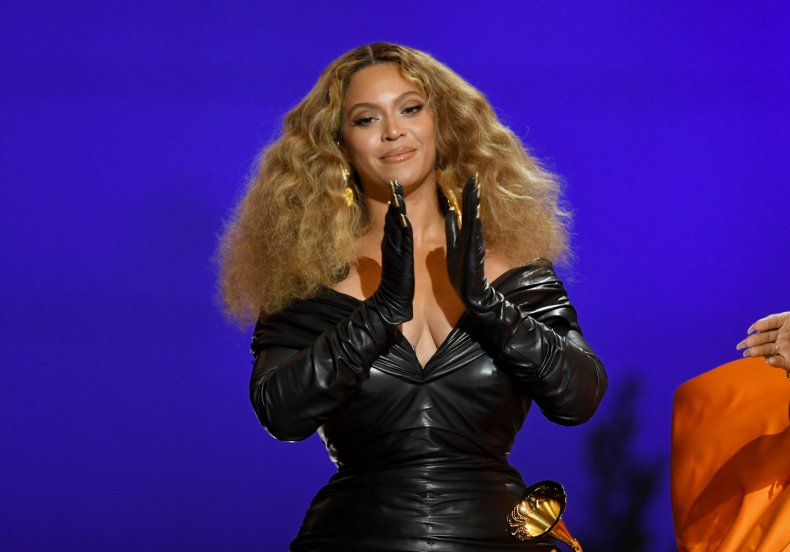 Many of Beyoncé's nominations this year were for her song "BLACK PARADE" and the corresponding visual album Black Is King. Three of the nominations are also for Megan Thee Stallion's "Savage" remix, which Beyoncé is featured on.
Megan Thee Stallion also made history when she became the first female artist to win the best rap song award, a moment that she shared with her collaborator Beyoncé.
While Megan was giving her acceptance speech, Beyoncé's facial expression birthed a brand new reaction meme.
"Beyoncé just realized she was Beyoncé while on stage," joked one Twitter user. While another added: "Beyoncé's face is me on every Zoom call."
Another person joked: "beyoncé's face after she was told she's been tied with the most grammy wins in history." While another added: "Beyonce's face is all of our faces when they say WFH is no longer needed and everyone can come back into the office. #GRAMMYs."
"I definitely want to say thank you to Beyoncé," Megan said in her acceptance speech. "If you know me, you have to know that ever since I was little I was like you know what, one day I'm going to grow up and I am going to be like the rap Beyoncé—that was definitely my goal.
"And I remember I went to the rodeo for the first time and I saw Destiny's Child perform and I was like, 'You know what? Yes, I'm about to go hard. I love her work ethic, I love the way she is, I love the way she carry herself.'"
The "Captain Hook" rapper added: "And my mama would always be like 'Megan what would Beyoncé do?' And I'm always like, you know what, 'What would Beyoncé do, but let me make it a little ratchet.' Thank you, Beyoncé for your encouraging words all the time."