Beyoncé Now Has More Grammy Awards Than Any Other Female Artist
Beyoncé made history at the 63rd Annual Grammy Awards on Sunday night, by becoming the woman with the most Grammy wins of all time.
With her four wins on Sunday, the queen of R&B and pop now has 28 Grammy Awards to her name, more than any other female artist. The previous holder of that record was country and bluegrass artist Alison Krauss, who has won 27 Grammys in her career. Krauss' most recent Grammy win was in 2012, when she won Best Bluegrass Album for her 2011 album Paper Airplane under the band name Alison Krauss & Union Station.
"I am so honored and I am so excited, thank you guys," the singer said when she stepped onstage to accept the award for Best R&B Performance. "As an artist I believe it's my job and all of our jobs to reflect the times and it's been such a difficult time. I wanted to uplift and encourage and celebrate all of the beautiful Black queens and kings that continue to inspire me and inspire the whole world."
She continued, saying, "This is so overwhelming. I've been working my whole life since 9 years old."
Beyoncé was nominated for nine awards total during the 2021 ceremony. Most of them are for her song "BLACK PARADE" and the corresponding visual album Black Is King. Three of the nominations are also for Megan Thee Stallion's "Savage" remix, which Beyoncé is featured on.
So far on Sunday, Beyoncé has won awards for Best Rap Performance and Best Rap Song, both alongside Megan Thee Stallion, for the "Savage" remix; Best R&B Performance, for "BLACK PARADE"; and Best Music Video, for "Brown Skinned Girl." The latter win also marked the very first Grammy Award for Beyoncé's 9-year-old daughter Blue Ivy Carter.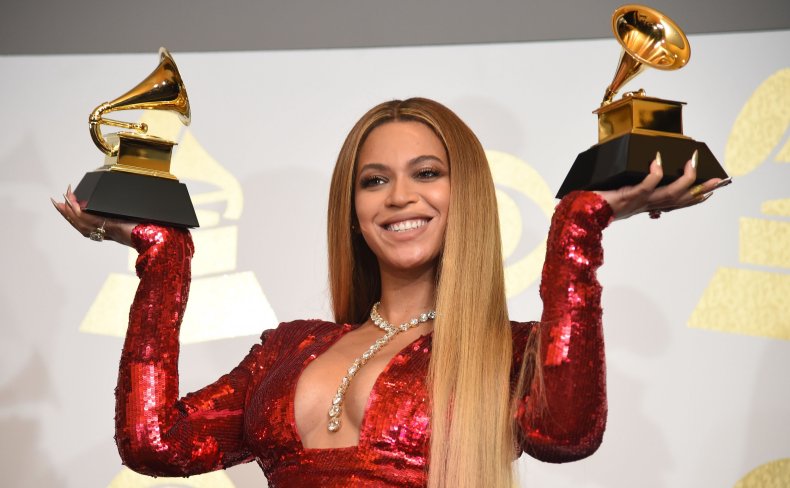 There's a chance that Beyoncé could set one more record on Sunday night. With just one more win, she would have more Grammy Awards than any other living artist.