Beyoncé's 'Renaissance' Horse Imagery Sparks 'Apocalypse' Theories
Queen Bey's return is imminent and following the release of new track "Break My Soul" last week, Beyoncé has unveiled the artwork for her upcoming album Renaissance, her seventh studio album.
The majestic album cover features the icon sitting atop a silver holographic horse, wearing a custom diamond-encrusted body harness.
While Beyoncé is no stranger to working with horses and has many times throughout her career, this latest artwork has sparked some bizarre but fascinating comparisons as the Beyhive attempts to uncover secret metaphors and meanings.
Twitter is convinced that in her Renaissance imagery, Beyoncé is referencing the Four Horsemen of the Apocalypse.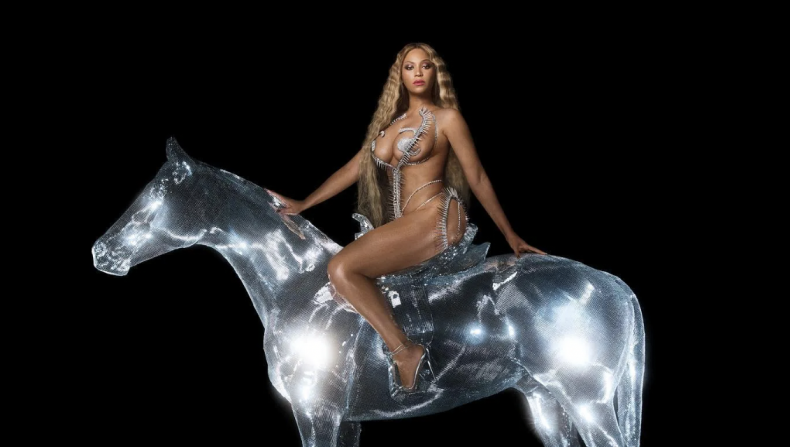 Here's why: In July 2020, Beyoncé sat atop a white horse in the Black Is King movie and in August 2022 she posed with a black horse for Harper's Bazaar.
While last week she graced the cover of British Vogue on a red horse, then finally the holographic horse on the Renaissance cover was unveiled last week.
This must mean something? Or, are fans just being "corny with that Illuminati mess" as Bey said herself on "Formation"?
Regardless, the horse imagery is striking and the different colored horses could represent the Four Horsemen of the Apocalypse—Christ, War, Famine, Death.
According to Britannica: "The first horseman, a conqueror with a bow and crown, rides a white horse, which scholars sometimes interpret to symbolize Christ or the Antichrist; the second horseman is given a great sword and rides a red horse, symbolizing war and bloodshed; the third carries a balance scale, rides a black horse, and symbolizes famine; and the fourth horseman rides a pale horse and is identified as Death."
In Christianity, the Four Horsemen are often interpreted as harbingers of the end of days, or the apocalypse.
"Beyoncé thinks about the smallest details always," said one comparison on Twitter.
While another added: "The Beyhive is buzzing and theorizing about the possible relation between Beyoncé's recent appearances with horses and the Four Horsemen."
Another fan tweeted: "Four horsemen of the apocalypse, I'm praying Illuminati Beyoncé is back."
Another added: "Beyonce channeling the four horsemen as a symbolism of the ordeals the planet has gone through in the past 2 years and that it is the sign of the times indeed."
The first track from the new album "Break My Soul" was released last week to huge acclaim. Fans hailed its anti-work sentiments, with many joking that they were ready to quit their jobs as soon as they listened to Beyoncé's track.