Beyoncé's 'Break My Soul' Hailed as Anti-Work Anthem: 'Release Your Job'
The Queen Bey has spoken and her fans are listening, as Beyoncé's latest song is seemingly convincing people to quit their jobs.
"Break My Soul" was released on Tuesday to huge acclaim from her fans, and they're already taking her lyrics to heart. The track is the first to be released from her upcoming album Renaissance, her seventh studio album.
As expected, any new material released by Beyoncé was met with a huge reaction online, but many of her fans took the lyrics to "Break My Soul" almost literally with its anti-work sentiments.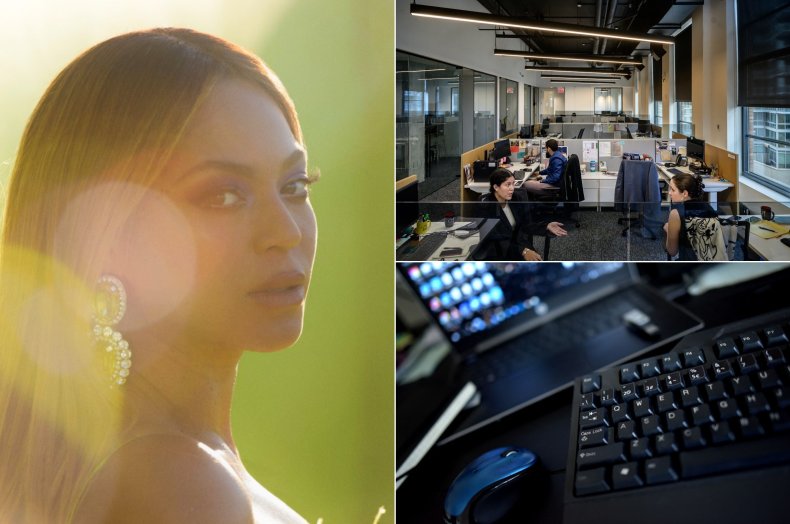 The upbeat party anthem includes a male voice singing the lyrics:
"Release your mind,
Release your job
Release the time
Release your trade
Release the stress
Release the love
Forget the rest."
Expressing their reaction via a meme, writer Meech implied they were ready to quit their job as soon as they listened to Beyoncé's track.
Many users online compared Beyoncé's comments to Kim Kardashian.
Kardashian had recently received backlash for telling people to "get up and work" while the Queen Bey counters that by telling people to quit their jobs.
"Beyoncé made a "tired from work" anthem, it's like she knows me personally," wrote Netflix employee Joi Childs.
British journalist Faima Bakar joked that the release of "Break My Soul" was incredibly timely as it was released on the same day many U.K. train workers were on strike.
"Beyoncé dropped an anti-work anthem on the first day of the biggest strike in 30 years? She supports unions!!" Bakar wrote.
A CNN reporter had a word of warning for Beyoncé passionate fanbase who were taking her lyrics to heart. "Don't let Beyoncé & her amazing new song leave you homeless and in debt! she said on Twitter.
Entertainment content creator Jack Remmington called "Break My Soul" Beyoncé's updated version of Dolly Parton's "9 to 5."
Beyoncé's song also includes lyrics which seem to reference the COVID-19 pandemic and the advise to wear a mask. She sings:
"And we back outside
You said you outside but you ain't that outside
Worldwide hoodie with the mask outside
In case you forgot how we act outside"
Many Twitter users picked up on Beyonce's advice here, but Los Angeles Times Health Reporter Marissa Evans made a prediction about who would use the lyrics next.
"Waiting patiently these next few days for a public health department to somehow attempt using Beyoncé saying "worldwide hoodie with the mask outside in case you forgot how we act outside" as part of their COVID-19 masking strategy," the journalist wrote.
Many fans of the song tweeted the lyrics, telling everyone to put a mask on.
The "Break My Soul" lyrics video is available on Beyonce's YouTube channel now, but an official music video has yet to be released.
The song is taken from the upcoming album Renaissance which is due to be released on July 29, 2022.