Bhad Bhabie Calls out Dr. Phil for Distancing Himself From Turn-About Ranch Allegations: 'Sexual Abuse, Murder, Torture'
Rapper and social media influencer Bhad Bhabie released a video on Wednesday calling out TV personality Phil McGraw (aka Dr. Phil) for distancing himself from abuse allegations that she has made against a teen boarding ranch his show is connected to.
Bhabie, whose given name is Danielle Bregoli, said last month that she was forcibly taken to Turn-About Ranch in Escalante, Utah, at McGraw's suggestion after appearing on the Dr. Phil show in 2016.
The 18-year-old has since alleged that she and other teens were subject to traumatizing experiences, including sleep deprivation, sexual abuse and witnessing a murder, while at the ranch.
On Wednesday, Bregoli released a video criticizing McGraw for not apologizing to her and other teens who attended the ranch. Throughout the video, Bregoli shows clips of McGraw giving an interview in which he says he doesn't really know about the allegations and appears to distance himself from the ranch.
"She went to Turn-About four or five years ago, and she had a bad experience. Obviously, I would hate that, and we'd be sorry about that," McGraw said in an interview on Banfield last month. "We're not involved in that, we don't have any feedback from them, so whatever happens once they're there, that's between them and the facility."
But Bregoli said that the Dr. Phil show receives updated progress reports on teens that attend Turn-About Ranch. She alleged that McGraw is simply trying to cover up the abuse.
"My mother signed a consent of release of information to send progress reports directly from Turn-About to the Dr. Phil show. So when you say you don't have any f***ing feedback from them, that is not true!" Bregoli said.
"You're just trying to save your a**. But there's too many stories, and too many people behind this, that you can't save your a** anymore," she added.
Throughout the video, Bregoli continued to allege that she and others were subjected to severe trauma at the ranch, including "torture, sexual abuse and murder."
"I go on your show to get help and you make my life worse? I've gotten through those years with no f***ing help from you, all you've done is add more trauma to my life," she said. "For you to be so hands off about something when people look up to you for advice, go to you for advice and email your show to get on it for help—for you to be so 'Oh, I don't know,' that's ridiculous!"
She continued, "How could you be so ignorant and so unaccepting of your wrongs? I'm not done with you, Philip, that was not a f***ing apology. I've got something coming for you. Not so funny when the tables are turned, is it?"
Bregoli's latest video comes after she alleged that she experienced abuse at Turn-About Ranch in a statement last month.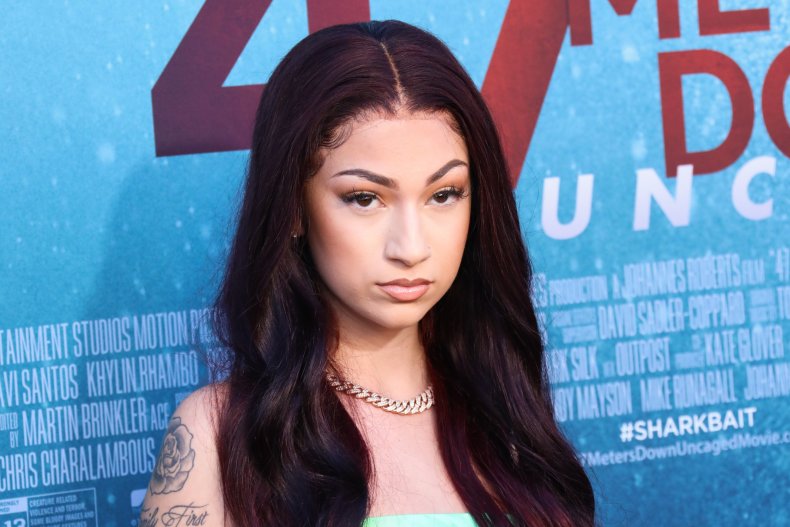 Bregoli said she was taken to the ranch after she appeared on an episode of the Dr. Phil show in a segment titled "I Want to Give Up My Car-Stealing, Knife-Wielding, Twerking 13-Year-Old Daughter Who Tried to Frame Me for a Crime."
During that show appearance, Bregoli became known for a threat to fight jeering audience members, saying, "Catch me outside, how about that?" The viral phrase was later remixed into a song that helped launch her successful music career.
Bregoli said that upon entering the ranch in 2016, she was placed in teepee and forbidden to shower or sleep.
"You have to sit there for three days," she said. "They wouldn't let me lay down for nothing. Like, I was falling asleep and they're like, 'Oh, get up, get up.' So I'm just sitting here like, 'This is gonna be really bad' when I see these people have no sympathy."
Bregoli also claimed to have been present at the ranch on December 6, 2016, when a teen beat 61-year-old staffer Jimmy Woolsey to death with a metal bar.
Her allegations came a month after a woman named Hannah Archuleta announced her lawsuit against Turn-About Ranch, alleging that an employee sexually assaulted her when she was 17. Furthermore, in 2012 a mother sued the ranch for allegedly torturing her daughter when she lived there in 2005, The Washington Post reported.
Turn-About Ranch is a self-described therapeutic boarding school for troubled teens aged 13 to 17 who exhibit a range of behavioral problems, including eating disorders, suicide attempts and psychotic and "sexual perpetrator behaviors." During their stay, teens undergo counseling, schooling and physical chores around the ranch, according to its website.
Human rights groups have claimed that residential boarding schools like Turn-About Ranch are largely unregulated for-profit facilities, with little government oversight.
Newsweek contacted the Dr. Phil show and Turn-About Ranch for comment but did not hear back before publication.