Biden and Iran Both Want Nuclear Deal, Here's What Stands In Their Way
President-elect Joe Biden has promised to rejoin the Iran nuclear deal, a move sought by Tehran after the agreement was abandoned two years ago by President Donald Trump. But a return is set to face challenges on both sides as they attempt to rebuild trust in a radically different environment than five years ago.
For one, Iranian officials see no room for renegotiation of the Joint Comprehensive Plan of Action (JCPOA), the historic agreement they struck with the U.S. in 2015 alongside leading powers China, France, Germany, Russia and the United Kingdom (P5+1).
Instead, Iran is eager to pressure Washington to be held accountable for billions of dollars in lost revenue due to the unilateral U.S. sanctions imposed by the Trump administration after the U.S. departed the agreement.
Iranian Foreign Ministry Saeed Khatibzadeh laid out his country's point of view during a press conference Monday.
"What the Islamic Republic of Iran has repeatedly stated is that the JCPOA is the product of long-term talks between Iran and the P5+1 and cannot be reopened or renegotiated," he told reporters. "The United States has violated UNSCR 2231, withdrawn from the JCPOA and harmed the Iranian people."
He then laid out his demands to hold the U.S. responsible.
"Therefore, the United States assumes legal responsibility for violating Resolution 2231," Khatibzadeh said. "Iran is in a position to demand and that the United States must be held accountable for its illegal and anti-Iranian behavior."
Iranian President Hassan Rouhani offered a similar account a day earlier in his first official remarks following Biden's projected victory in the presidential election.
"Trump's harmful policies have been opposed not only by nations around the world, but also by the American people," Rouhani said. "The future U.S. administration should use the opportunity to make up for past mistakes."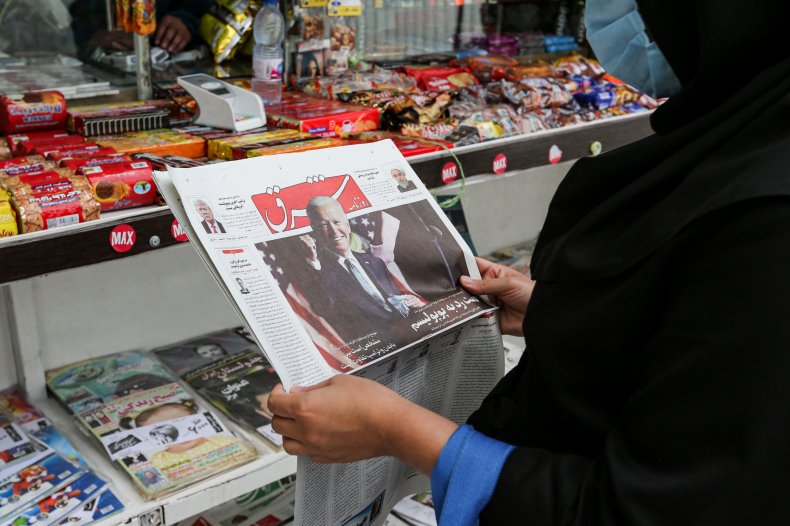 It is unclear what if any sort of reparations could be on the table, or even how much Trump's so-called "maximum pressure" campaign has actually cost the Islamic Republic, but Secretary of State Mike Pompeo has placed the estimate in the neighborhood of $70 billion.
These restrictions have hit especially hard this year as Iran continues to suffer from daily record-breaking cases of COVID-19.
With Trump's presidency coming to an end, however, Rouhani declared victory in his country's "heroic resistance to the imposed economic war." The following day, the Iranian leader tied Biden's victory to a national urge to recalibrate Washington's foreign policy.
"It is the turn of elected officials and new leaders in the United States to understand the message of their nation well and to implement this will to change their foreign policy and relations with other nations," Rouhani said.
He said that this meant "a return to the rule of law, internationally recognized rules and commitments, respect for the rights of nations, and reparation are among the requirements for restoring America's global credibility."
Still, Iranian officials prior to the election expressed both publicly and to Newsweek that they had no preference in the U.S. presidential race. Regardless of the outcome, they urged Washington's full return to the JCPOA without conditions.
Biden has pledged to return, but only if Iran restored some of the commitments it has since walked away from due to other participants' failure to normalize trade ties with the Islamic Republic in the wake of the U.S. exit.
These commitments include restricting uranium enrichment back down to 3.67 percent, halting production at the Fordow Fuel Enrichment Plant, and stop installing advanced centrifuges. Earlier this month, the Iranian parliament approved a bill to further increase uranium enrichment, raising the stakes of a future negotiation.
"If Tehran returns to compliance with the deal, President Biden would re-enter the agreement," Biden's official foreign policy page states, "using hard-nosed diplomacy and support from our allies to strengthen and extend it, while more effectively pushing back against Iran's other destabilizing activities."
The statement blamed Trump's approach for "prompting Iran to restart its nuclear program and become more provocative, bringing the region to the cusp of another disastrous war."
Likely the most precarious point in soaring tensions between the U.S. and Iran in recent years was the Trump administration's strike to kill Revolutionary Guard Quds Force commander Major General Qassem Soleimani, a renowned Iranian military leader considered a terrorist by Washington.
Iranian officials have compared the fallout from the killing of Soleimani to the 1953 CIA-backed coup that reinstalled Iran's absolute monarch, the Shah, who was ultimately overthrown 26 years later in the Islamic Revolution that set the stage for today's U.S.-Iran tensions. Officials have vowed "severe revenge" in response to Soleimani's death and to this day assert that retribution remains in order.
"The Islamic Republic is determined to do justice to the assassins of Haj Qassem Soleimani and the economic terrorists who committed crimes against the Iranian people under sanctions," the Iranian Judiciary Chief said Monday, according to the semi-official Tasnim News Agency. "We will not retreat."
In Iranian politics, hard-liners who are more skeptical than ever of dealing with the West have grown more influential, leaving the future of engagement uncertain as Rouhani reaches the end of his term, with Iran's presidential elections coming up in June. Having served two consecutive four-year terms, Rouhani is ineligible to run again—just as in the U.S. system.
Among those who have declared their candidacy is Brigadier General Hossein Deghan, a former Revolutionary Guard commander who once served as Rouhani's defense minister. He now advises supreme leader Ayatollah Ali Khamenei.
Khamenei has offered increasingly critical reflections on the prospects of working with the U.S. again.
"The situation in the US & what they themselves say about their elections is a spectacle!" Khamenei's account tweeted Saturday. "This is an example of the ugly face of liberal democracy in the US. Regardless of the outcome, one thing is absolutely clear, the definite political, civil, & moral decline of the US regime."
Pompeo hit back on Twitter.
"You've personally stolen hundreds of millions of dollars from your people," Pompeo tweeted. "Your elections are a joke, with hundreds of candidates disqualified from even running. Today, your people starve because you spend billions on proxy wars to protect your kleptocracy."
The top U.S. diplomat defended the Trump administration's approach, which continues to deeply alienate Iranian leadership.
"America is and shall remain the greatest nation in all of human history," Pompeo added. "We welcome the day when the Iranian people get their wish - and you know what that is. That is all."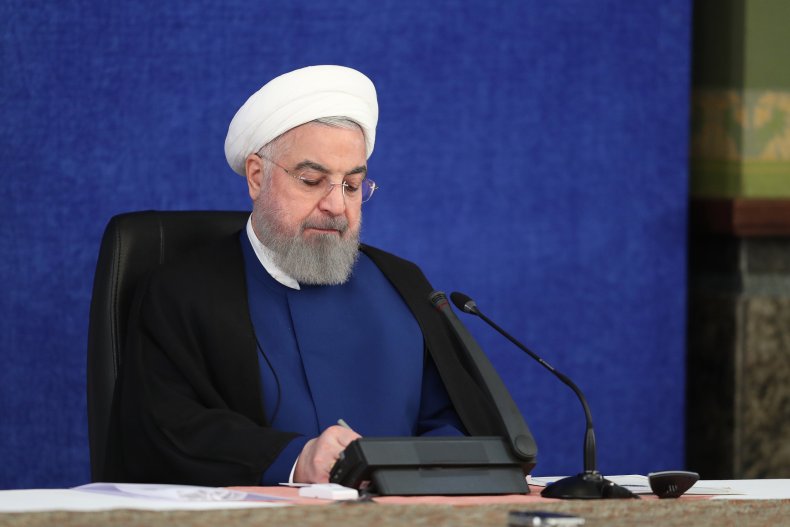 Unlike Rouhani and others considered relative moderates, such as Foreign Minister Mohammad Javad Zarif, a conservative takeover could provide for a drastically different political environment than that faced by Biden and former President Barack Obama five years ago.
And, as Trump officially disputes his apparent electoral loss at home, his administration shows no sign of letting up on laying on additional punitive measures against Iran, whose industries are currently under overlapping layers of sanctions that could prove difficult for Biden to roll back in a timely fashion.
In a potential signal of further actions to come, the U.S. dispatched special presidential envoy on Iran and Venezuela Elliott Abrams on Sunday to travel to nuclear deal skeptic states Israel, Saudi Arabia and the United Arab Emirates "for consultations on Iran."
Zarif also recently took off to shore up regional ties in the backyard of the U.S in Latin America, where he held consultations with left-wing critics of Washington's policies, Venezuela, Cuba and Bolivia.
In Caracas, another "maximum pressure" target, Zarif spoke with senior Venezuelan leadership officials, including Foreign Minister Jorge Arreaza. Standing beside his Iranian counterpart, Arreaza accused Abrams of the very crimes he's charged their nations with, calling him a "lord of terror, symbolizes the failure of the aggression against Venezuela and Iran."
Both countries have a close eye on Trump's final steps in office and Biden's first.