Iran Says It's 'Not Interested' in Debate After Biden Warns It 'Will Pay A Price'
In comments to Newsweek, a senior Iranian official has dismissed a recent warning by former Vice President Joe Biden, who threatened to punish the Islamic Republic for alleged election interference it has repeatedly denied.
Asked during Thursday's final presidential debate about what he would do to address the issue of foreign interference in the race, Biden said he has "made it clear that any country, no matter who it is, that interferes in American elections will pay a price."
The former vice president said it was "overwhelmingly clear" during this election "that Russia has been involved, China's been involved to some degree, and now we learn that Iran is involved."
He repeated his warning: "They will pay a price if I'm elected. They're interfering with American sovereignty. That's what's going on right now."
Iranian mission to the United Nations spokesperson Alireza Miryousefi brushed off the warning as he has others, declaring Tehran's neutrality in the affair.
"We do not comment on election issues and are not interested in entering the debate," Miryousefi told Newsweek. "We have repeatedly stated that Iran does not interfere in other countries' elections."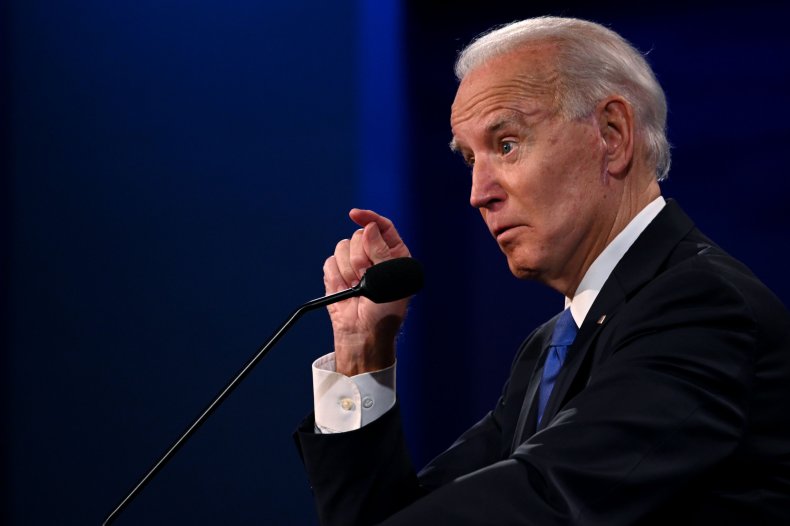 The latest accusations came a day ahead of the debate in the form of a Wednesday evening announcement by National Intelligence Director John Ratcliffe and FBI Director Christopher Wray.
The intelligence officials revealed they had evidence of Russian and Iranian attempts to influence the upcoming 2020 presidential race by obtaining voter data. One apparent scheme identified involved the use of fake emails purporting to be from the far-right group Proud Boys threatening recipients to "Vote for Trump or Else!"
Ratcliffe said Iran was behind the operation, which he said at the time "was designed to intimidate voters, incite social unrest and damage President Trump."
The president backed this point of view during Thursday's debate.
"I knew all about that," Trump said. "And through John—who is John Ratcliffe, who is fantastic, DNI—he said the one thing that's common to both of them: They both want you to lose."
Trump boasted about his record on sanctions, which his administration has levied on certain entities in Russia and in a much more sweeping fashion against Iran.
His predecessor, former President Barack Obama, for whom Biden served as vice president, also oversaw some toughened sanctions on Iran, but ultimately spearheaded efforts to lift international economic restrictions against the Islamic Republic as part of the Joint Comprehensive Plan of Action. The agreement, better known as the Iran nuclear deal, granted sanctions relief in exchange for Tehran agreeing to curb nuclear production.
Iran has always maintained that its nuclear program was strictly for peaceful purposes, but the Trump administration entered office in opposition to the deal in 2017, accusing Iran of using unfrozen funds to fund foreign militias and ballistic missile technology. The following year, he left the agreement.
This exit has been followed by a severe escalation of tensions in the Middle East, including the Persian Gulf and Iraq, where the Trump administration killed top Iran's Revolutionary Guard Quds Force commander Major General Qassem Soleimani in January—an act for which Iranian officials vowed revenge.
Iran and fellow signatories China, France, Germany, Russia and the United Kingdom remain in the deal. But tough U.S. sanctions have hindered a normalization of Iran's global trade ties, compelling it to step back from certain commitments on limiting uranium enrichment. Still, the international community, including European allies, have overwhelmingly opposed Trump's calls to abandon the deal altogether or extend a decade-long United Nations arms embargo that expired Sunday.
Biden, for his part, has pledged to re-enter the agreement, while at the same time pushing back on Iranian activities viewed by the U.S. as destabilizing to the region.
In light of the recent allegations of foreign election interference, the former vice president suggested Thursday that Trump was more likely to be more harsh on Tehran than Moscow, where Trump stands accused by Democrats of colluding with Russian President Vladimir Putin in an effort to influence the 2016 election against Obama's former Secretary of State, Hillary Clinton.
"I don't know why he hasn't said a word to Putin about it, and I don't know what he has recently said, if anything, to the Iranians," Biden said. "My guess is he'd probably be more outspoken with regard to the Iranians."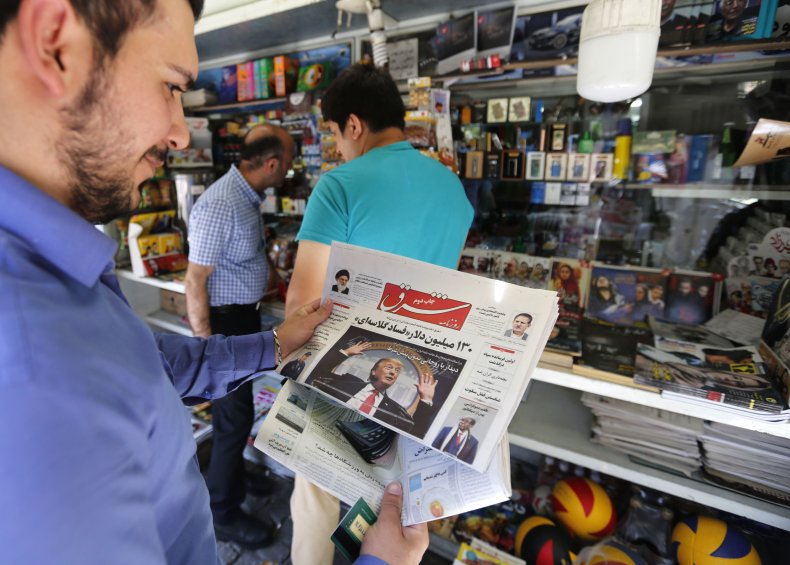 Both Iranian and Russian officials swiftly rejected the accusations ahead of the debate, viewing them as part of a homegrown effort to influence voters.
"Unlike the U.S., Iran does not interfere in other country's elections," Miryousefi told Newsweek shortly after Ratcliffe and Wray's press conference Wednesday. "The world has been witnessing the U.S.' own desperate public attempts to question the outcome of its own elections at the highest level. These accusations are nothing more than another scenario to undermine voter confidence in the security of the U.S. election, and are absurd."
He said Tehran had no favored candidate, and called on Washington to quit pushing such allegations.
"Iran has no interest in interfering in the U.S. election and no preference for the outcome," Miryousefi told Newsweek. "The U.S. must end its malign and dangerous accusations against Iran."
Kremlin spokesperson Dmitry Peskov said Thursday he was commenting on the issue "with regret."
"Accusations are pouring in every day, they are all absolutely groundless, they are not based on anything," Peskov said in comments sent to Newsweek by Moscow's embassy in Washington. "It is rather a tribute to the domestic political processes related to the upcoming [US presidential] election."