An Iranian official has told Newsweek that the Islamic Republic was looking forward to buying and selling weapons with a number of international partners as a United Nations arms embargo preventing it from doing so was set to lift in days, a development that the United States has condemned as damaging to global security.
The expiration of the decade-old U.N. restrictions, set to take place Sunday, would come after a largely unsuccessful U.S. campaign to convince countries to defy the 2015 Joint Comprehensive Plan of Action (JCPOA) and the accompanying U.N. Security Council resolution 2231 to extend the ban on Iran's arms industry.
With Washington's calls to the U.N. left unheeded, Iran's permanent mission to the international body said the lack of support for the U.S. initiatives was telling of its position vis-à-vis the international community.
"It is abundantly clear that the U.N.—and the overwhelming majority of its member states—reject the U.S.' so-called maximum pressure policy on Iran," Iranian U.N. mission spokesperson Alireza Miryousefi told Newsweek, "and that its attempts to even further violate the JCPOA and UNSCR 2231 have led to its isolation."
Iran has yet to formally announce any specific country arms deals. Officials, however, have repeatedly discussed the prospect of doing business with U.S. rivals Russia and China, who have been vocally critical of President Donald Trump's "maximum pressure" campaign to isolate Iran.
Asked if Tehran had any particular nations in mind, Miryousefi said his country had options beginning on Sunday.
"Iran has many friends and trading partners, and has a robust domestic arms industry to ensure its defense requirements against foreign aggression," he told Newsweek. "In accordance with the timeline stated in resolution 2231, Iran will be relieved from arms restrictions as early as Oct. 18. Naturally, from that date, we'll trade, on the basis of our national interests, with other countries in this field."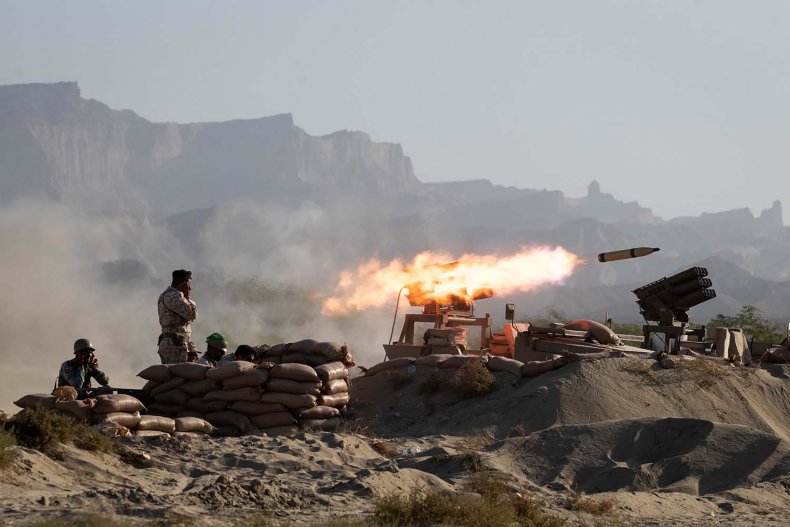 The U.S. mission to the U.N. did not immediately respond to Newsweek's request for comment, however, the Trump administration has long argued that freeing Iran up for the weapons trade would run counter to its own interests and those of regional partners such as Israel and Saudi Arabia.
Though the U.S. joined Iran along with China, France, Germany, Russia and the United Kingdom in 2015 to forge the JCPOA, better known as the Iran nuclear deal, the Trump administration abandoned the deal in 2018, branding the Islamic Republic "the world's largest state sponsor of terrorism." Since then, the U.S. has rolled out increasingly tough sanctions to strangle the Iranian economy.
Such tightening economic restrictions have ratcheted up tensions in the Middle East. Here, opposing agendas from Washington and Tehran have clashed in the likes of the Persian Gulf and Iraq, where in January the U.S. killed Iran's Revolutionary Guard Quds Force commander Major General Qassem Soleimani in a fiery strike that further fueled the two countries four-decade feud.
Today, the Pentagon says Iran remains what Joint Chiefs of Staff Chair Army General McKenzie deemed in June to be "the greatest threat to stability and security in the region."
"For more than 40 years, the Iranian regime has defied international norms by conducting malign activities that destabilize the region and threaten global commerce, security and stability," Pentagon spokesperson Army Major Rob Lodewick told Newsweek. "Iran contributes little to the world stage but aggression, violence, and instability."
Such behavior, he argued, may only be encouraged by allowing Iran to enter the international arms market.
"A regime that refuses to cease such destabilizing activity should not be allowed to openly expand and export its arsenal of advanced conventional weapons and ballistic missiles," Lodewick said, "much of which will end up in the hands of the terrorist groups and proxies that Iran uses to undermine security in the region."
U.S. concerns are compounded by the prospect of Iran getting access to advanced military equipment like Russian Su-30 and Chinese J-10 fighter jets, two aircraft referenced by Secretary of State Mike Pompeo in a June tweet.
Earlier this month, Russia's ambassador to Iran Levan Jagarian said that Moscow would have "no problem" selling the state-of-the-art S-400 surface-to-air missile system to Tehran.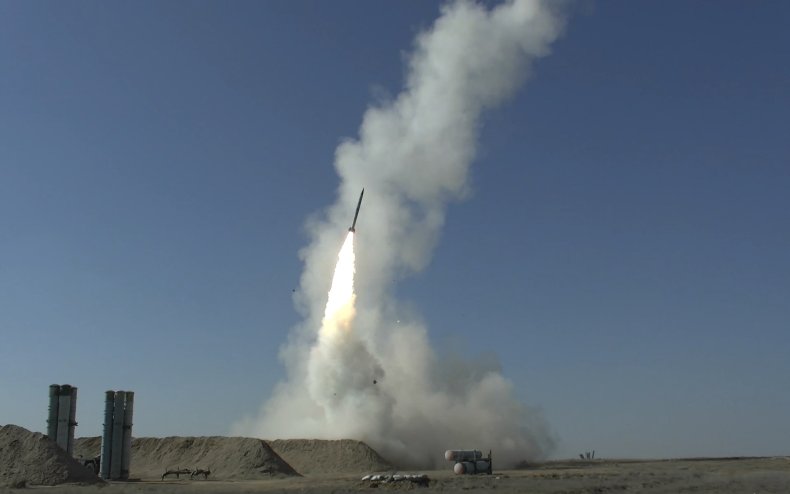 But an immediate flood of foreign weapons to Iran was unlikely, according to Nicole Grajewski, a fellow at the International Security Program of Harvard University's Belfer Center for Science and International Affairs.
She told Newsweek that the Islamic Republic "understands the limitations of its relationship with both Russia and China."
She said that for Iran and Russia, their individual financial constraints could hamper the extent of their military relationship. Bottom line, both countries are cash-strapped.
All but $1 billion in 1990s arms deals were largely "settled in write-offs of outstanding Soviet debts to Iran and in various barter deals, mostly Iranian oil handed over to Russia for resale," she told Newsweek.
Today, Moscow needs hard currency.
"For this reason, Iran may find China as a more desirable option," she added. "China might be more circumspect about the Trump Administration's recent imposition of unilateral sanctions on those who provide Iran with weapons than Russia. So there are lots of considerations that Iran needs to take into account."
Additionally, Iran remains bound for three more years by restrictions against acquiring weapons that could contribute to its capability to produce nuclear weapons—a goal it has always denied seeking. Such equipment include ballistic missile systems, drones and other certain aircraft-related technology that Tehran would need U.N. Security Council approval to acquire.
With these considerations in mind, Tehran has already boosted ties with Moscow and Beijing in a series of talks and potential agreements that range from trade to security.
But even with Iran's potential to further fortify these relationships, conduct joint exercises and obtain certain weapons post-arms embargo, she argued that "the Trump Administration's concerns are certainly misplaced" when it comes to its adversary's newfound purchasing power.
"It reflects the obvious tension between assertions that the maximum pressure campaign is weakening Iran and crippling the country's economy and statements that portray Iran as this omnipotent actor," Grajewski told Newsweek. "The Trump Administration has failed to have a serious and nuanced assessment of the roots of Iran's malignant foreign policy activity, and it shows."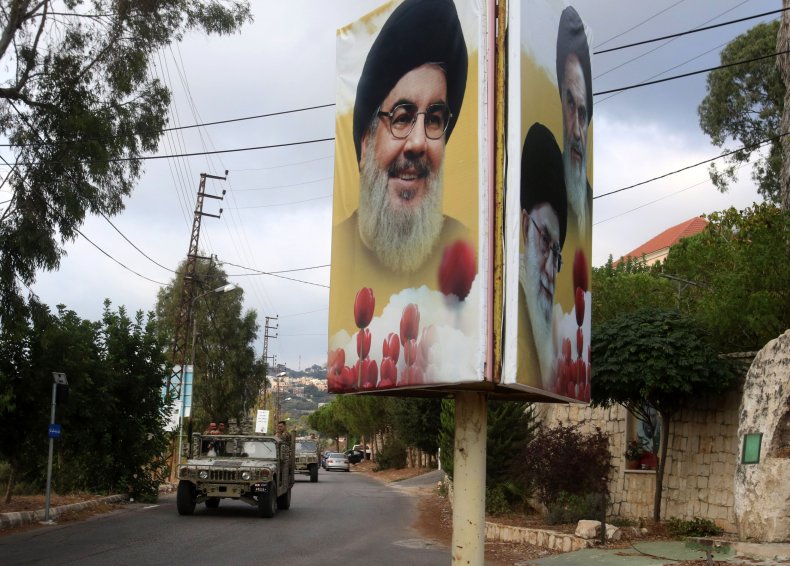 Mehrzad Boroujerdi, director of Virginia Tech's School of Public and International Affairs, also found fault with the Trump administration's logic when assessing Iran's financial state, ongoing sanctions on certain weapons systems and the broad international support for the JCPOA.
After what he called "an embarrassing defeat for the Trump administration" at last month's U.N. Security Council meeting, where only one other country—the Dominican Republic—backed a U.S. proposal to extend the arms embargo, Boroujerdi said France, Germany and the U.K. were hedging to save the nuclear deal by avoiding escalation with Iran.
He also expressed skepticism toward the Trump administration's argument that lifting the arms embargo would necessarily accelerate Iran's military support to its partnered militias across the Middle East.
"We have heard this argument for the past 40 years," Boroujerdi said, telling Newsweek that Iran "has been very much worried about the return address" when it exports weapons.
But, while Iran may be eager to supply certain equipment such as weapons and rockets to its armed allies, he said Iran has refrained from supplying more advanced, powerful equipment to avoid an all-out regional escalation.
"It sort of has been a gentleman's agreement," Boroujerdi said, "that, despite the rhetoric, every side of the conflict has observed so far."