Iran Lashes Out at 'Thugs Dominating U.S.,' Talks Trade with China, Russia
Iran's supreme leader hit out at President Donald Trump and his administration after a new round of U.S. sanctions further constricted the economy of the Islamic Republic, which is increasingly looking toward China and Russia for financial support.
In a virtual address delivered to graduating military cadets, Iran's Ayatollah Ali Khamenei lambasted the Trump administration's "maximum pressure" campaign against Iran, referring to the U.S. leader as a "scoundrel" whose policies were hurting the peoples of both countries.
For Iran, Khamenei said the answer to the country's woes lies from within, not from abroad.
"Although many of our problems are related to international issues, their remedy exists inside the country," Khamanei said. "The remedy consists of relying on correct calculations, adopting the right outlook concerning the affairs of the country and the region, and benefiting from wisdom, diligence and firm determination. The remedy should not be sought outside the country because we will not gain anything from foreigners."
He advised against paying too much attention to the Trump administration's saber-rattling and rhetoric.
"Moreover, the commotion created by the thugs dominating the U.S. nation should not occupy anyone's thoughts," Khamenei said.
And while Tehran has all but given up on salvaging a path toward diplomacy with Washington, officials have turned to other major powers for trade ties.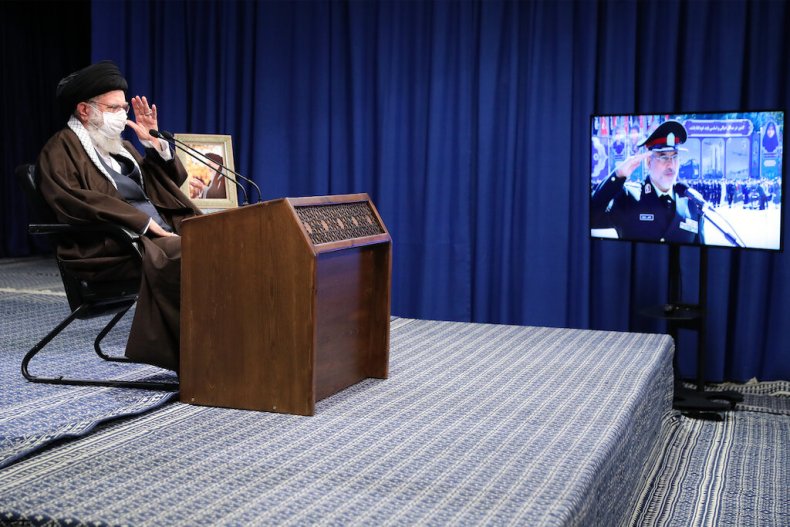 Iranian Foreign Minister Mohammad Javad Zarif hailed the conclusion of "fruitful talks" Saturday with his Chinese counterpart Wang Yi in China's southern city of Tengchong in Yunnan province. The top Iranian diplomat suggested the two found common ground in opposing U.S. policy and in shoring up the growing strategic partnership between the two countries.
"Rejected US unilateralism and US attempts to create unipolar world," Zarif tweeted. "Agreed on strengthening our ties incl 25-yr plan, regional coop, preserving JCPOA & vaccine collab."
The Joint Comprehensive Plan of Action (JCPOA), better known as the Iran nuclear deal, was signed in 2015 by Iran and major powers including the U.S., China and Russia as well as European allies France, Germany and the United Kingdom.
However, Trump pulled out of the agreement in May 2018, after accusing Iran of unfairly benefitting from sanctions relief while still supporting foreign militias and developing missile technology. The U.S. has unsuccessfully campaigned for the remaining parties to drop the deal, which the Trump administration has declared defunct.
Wang reiterated China's support for the accord in a readout released by the Chinese Foreign Ministry after his meeting with Zarif. The Chinese diplomat opened the door for even closer ties between Beijing and Tehran.
"China is willing to strengthen communication with Iran, intensify cooperation in various fields including the fight against the epidemic, and work with other countries to defend multilateralism, oppose unilateral bullying, and safeguard international fairness and justice and the common interests of developing countries," Wang said.
He also proposed the establishment of a multinational forum for resolving security issues in the Persian Gulf, where tensions between Iran and the U.S. along with local partners in the Arabian Peninsula and Iraq have led to new unrest and uncertainty in recent years.
Russia has advocated for a similar platform and, on Monday, Iran's envoy Moscow met with two Russian officials in a bid to boost bilateral relations.
Iranian ambassador Kazem Jalali discussed with Russian Deputy Foreign Minister Pankin Aleksandr Anatolievitch Iran's growing role in the Eurasian Economic Union, an economic group that includes Armenia, Belarus, Kazakhstan, Kyrgyzstan and Russia, "as well as a number of pressing international economic problems," according to a Russian Foreign Ministry readout.
The Eurasian Economic Union is closely linked to China's Belt and Road Initiative, a global series of infrastructure projects that Iran has also sought to sign on to in defiance of the U.S. Citing Chinese and Iranian state media, Asia Times reported Thursday that Iran had dumped the U.S. dollar in favor of the Chinese renminbi as the country's foreign reserve currency in a bid to bypass sanctions.
Jalali also held an "extensive discussion" on Monday with Russian Deputy Foreign Minister Sergei Vershinin. The Russian readout said the meeting covered issues involving the United Nations Human Rights Council and Security Council, including joint efforts to maintain stability in the Persian Gulf and bring about a resolution to the conflict in Syria, where Tehran and Moscow both back the government against an insurgency and Islamist militants.
Iran has expanded defense ties with China and Russia as well, conducting its first trilateral training with the two countries late last year in the Indian Ocean and the Gulf of Oman. The three again came together for drills in Russia last month alongside Armenia, Belarus, Myanmar and Pakistan.
Washington and Tehran have so far avoided conflict, though militias supported by Iran have clashed with U.S. troops in Iraq. The U.S. killing of Revolutionary Guard Quds Force commander Major General Qassem Soleimani in January has left the two countries locked in a dangerous feud that threatened to erupt, especially as the Trump administration continues to offer warnings ahead of the expiration of a U.N. arms embargo set to be lifted this weekend as part of the nuclear deal.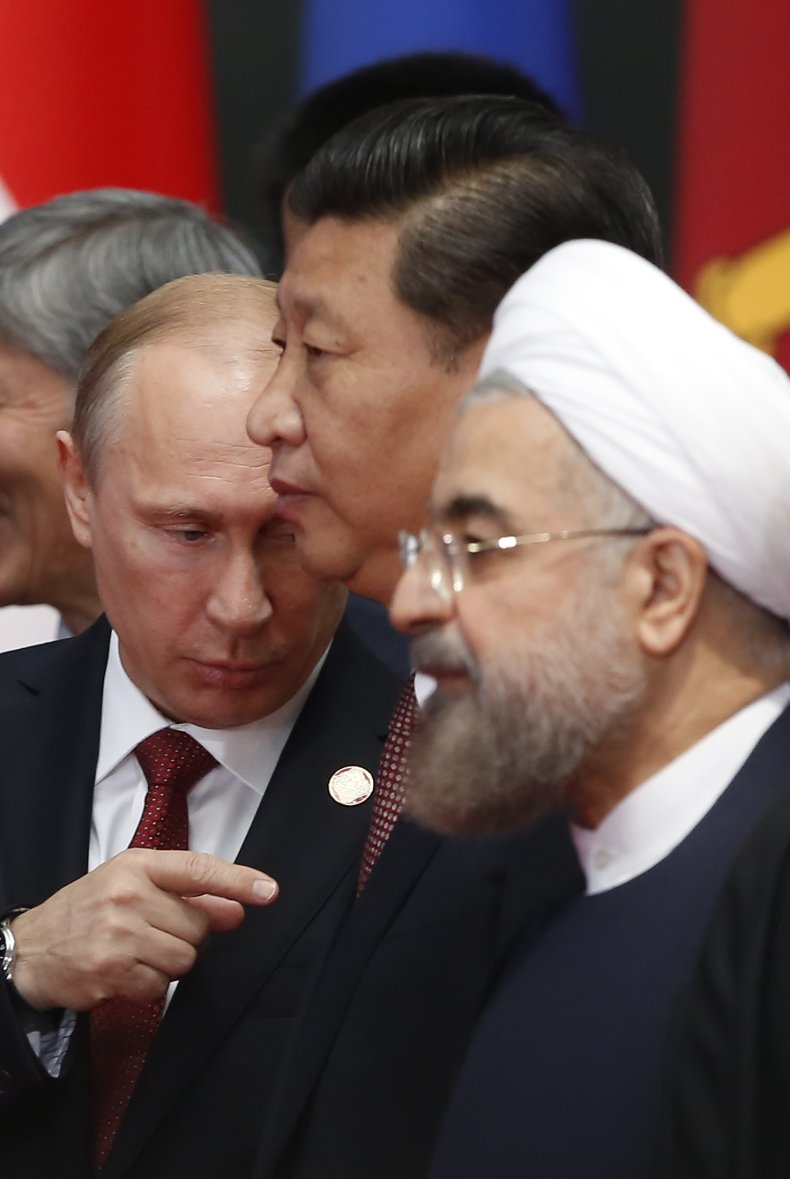 Trump lashed out at the Islamic Republic during a lengthy interview on Friday with radio host Rush Limbaugh.
"If you f*ck around with us, if you do something bad to us, we are gonna do things to you that have never been done before," a COVID-19-positive Trump said, claiming Tehran "knows that and has been put on notice."
The U.S. leader's threat, as well as his policies toward Iran, were rejected by Iranian mission to the U.N. spokesperson Alireza Miryousefi.
"Mr. Trump's attempt to portray himself as a tough guy is unsurprising as the presidential election in America is fast approaching," Miryousefi told Newsweek.
He accused Trump of crimes against the Iranian people, whom he said would not back down in spite of the hardships imposed on them.
"The U.S. is waging a cruel and illegal economic war, tantamount to economic terrorism, on the people of Iran," Miryousefi said. "The U.S. also cowardly assassinated general Suleimani, a hero in the fight against Daesh and other terrorists, while he was the official guest of the Iraqi government on a peace mission."
"The people of Iran have proven to be resilient and not intimidated by such inappropriate, irresponsible and empty rhetoric," he added.