Iran Says Trump Is No 'Tough Guy' After He Told Country Not to 'F**k With Us'
A senior Iranian official has given Newsweek his country's response to President Donald Trump's harsh language against the Islamic Republic, which the United States has pressured with economic restrictions and military threats.
Lashing out in an interview Friday with conservative radio host Rush Limbaugh, Trump dropped the F-bomb on a country he has accused of funding militant groups, targeting U.S. interests in the Middle East and secretly pursuing a nuclear weapon.
"If you f*ck around with us, if you do something bad to us, we are gonna do things to you that have never been done before," a COVID-19-positive Trump said, arguing Tehran "knows that and has been put on notice."
Alireza Miryousefi, the spokesperson for Iran's permanent mission to the United Nations, hit back shortly after, dismissing the U.S. leader's words as electioneering.
"Mr. Trump's attempt to portray himself as a tough guy is unsurprising as the Presidential election in America is fast approaching," Miryousefi told Newsweek.
He said Iran and its people would not back down in the face of these remarks, nor by the Trump's administration decision Thursday to double down on sanctions that chokes Iran's financial sector as it suffers the dual effects of an economic crisis and the COVID-19 pandemic, or even military actions like the January killing of Quds Force commander Qassem Soleimani in Iraq.
"The US is waging a cruel and illegal economic war, tantamount to economic terrorism, on the people of Iran," Miryousefi said. "The U.S. also cowardly assassinated general Suleimani, a hero in the fight against Daesh and other terrorists, while he was the official guest of the Iraqi government on a peace mission."
"The people of Iran have proven to be resilient and not intimidated by such inappropriate, irresponsible and empty rhetoric," he added.
Miryousefi then quoted Iranian Foreign Minister Mohammad Javad Zarif: "Never threaten an Iranian!"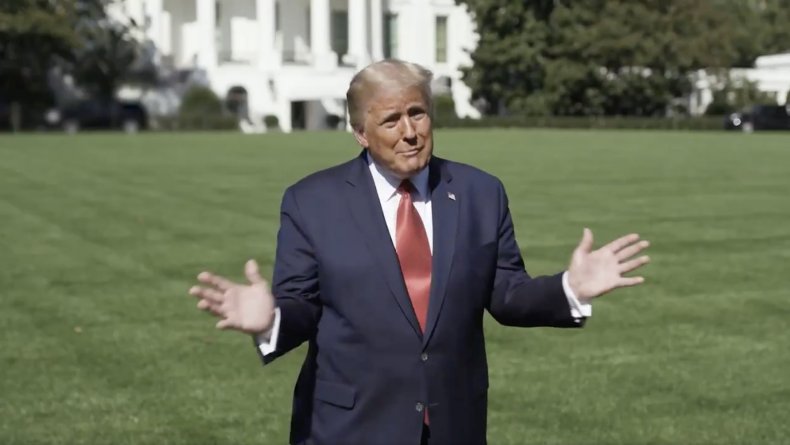 Zarif famously uttered the words during the tough 2015 negotiations that resulted in the Joint Comprehensive Plan of Action, better known as the Iran nuclear deal. The agreement, endorsed by both the U.S. and Iran, as well as China, France, Germany, Russia and the United Kingdom, lifted international sanctions against Iran in exchange for the country severely curbing its nuclear production.
Under Trump, however, Washington withdrew from the deal in May 2018. The U.S. has since steadily imposed measures designed to isolate the Iranian economy, damaging its trade ties and sending its currency plummeting.
The latest, broadside sanctions swept across Iran's major banks in the wake of what the U.S. alone argued was the end of the Iran deal as a result of a formal request to the United Nations by the Trump administration. Neither the U.N. nor other parties to the nuclear accord have recognized this decision, but Iranians felt the blow nonetheless.
"Amid Covid19 pandemic, U.S. regime wants to blow up our remaining channels to pay for food & medicine," Zarif tweeted on Thursday.
"Iranians WILL survive this latest of cruelties," he argued. "But conspiring to starve a population is a crime against humanity. Culprits & enablers—who block our money—WILL face justice."
But the damage done to Iran has been a source of pride for the Trump administration, which considers the country to be "the world's largest state sponsor of terrorism." Secretary of State Mike Pompeo touted the president's "real progress" since taking in confronting Tehran since taking office in 2017.
"We've denied tens of billions of dollars in wealth for these terrorists that threaten Israel and threaten Europe and threaten the United States," Pompeo told radio host Larry O'Connor in an interview on Friday.
The top U.S. diplomat said there was still "more work to do."
"We are aiming to continue and we hope that four more years will deliver really good outcomes: increased security for the Middle East, increased security for the people of Israel, and a less destabilizing region so that the people of the United States don't have a threat to the homeland as well," Pompeo explained.
Trump's tenure has also been marked by a severe rise in tensions in the Persian Gulf region and the Strait of Hormuz, the world's most important maritime oil chokepoint. The White House has vowed to bring Iran's trade to zero, a policy point that has spurred Iranian threats to close the crucial trade route.
Iran has continued to find partners, however, including fellow U.S.-blacklisted Venezuela. Citing data by Refinitiv Eikon, Reuters reported Friday that an Iranian vessel had left the Latin American country carrying 1.9 million barrels of heavy crude.
Venezuelan Vice Minister for North America Carlos Ron recently described to Newsweek his country's trade with Iran as "done in exercise of our sovereignty and under all legal parameters."
He urged the international community to instead focus on U.S. unilateral actions that have been denounced or ignored by most of the international community.
"The United States is currently the greatest threat to world peace and stability," the Venezuelan official said.