Venezuela Calls U.S. 'Greatest Threat to World Peace' Amid New Iran, Cuba Sanctions
A senior Venezuelan official has told Newsweek that the United States is the leading threat to the international community following the country's recent decision to designate Venezuelan President Nicolás Maduro for sanctions due to his government's dealings with Iran.
The remarks came as President Donald Trump's administration also introduced additional measures targeting Venezuela's closest regional partner, Cuba.
The White House cut ties with Maduro early last year and has imposed increasingly stringent economic restrictions on the socialist leadership in Caracas for fostering trade ties with Tehran, another government subject to the "maximum pressure" campaign led by President Donald Trump. With the Venezuelan leader now hit by a new round of sweeping sanctions announced Monday against individuals and entities associated with Iran, one of his diplomats defended the country's approach.
"Venezuela's trade with Iran and with any other country is done in exercise of our sovereignty and under all legal parameters," Venezuelan Vice Minister for North America Carlos Ron told Newsweek.
As the U.S. splits with most of the world in enforcing Iran-related sanctions that were lifted by a 2015 nuclear deal abandoned by the Trump administration, Ron denounced Washington's actions as unjustified and illegal.
"What the whole world should be concerned about is the complete disregard for international law and, in particular, for the United Nations system that the Trump Administration has shown in recent actions," he said. "The United States is currently the greatest threat to world peace and stability."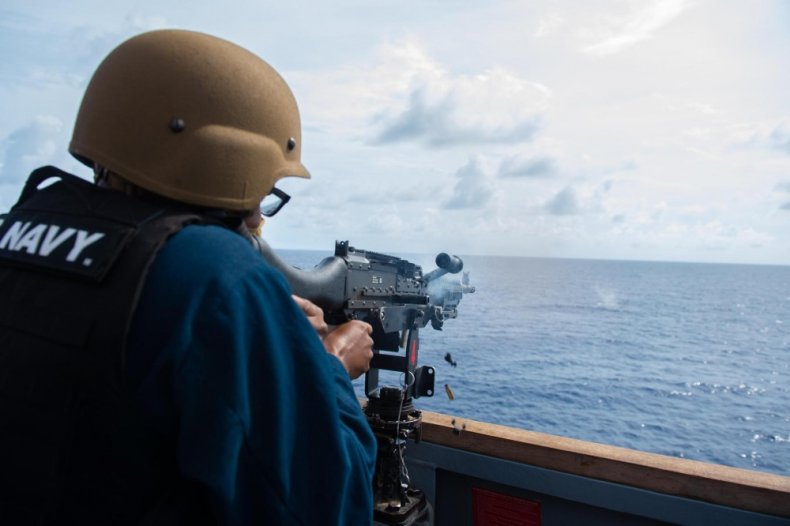 The latest measures against Iran were announced by Secretary of State Mike Pompeo, who was flanked by a number of top Trump administration officials who delivered remarks against the Islamic Republic. Defying rejection from the U.N., Pompeo said the U.S. recognizes the reintroduction of international sanctions against Iran and expected all countries to follow suit.
He dismissed the nuclear agreement still backed by China, France, Russia and the United Kingdom—the four other permanent U.N. Security Council members—as well as Germany as "an abject failure."
"It didn't bring Iran into the community of nations or block Tehran's path to a nuclear weapon. Instead, it was an exercise in appeasement," Pompeo said. "It gifted the regime billions and paved the way for Iran to become the arms dealer of choice for terrorist groups and dictators all across the world in just five short years."
Contacted by Newsweek, the Iranian mission to the U.N. referred to Foreign Minister Mohammad Javad Zarif's remarks to the Council of Foreign Relations, which hosted the top diplomat in an event that coincided with Pompeo's announcement.
"I don't think that's anything new and I don't think it will have any more significant impact on Iran," Zarif said. "The United States has exerted all the pressure it could on Iran. It has—it had hoped that these sanctions would bring our population to their knees. It didn't."
And despite Washington's efforts to oust Maduro, he too remains firmly in charge despite sanctions levied against both him and his Iranian partners.
"For nearly two years, corrupt officials in Tehran have worked with the illegitimate regime in Venezuela to flout the U.N. arms embargo," Pompeo said during Monday's press conference. "Our actions today are a warning that should be heard worldwide. No matter who you are, if you violate the U.N. arms embargo on Iran, you risk sanctions."
The U.S. has attempted to bring opposition-controlled National Assembly leader Juan Guaidó to power, though his momentum has waned since an April 2019 coup attempt, and anti-government ranks have fractured. Vice President Mike Pence affirmed his support in what he called a "great call" with Guaidó on Monday.
"The United States will continue to stand with them until their #libertad is Restored! Estamos con ustedes!" he tweeted.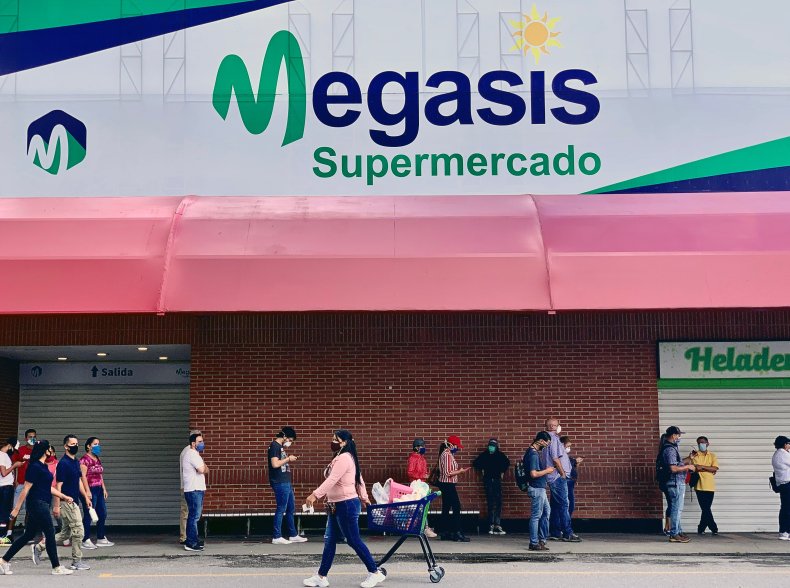 The moves come amid a broader pre-elections push toward Latin America policy that included Pompeo's recent South America trip and an even tougher position against Cuba, a close Venezuela ally embargoed by the U.S. since the early days of the Cold War.
Pence joined Trump on Wednesday in railing against the ideals of socialism and communism in the Western Hemisphere during a press conference honoring the veterans of the failed U.S.-backed insurgency to overthrow the Cuban government in 1961.
"My administration stands with every citizen of Cuba and Nicaragua and Venezuela in their fight for liberty," Trump said, "and we work for the day when this will become a fully free hemisphere. And it will be, for the first time in human history, a fully free hemisphere."
"It's going to happen sooner rather than later," he added. "A lot of things are going on right now that I can't tell you about, but I will be soon."
The Trump administration announced additional sanctions against hundreds of government-affiliated hotels and resorts in Cuba. The move was quickly condemned by Havana's embassy in Washington.
"The current U.S. authorities insist on the application of a sanctions policy against Cuba that has not achieved the proposed objectives in 60 years," a Cuban embassy official told Newsweek. "Through economic pressure, several governments in Washington have dreamed of a social outbreak in Cuba that will not take place."
"It is a wrong policy that is widely rejected by American society and even among Cuban Americans," the official added.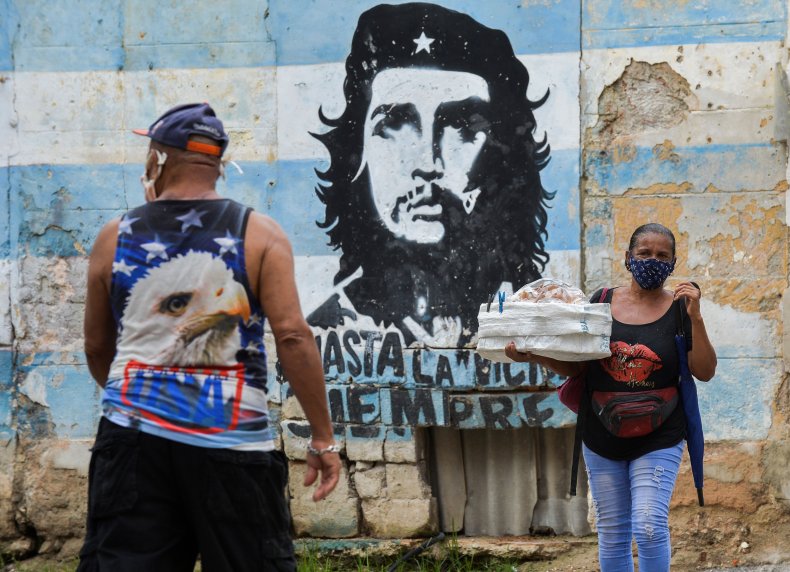 Responding to a press call question posed by Newsweek, U.S. Deputy Assistant Secretary Carrie Filipetti said the latest actions were part of a strategy "denying resources to the Cuban regime" and "enabling the Cuban people to once again thrive in their own lives."
Citing a recent U.N. Human Rights Council report, she also accused Cuba and Venezuela of "crimes against humanity" that she anticipated would be taken up with the International Criminal Court.
In addition to the Iran nuclear deal, the Trump administration has also withdrawn the U.S. from the Human Rights Council and the ICC, accusing them of unfair bias.
The White House announced in April the establishment of an enhanced maritime security force tasked with curbing cross-Caribbean and Pacific drug trade. Cuban, Venezuelan and U.S. officials told Newsweek at the time, however, that the operation was designed to pressure Maduro and distract from a worsening coronavirus outbreak at home.
In the months since, the U.S. has forced Venezuela-bound tankers from Iran to forfeit their fuel cargos, threatening to cut off a vital lifeline for the beleaguered Latin American country, where political divisions were compounded by a devastating financial crisis. Officials in Iran, also in the depths of economic turmoil exacerbated by U.S. sanctions, previously told Newsweek their country would take "necessary measures, in accordance with international law, to protect its interests" should the U.S. attempt to interdict Iranian ships.
This warning was echoed Wednesday by the elite Revolutionary Guard.
"Iran will not just retaliate any U.S. attempt to inspect the Iranian ships in international waters, but also give a decisive response to such moves in sensitive places," Revolutionary Guard Navy Rear Admiral Fadavi told Yemen's Al-Masirah news outlet.
"We will give a powerful response to any U.S. folly, a power that the enemy can't imagine," he added. "They will face our massive fire."