U.S. economic and military pressure has driven deeper ties between Venezuela and Iran, two nations subject to sanctions and threats of potential intervention over policies condemned by President Donald Trump's administration. Speaking to Newsweek, officials from both Caracas and Tehran vowed to defy Washington's position.
Iranian President Hassan Rouhani called for expanding "the friendly and strategic relations" between the two nations in a message Sunday commemorating Venezuela's Independence Day. The following day, his chief of staff Mahmoud Vaezi met in Tehran with Jorge Marquez, special envoy of Venezuelan President Nicolás Maduro, to deliver a letter of support from the leader and to praise Iran for delivering much-needed gasoline and related components to the crisis-struck Latin American nation just over a month ago.
Marquez said Venezuela also sought "to develop and strengthen comprehensive relations and cooperation between the two countries."
But the shipments that now signal warmer ties between Tehran and Caracas came in direct defiance of repeated warnings from the U.S., which has sought to isolate both governments from the international community as part of "maximum pressure" campaigns. As Washington moves to break this burgeoning relationship, Caracas and Tehran are seeking to double down on their resistance.
"The United States has no right to intervene in the bilateral relations of two sovereign states such as Iran and Venezuela," Venezuelan Vice-Minister for North America Carlos Ron told Newsweek. "Doing so, is a violation of free trade and of WTO dispositions. Unfortunately, the U.S. aggression also amounts to other illegal acts, such as the imposition of the unilateral coercive measures they call sanctions, and the threats of military intervention."
"Venezuela rejects these blatant acts of interference and denounces them as an attack on our country's right to self-determination," he added. "Venezuela reserves itself the right to process the United States for these aggressions at all instances provided for in international law."
Despite the ongoing pressure, he said that Venezuela "is a free and independent nation, and will exercise its right to have with Iran and with any other country, whatever relation it deems necessary, for the benefit of the Venezuelan people."
Iran too vowed to continue its dealings with Venezuela and other countries without interruption.
"Iran considers any moves to disrupt its legitimate trade with other countries to be unlawful and illegal under international law," Iranian mission to the United Nations spokesperson Alireza Miryousefi told Newsweek. "Iran is not threatened by U.S. bullying piracy and its unlawful pressure and will take necessary measures, in accordance with international law, to protect its interests."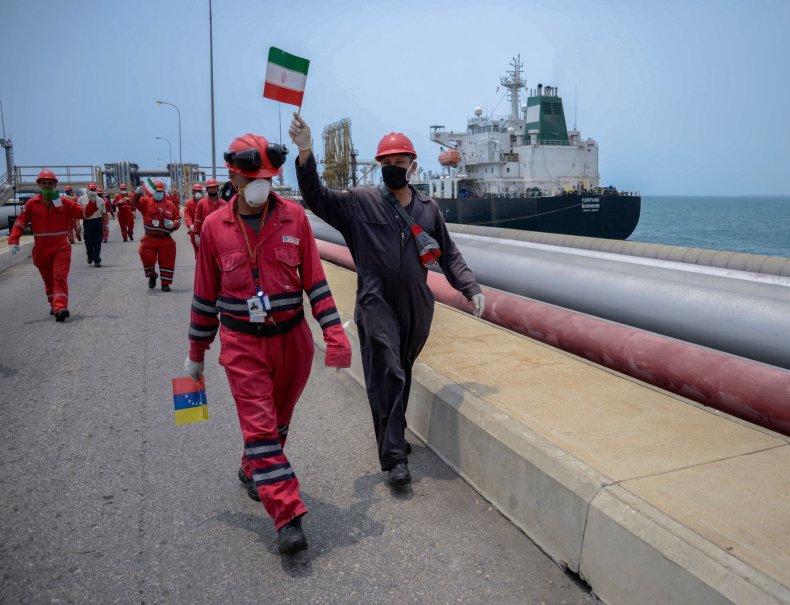 The Trump administration cut ties with Maduro last year, charging the socialist president with corruption, and left a nuclear deal pioneered by Rouhani in 2018 over allegations Iran maintained nuclear ambitions and used sanctions relief to fund foreign militias and advance missile technology. Last week, as Secretary of State Mike Pompeo pushed remaining nuclear agreement parties to extend an arms embargo on Iran, a new accusation emerged.
He told representatives of fellow U.N. Security Council members, Iran, the European Union and U.N. officials in a virtual chat that the expiration of the arms embargo would allow Iran to become "a rogue weapons dealer, supplying arms to fuel conflicts" across the globe, including, he said, in Venezuela.
Venezuela's largest defense partner is Russia, which continues to develop military-technical ties with the Latin American nation in the face of U.S. pushback. Iran's support has so far come in the form of humanitarian assistance and crucial resource trade for a country long best by an economic crisis compounded by U.S. sanctions and the novel coronavirus pandemic, but U.S. officials have warned of a potential Iranian military link.
In May, the State Department condemned continued to flights to Venezuela by Mahan Air, an airline company that Pompeo claimed "ferries weapons and terrorists around the world for the Islamic Republic of Iran." In the case of Venezuela, he said the airliners were sending technical equipment to address Venezuela's desperate energy problem while ferrying back gold to Iran in exchange.
The U.S. has also targeted Iran's maritime transportation industry. The Treasury Department slapped sanctions late last month on the captains of the Iranian tankers that shipped gas to Venezuela weeks earlier. "The rogue regimes in Caracas and Tehran are unified by their penchant for repressing their people, corruption, self-enrichment, and gross mismanagement of their peoples' wealth," Pompeo said at the time.
The move came days after the arrival in Venezuela of another Iranian ship believed to be carrying medicine, foodstuff and other equipment. A Wall Street Journal report Sunday linked this shipment to the opening in Caracas of a supermarket run by Etka, a company affiliated with Iran's armed forces.
In an attempt to stop this Iran-Venezuela trade directly, U.S. federal prosecutors moved last Monday to seize four more Iranian tankers suspected of being involved in the shipment of gasoline to Venezuela. Such a move would only apply to U.S. territorial waters, though warships of the Trump administration has expanded operations of the Pentagon's Southern Command as part of a campaign to combat narcotics trade in the Western Hemisphere.
Cuban, Venezuelan and U.S. officials told Newsweek in April that this anti-drug fleet was part of an effort to apply further pressure to Maduro while distracting from a worsening COVID-19 outbreak at home. Others have defended the mission.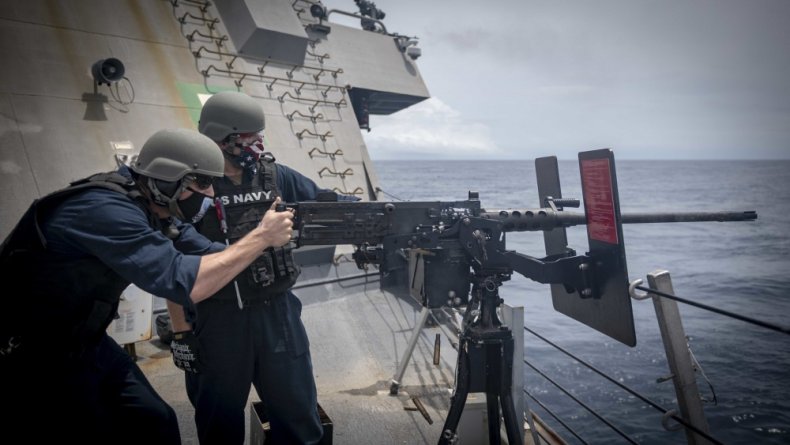 U.S. Southern Command spokesperson Jose Ruiz told Newsweek that that "the sole mission of the assets and forces deployed to the region as part of the ongoing enhanced counter narcotics operation is to support the detection and disruption of illicit trafficking activities in the Caribbean and Eastern Pacific."
Asked about potential involvement in intercepting sanctioned vessels, he said it "would be counterproductive to speculate about missions or operations neither SOUTHCOM nor its assigned forces have been directed to conduct." Ruiz did, however, share cause for concern on Iran's growing presence in Venezuela.
"Concerns about Iran's activities are warranted given their pattern of violence around the world. Iran is the world's largest state sponsor of terror, is globally active and suspected of masterminding two deadly terror attacks in Buenos Aires in the '90s," Ruiz told Newsweek.
"Iran's surrogate, Lebanese Hizballah, has supporters and associates throughout the hemisphere as part of the diaspora, some of whom conduct illicit trafficking and send remittances that could be used for terrorist activities," he added. "Given Iran's history of malfeasance, their presence in Venezuela deserves international scrutiny, and we monitor their presence and activities in the region very closely."
U.S. forces were also on heightened alert in the Persian Gulf, where they have engaged in tense encounters with Iran's Revolutionary Guard. The elite force's naval commander, Rear Admiral Alireza Tangsiri said Sunday that Iran had established onshore and offshore underground complexes armed with missiles capable of deterring U.S. forces in remarks that the State Department later told Newsweek "demonstrate clearly that the Islamic Revolutionary Guard Corps and its leaders are a destabilizing force in the region."
Iran, which is also suffering from a deadly coronavirus disease outbreak, has vowed to keep oil flowing to remaining trade partners around the world in spite of the U.S.-imposed economic restrictions.
This article has been updated to include remarks from Venezuelan Vice-Minister for North America Carlos Ron and U.S. Southern Command spokesperson Jose Ruiz.