Iran, Venezuela Praise Fuel Shipments Despite U.S. 'Aggression' on Their Trade Deal
The arrival of Iranian fuel tankers to Venezuela has been hailed by officials from both countries as they look to resist threats of intervention against their trade by the United States.
Iranian President Hassan Rouhani accused the U.S. during a cabinet session Wednesday of seeking "to interfere in the normal trade between Iran and a friendly country in carrying an oil product," something he argued "has nothing to do with them and is not compatible with any law." Without mentioning Venezuela by name, he referred to successful Iranian shipments in the Caribbean, where at least three of five tankers have already entered the waters off the socialist-led, fuel-starved Latin American nation.
"If there was no unity within the country among the government, other forces and the armed forces, the Americans might have succeeded in their aggression and another Gibraltar may have been witnessed in the Caribbean, but unity and solidarity prevented such a thing from happening," he added, referring to the United Kingdom's seizure last year of an Iranian vessel accused of carrying oil to Syria, which is subject to foreign sanctions.
President Donald Trump's administration has placed heavy trade restrictions on the petroleum industries of both Tehran and Caracas, seeking to restrict their abilities to engage in international commerce over policy differences.
Also on Wednesday, Venezuelan ambassador to Iran Carlos Alcalá Cordones told the semi-official Tasnim News Agency that receiving Tehran's shipment meant Caracas "has raised its flag of struggle against the imperialist power of the United States, which has tightened its grip on our economic progress by imposing coercive and unilateral actions by the United States"
He said the group of Iranian tankers signifies the "courage of the people through their governments, becoming more than anything a symbol of solidarity between the brotherly countries, and reflecting the fighting spirit of the two nations." He too lambasted U.S. "aggression" across the globe.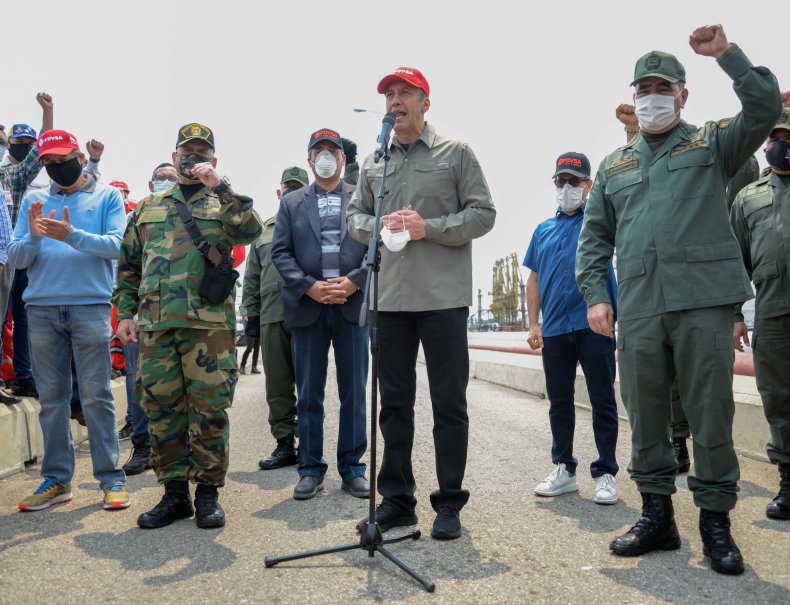 Officials from Caracas and Tehran spoke out last week after Reuters cited a senior Trump administration official who said the U.S. was considering measures to halt a gold-for-fuel arrangement between Iran and Venezuela.
State Secretary Mike Pompeo announced new restrictions days later against Chinese companies doing business with Iranian airliner Mahan Air over allegations it was involved in a plan "to facilitate shipments to Venezuela to support the illegitimate former Maduro regime and its desperate attempts to boost energy production, which had fallen due to its own gross mismanagement."
The State Department did not immediately respond to Newsweek's request for comment, though U.S. officials have described Maduro as corrupt and guilty of both electoral fraud and narcoterrorism. Venezuela rejects these accusations.
Trump has ramped up sanctions against Venezuelan President Nicolás Maduro since 2017 and cut ties entirely with his administration last year, instead endorsing opposition-controlled National Assembly leader Juan Guaidó. The country's economy faces collapse as it suffers from hyperinflation and supply shortages.
The White House has also launched a maximum pressure campaign against Iran since leaving a multilateral nuclear treaty in 2018. Washington has accused the Islamic Republic of using sanctions relief to support foreign militias, develop ballistic missile technology and establish nuclear weapons capabilities—something Iran has denied seeking.
Pompeo announced an end Wednesday to all existing sanctions waivers for countries engaged in products related to the Iranian nuclear deal still supported by China, France, Germany, Russia and the United Kingdom, as well as Iran itself.
With U.S. and Iranian forces already having been recently engaged in tense encounters in the Persian Gulf, concerns of a confrontation in the Western Hemisphere have been raised since Trump announced last month the deployment of enhanced counternarcotics operations in the Caribbean and Eastern Pacific that U.S., Venezuelan and Cuban officials told Newsweek would be used to pressure Maduro and distract from the ongoing novel coronavirus crisis.
The stakes were heightened after two U.S. nationals were arrested as part of a failed rebel incursion into Venezuela. The State Department has accused Caracas and Havana of orchestrating a disinformation campaign surrounding the incident, an allegation officials from the two leftist governments told Newsweek they reject.