Iran Says U.S. Attempt to Block Fuel Ships Headed to Venezuela 'Will Face Decisive Response'
Iran has vowed retaliation in response to any U.S. attempts to block its fuel shipments abroad after a United States official reportedly warned measures were being considered to prevent the Islamic Republic from sending fuel to Venezuela, another oil producer sanctioned by U.S.
Reuters cited a senior Trump administration official Thursday as saying that the U.S. is "looking at measures that can be taken" in response to Venezuela buying fuel for gold from Iran. The remark provoked furor in Tehran, where Iranian Foreign Ministry spokesperson Abbas Mousavi accused Washington on Monday of threatening "piracy" and "seeking a kind of global anarchy" that should alarm the international community.
"If the Americans take action against the free and legal movement of our ships, they will face a decisive response from us," Mousavi said. "If America does not like a country, this does not provide legal grounds to prevent legal trade, sanction or cause trouble."
Mousavi said his government had voiced its opposition for such "foolish measures" in notes sent by Iran's mission to the United Nations and Iranian Foreign Minister Mohammad Javad Zarif.
In his letter, released Sunday by the Iranian Foreign Ministry, Zarif expressed concern over "the United States' intention to consider dangerous, unlawful and provocative measures against Iranian oil tankers engaged in perfectly lawful international commerce with the Bolivarian Republic of Venezuela." Tehran's top diplomat said the U.S. was dispatching warships to interfere with the shipment.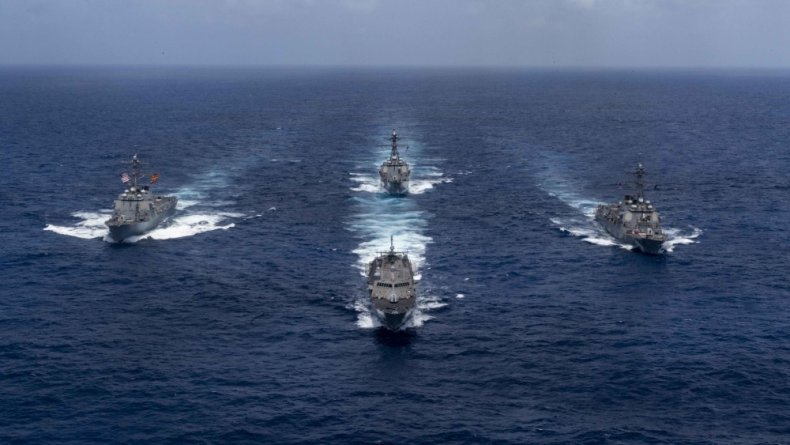 U.S. Southern Command chief Navy Admiral Craig Faller told Florida International University's fifth annual Hemispheric Security Conference on Monday that he was aware of open source reports suggesting Iranian tankers had set sail for Venezuela but declined to comment further, adding that "we see the long hand of that Iranian malfeasance at work each and every day."
He said Tehran's growing outreach to Caracas was an attempt to "gain a positional advantage in our neighborhood in a way that would counter U.S. interests." Venezuela, whose own Foreign Ministry shared its Iranian counterpart's concerns about the U.S. position toward the Iranian fuel ships, has—like Iran—been subject to a "maximum pressure" campaign by the Trump administration.
The White House expanded the U.S. military presence in the Caribbean and Eastern Pacific last month as part of a plan to crack down on drug cartels that could potentially help spread the novel coronavirus across borders, one senior administration official told Newsweek at the time. Other U.S. officials told Newsweek the counter-narcotics campaign was designed to pressure Venezuelan President Nicolás Maduro and was planned months earlier with no mention of COVID-19 as part of the mission.
The U.S. cut ties with Maduro in January of last year, endorsing his rival, National Assembly leader Juan Guaidó, who Washington has sought to bring to power in a country suffering from high inflation and widespread supply shortages. Officials from Venezuela and Cuba, another leftist-led Latin American country subject to tight economic restrictions imposed by the U.S., recently told Newsweek they felt the Pentagon's expanded presence in the region was an effort to intimidate them and distract from the U.S. handling of the coronavirus crisis at home.
Both countries also expressed frustration when earlier this month two U.S. citizens were arrested when joined a series of armed rebel incursions into Venezuela—though Washington has accused Havana and Caracas of waging a disinformation campaign surrounding the event.
The White House has also frequently accused Iran of attempting to steer the narrative regarding their geopolitical feud. The four-decade dispute between Washington and Tehran has worsened since 2018, when the Trump administration left a multilateral nuclear deal with Iran, accusing the country of using international sanctions relief to further fund militias abroad and develop missile technology.
The U.S. has since imposed increasingly strict sanctions on Iran, seeking to reduce Tehran's oil exports to zero. The Pentagon has also expanded its military presence in the Persian Gulf, where international tensions have translated to bouts of unrest and precarious encounters over the past year.