President Donald Trump announced the launch of a massive military deployment to the Caribbean and Eastern Pacific earlier this month, ostensibly to fight drug trafficking and help halt the spread of the coronavirus. However, two left-wing Latin American nations argue the move is, above all, an attempt to intimidate them and distract from domestic problems.
The mission, referred to collectively as Enhanced Counter-Narcotic Operations, is officially geared toward interdicting the heavy flow of drug shipments on their way to the United States, part of the Trump administration's efforts to combat an illicit trade off of which Washington formally accuses Venezuelan President Nicolás Maduro of profiting.
Both Newsweek's reporting and the administration's public statements acknowledge that these operations are intended to squeeze Maduro, charged late last month by the Justice Department with narcoterrorism due to his alleged links to the insurgent, leftist Revolutionary Armed Forces of Colombia (FARC). But Caracas challenges the White House's intentions.
"Venezuela would welcome that the U.S. seriously begins to secure its borders, combating cartels within their own country, and true regional threats," Venezuelan Vice Minister for North America Carlos Ron told Newsweek. "However, the actions of the Administration raise questions about their true motives."
Venezuela sits on the northern, Caribbean coast of South America. The country neighbors Colombia, the world's largest producer of cocaine and a close partner of the United States, the largest national consumer of the illicit drug which is largely trafficked through the waters of the Pacific Ocean, according to data shared by the United Nations Office of Drugs and Crime, U.S. Southern Command and U.S. Drug Enforcement Agency.
These maps also show extensive cocaine routes running through Venezuela, mostly branching out into the Atlantic Ocean toward Europe, though SOUTHCOM has also displayed evidence of what it considered suspect cross-Caribbean flights out of Venezuela. Still, Ron argued his government set out to "vigorously fight drug-trafficking it all its forms," providing select figures on drug busts, narcotics-related arrests and other relevant operations dating back 12 years.
"It seems, therefore, that this deployment near our coasts is politically motivated, aimed at providing a distraction from the current mismanagement of the COVID-19 pandemic by the Trump Administration as well as increasing pressure on the Venezuelan government," Ron said.
"We cannot forget that President Trump and several of his officials have repeatedly stated that they have a 'military option' for Venezuela," he added. "This cannot be taken lightly."
In announcing the anti-drug deployment, Trump said earlier this month it would thwart cartels looking to exploit the coronavirus crisis to intensify their drug trade. One senior administration official defended the president's position to Newsweek at the time and further said such criminal gangs may actually contribute to the spread of the virus across borders.
Other U.S. officials, however, pushed back against this narrative, telling Newsweek the operation was devised months earlier and had nothing to with mitigating the spread of the disease that has since hit the U.S. harder than any other country in the world. Instead, the linkage served as a diversion from the crisis at home and to tighten the screws on Maduro, they argued.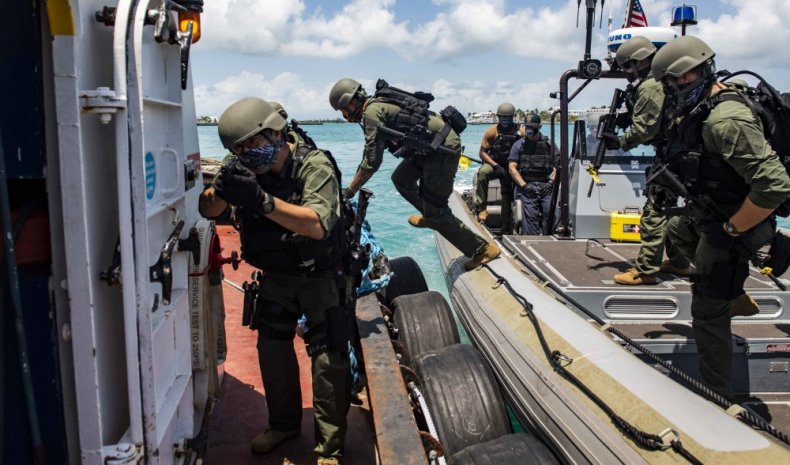 Trump ramped up sanctions against Caracas in August 2017, contributing to another rapid decline for an economy that had just begun recovering from a sheer fall after Maduro succeeded late United Socialist Party founder Hugo Chávez in 2013. In January of last year, Washington cut ties completely with Maduro, recognizing opposition-controlled National Assembly leader Juan Guaidó instead as acting head of state and not ruling out military intervention to replace a president accused of corruption and election fraud.
Guaidó has secured the backing of the overwhelming majority of the Western Hemisphere, along with traditional U.S. allies abroad in Western Europe and East Asia. Maduro retains recognition from the U.N., along with friendly countries including major powers Russia and China as well as Venezuela's closest regional partner, fellow leftist-led Cuba, whose government also shed doubts on the Trump administration's recent moves.
"Any unexplained or unjustified military maneuver in the region is a matter of concern," a senior Cuban Foreign Ministry official speaking on the condition of anonymity told Newsweek. "It is no secret that the U.S. is following a political agenda against Venezuela through military threats, and that implies danger for the region as a whole."
"The probability of accidents and misunderstanding will increase, with their undesirable consequences," the official added. "The validity of the fight against drugs suffers when it becomes an excuse."
Now Havana too is defending itself against being implicated in moving drugs across the Caribbean. A senior Pentagon official told Newsweek earlier this month that U.S. intelligence monitored the Maduro administration using naval vessels to transport drugs between Venezuela and Cuba, a charge both countries reject.
Responding directly to Newsweek's article earlier this month, Southern Command chief Air Force General Craig Faller told a press briefing that "there's a strong connection between the Maduro government and Cuba, and by propping up the Maduro regime, Cubans have supported the illicit activities that Maduro is involved in, undoubtedly."
Despite their political hostility, Washington and Havana work together on certain anti-drug efforts. It's a rare area of cooperation for two countries without normal economic ties since the U.S. trade embargo imposed half a century ago in the wake of Fidel Castro's 1959 revolution that established communist rule over the island state.
The U.S. and Cuba have signed several bilateral agreements regarding joint counter-narcotics and law enforcement work, most recently on January 16, four days before Trump took office. These deals were featured last month in the State Department's latest International Narcotics Control Strategy Report, which determined that "Cuba is not a major consumer, producer, or transit point of illicit drugs."
"Cuba's successful fight against drug trafficking is well known and understood by U.S. law enforcement agencies," the Cuban Foreign Ministry official told Newsweek. "Our willingness to increase our bilateral cooperation is also well known."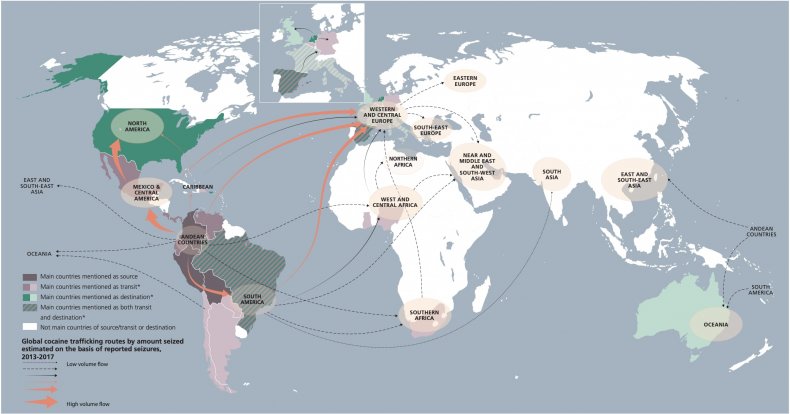 A spokesperson for the State Department's Bureau of Western Hemisphere Affairs acknowledged to Newsweek that U.S. officials "continue to engage with the Cuban government in narrow instances in the U.S. national interest," but accused Havana of complicity in allowing the Maduro administration to push narcotics across the region.
"The Castro regime's complicity in propping up and supporting the illegitimate Maduro regime and its activities is clear," the spokesperson said. "Castro's support for Maduro enables Maduro's illicit activities, which include drug trafficking."
Reached for comment by Newsweek, a Pentagon spokesperson deferred to the State Department's remarks.
Cuban and Venezuelan officials told Newsweek that Havana's support for Caracas largely involved dispatching doctors and sending assistance in the form of medical equipment, especially amid the new coronavirus pandemic, but also involved education and other areas. Maduro's own handling of the infectious illness has been the subject of criticism as well.
Secretary of State Mike Pompeo condemned on Monday what he called "the Maduro regime's increased repression of Venezuela's democratic actors and of doctors and journalists telling the truth about the COVID-19 response" in a phone call with Guaidó.
The disease has also presented new challenges for the U.S. as the coronavirus continues to dominate the media cycle in spite of tensions in the Middle East and Latin America, where the pathogen was now affecting Trump's strategy.
Last week, Arleigh Burke-class guided-missile destroyer USS Kidd, one of the warships tasked with carrying out the Enhanced Counter-Narcotic Operations in the Eastern Pacific, was forced to abandon the mission when a sailor tested positive for COVID-19 after being evacuated with support from a partnered country, as Newsweek reported. The incident follows other COVID-19 cases in the Navy, the most severe being the outbreak that infected hundreds on board Nimitz-class aircraft carrier USS Theodore Roosevelt, killing a service member and sparking internal drama among the military branch and its leadership.
Trump's new narcotic-fighting fleet involves a range of assets including Navy destroyers, littoral combat ships, P-8 patrol planes and other aircraft, as well as Coast Guard cutters, Air Force E-3 AWACS and E-8 JSTARS and a Security Forces Assistance Brigade Company on the ground. It's the largest U.S. deployment to the region since the 1989 invasion of Panama that overthrew President Manuel Noriega, who also stood accused of running drugs.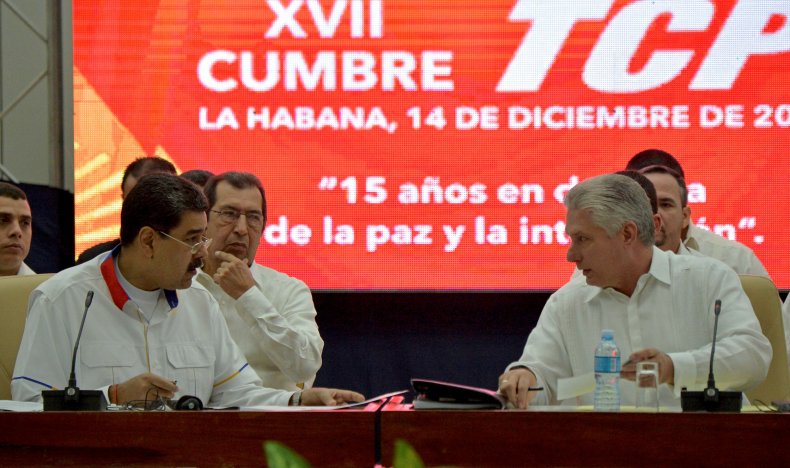 Anti-communist Noriega was once a close ally of the White House, but much of those targeted by Washington's actions across Latin America over the decades were more closely aligned with the socialist ideologies still espoused today by Havana and Caracas, whose past presidents have both been the victims of failed regime change efforts they've tied to Washington. U.S.-backed coups were historically successful against left-wing governments elsewhere, such as in Guatemala, Brazil and Chile.
"The history of U.S. aggression and intervention in the region is long and painful," the senior Cuban Foreign Ministry official told Newsweek. "It includes Cuba, but we are not the only victims."
"Thousands of Cubans have died; many others were mutilated or lost loved ones. The economic damage of the persistent coercive measures is huge. We have suffered military invasion, the threat of nuclear annihilation, terrorism and bacteriological warfare," the official added. "So yes, it does invoke painful memories."
The Trump administration, like its predecessors, defends its Latin America strategy by arguing it had the region's best interests in mind, especially by challenging what he and his officials considered to be adversarial forces engaged in malign activities.
Speaking at a press briefing Friday, State Department Bureau of Western Hemisphere Affairs Acting Assistant Secretary Michael Kozak said the Trump administration would "remain steadfast in our support for the Cuban people and for holding the Cuban regime accountable for its human rights abuses." As for Venezuela, he stated, "Our policy of maximum pressure on the former Maduro regime remains."
"The relations we have with the governments and the people of the Western Hemisphere are very important to this administration," Kozak told reporters. "We will continue to stand with our friends as we confront the challenge of COVID-19, extend freedom throughout the region, and work to reignite economic prosperity for our citizens."