Venezuela Crisis 2019 Explained: Essential Information About Safety, the Economy and the Maduro-Guaidó Dispute
Venezuela's ongoing crisis has brought the Latin American country to the forefront of international headlines. Political forces that support and oppose President Nicolás Maduro have struggled to control the narrative of what's going on in a nation that sits less than 2,000 miles from U.S. shores.
Is It Safe in Venezuela?
The capital Caracas, home to 3 million people, saw 3,387 murders in 2017 alone, making it the city with the second-highest murder rate in the world, according to the Mexico-based Citizen Council for Public Safety and Criminal Justice.
At a rate of 111.19 murders per 100,000 people, it was led only by Mexico's comparatively tiny resort city of Los Cabos, with one murder for every day of the year. The Venezuelan cities of Maturin, Ciudad Guayana and Valencia also made the list's top 10.
The local NGO Venezuelan Observatory of Violence said in its 2018 report that, while there had been a recent decline in homicides, the country as a whole was first in the world, with a rate of 81.4 homicides per 100,000 inhabitants. Venezuela also has high rates of kidnappings and armed robberies, the full extent of which may not be fully known, given the lack of official data and local corruption.
Bertelsmann Stiftung's 2018 Transformation Index—which evaluates "the state of political and economic transformation, as well as transformation management"—ranked Venezuela 110 out of 129 nations, with a score of 3.47 out of 10. In addition to criticizing the country's economic performance, the report noted how state-sanctioned "Operations to Liberate and Protect the People," which were "designed to halt the country's surging crime rates," often led to more deaths. In a report published last month, the Venezuelan Observatory of Violence found that, on average, 40 young people died every day from violence at the hands of both criminals and authorities.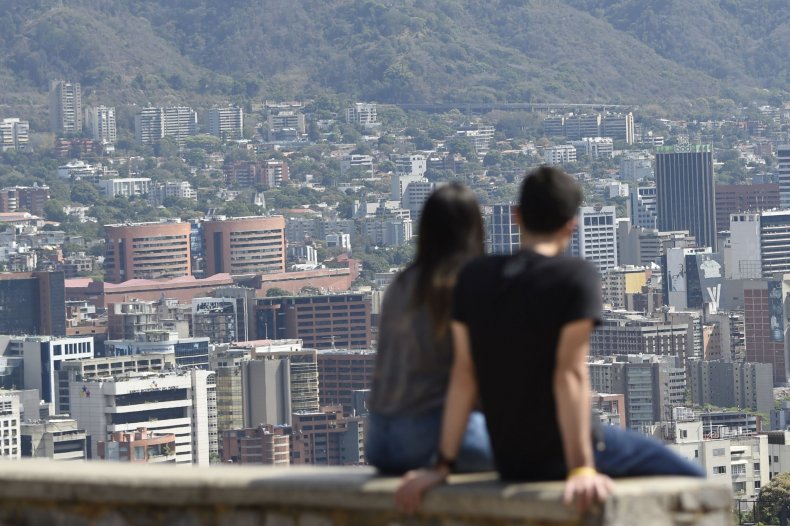 Can a U.S. Citizen Go to Venezuela?
As of January 29, Venezuela is one of only a dozen countries on the planet for which the State Department has issued a "do not travel" warning, the highest level of caution on its scale.
The latest advisory citing "crime, civil unrest, poor health infrastructure and arbitrary arrest and detention of U.S. citizens" was issued days after Washington recognized opposition leader Juan Guaidó's decision to declare himself president, challenging Maduro, whose leadership has been marred by a worsening humanitarian situation, a collapsing economy and soaring levels of violent crime.
Unlike North Korea—to which travel remains banned for U.S. citizens since August 2017—nothing officially stops a U.S. citizen from visiting Venezuela. U.S. citizens will need to obtain a Venezuelan visa, however, and that could be tricky, as the Maduro and Trump administrations have severed diplomatic ties with one another.
As of early March 2019, the State Department has also ordered the last of its diplomats out of the country, limiting access to consular services for citizens there.
In its 2016-2017 annual Travel and Tourism Competitiveness Index report, the World Economic Forum ranked Venezuela 104th out of 136 countries, beating out El Salvador and Paraguay in the region. Among the country's top tourist spots are its many national parks, including Medanos de Coro, Mochima, Morrocoy, the Los Roches Archipelago and Canaima, where the legendary Angel Falls are located. At the mouth of the Catatumbo River, travelers can witness a near nonstop lightning storm.
The graphic below, provided by Statista, shows Venezuela's economy a decade ago as compared to today.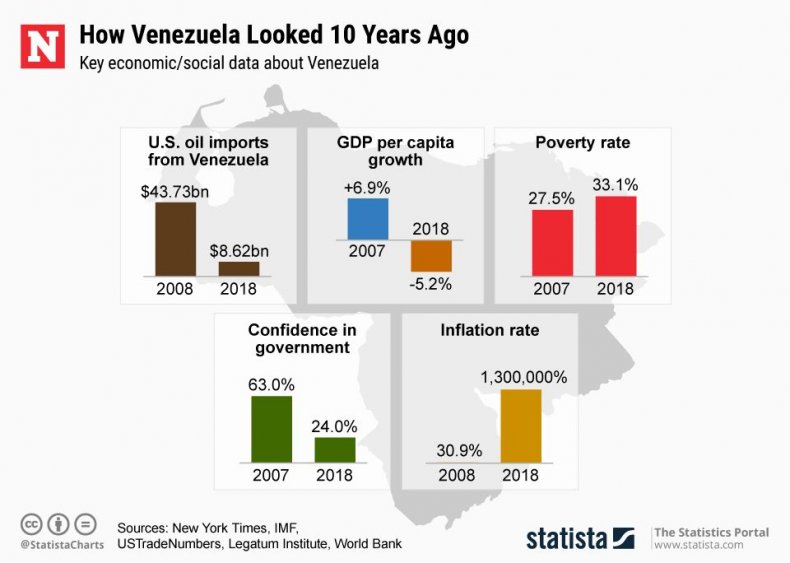 Does Venezuela Have a Good Economy?
Venezuela is a country rich in resources that has suffered from both internal mismanagement and external intervention. The Department of Energy's Energy Information Administration places Venezuela's proven crude oil reserves as first in the world. At an estimated 303 billion barrels, that's more than the rest of the Americas combined.
This has proved both a gift and a curse for the socialist-led Latin American state.
Late, left-wing Venezuelan President Hugo Chávez fashioned himself a champion of the people, setting out key reforms targeting illiteracy and unemployment, especially among working class and indigenous communities as he inherited climbing oil prices after his 1999 election. The charismatic populist leader survived a 2002 coup attempt, widely believed connected to the United States and its extensive record of seeking to stamp out leftist trends across the Western Hemisphere, as well as an oil strike that same year. Chávez would go on to rule for a bit more than a decade, slashing poverty by nearly 20 percent during the 1999-2012 period, according to the Washington-based Center for Economy and Policy Research.
Venezuela's oil-addicted economy began to run on empty, however, amid strict currency and price controls as well as rampant government spending. Chávez was diagnosed with cancer in 2011 and two more seismic events would follow: the Bolivarian leader's death in 2013 and a massive drop in the price of oil in mid-2014.
Chávez's designated successor, fellow United Socialist Party member Maduro, struggled to contain runaway inflation that by some estimates has surpassed a historic 1 million percent, resulting in mass shortages in essential goods and the flight of at least two million Venezuelans.
The graphic below, provided by Statista, shows how Venezuela's economy was empowered by late President Hugo Chávez, but sharply declined under President Nicolás Maduro.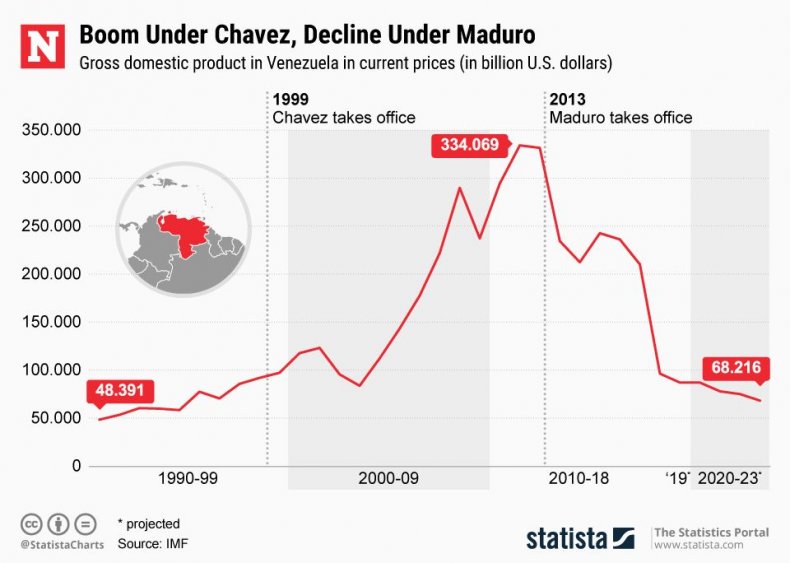 "Increasing public spending initially supported the economy but became an issue when the government resorted to printing money to finance ever-growing fiscal deficits," Sergi Lanau, deputy director of the International Institute of Finance, told Newsweek. "While the economy grew strongly in the 2000s, policies turned increasingly more unsustainable from a medium-term perspective."
Lanau explained how "nationalization and expropriation dented the private sector's potential and price and exchange rate controls aimed at taming inflation and rationing scarce [foreign exchange] led to inefficiencies and shortages of goods." He said "the oil price shock of 2015-16 made matters worse," but "at this point, Venezuela's economic collapse is entirely driven by domestic policy mistakes. When sanctions were imposed in January, the economy had already contracted more than 50 percent since 2013."
As recently as 2017, the United Nations' Human Development Program ranked Venezuela's Human Development Index at .761, higher than neighboring Colombia and Brazil. This figure, with 1.0 being the highest possible score, is an indicator used by economists to measure the extent to which people are able to be and do desirable things in life. Venezuela's HDI climbed under Chavez and peaked during Maduro's administration at .778 in 2014. Still, this number was expected to drop further as the country was engulfed by its most serious political crisis since 2002.
What Is the Relationship Between Venezuela and the United States?
Washington and Caracas have been at odds since the early 21st century, and Chávez once compared former President George W. Bush to the devil himself during at a U.N. gathering in 2006.
Viewing the U.S. as an imperial power, Chávez and Maduro aligned themselves with fellow leftist-led Latin American nations like Bolivia and Cuba, and sought other traditional critics of U.S. foreign policy abroad, such as Russia and Iran. Ultimately these countries would provide a vital lifeline for Maduro.
Hostilities between the U.S. and Venezuela worsened under President Donald Trump, who hit the country with new sanctions restricting the government's ability to issue or restructure debt in August 2017, a pivotal moment in Venezuela's economic downfall.
The graphic below, provided by Statista, shows which nations support Venezuelan President Nicolás Maduro and which support National Assembly head Juan Guaidó as of January 25.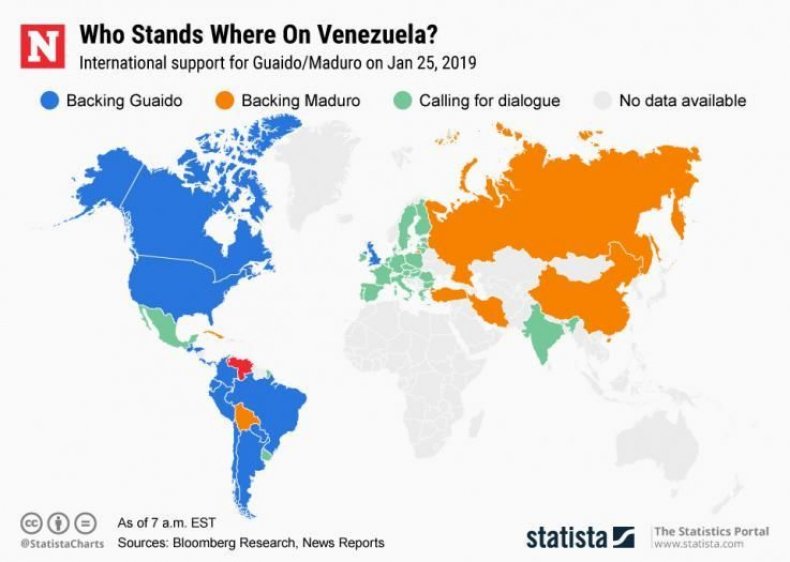 What Are the Reasons Behind the Recent Crisis in Venezuela?
Shortly after Maduro was sworn in to his second term in January, the opposition-controlled National Assembly invoked a clause within Chavez's 1999 constitution that allowed Guaidó, to nullify the elections and become acting president, a move quickly endorsed by the U.S. and its allies in Latin America and abroad.
Maduro has dismissed Guaidó's challenge as a foreign conspiracy, and, though the opposition leader has called on the armed forces to defect, the military largely remains loyal to the government. Recalling the 2002 coup attempt against his predecessor and other reputedly U.S.-backed plots, Maduro has vowed to remain in power, and his rule continues to be endorsed by China, Cuba, Russia, Iran, Nicaragua, North Korea, Turkey and South Africa, among others.
Scores of people have already died in competing protests across the country and both the government and opposition have attempted to discredit one another using every resource available. Maduro has tightened his control on the country's media outlets, restricting domestic reporting critical of his government, while Guaidó's narrative has also been challenged, as was seen in footage recently shared by The New York Times showing it was pro-opposition protesters—not Maduro's security forces, as widely reported abroad—that were responsible for burning international aid convoys stopped at the border.
In the latest standoff, a massive blackout engulfing the nation has been the subject of new contested claims. While Guaidó and his foreign sponsors have depicted the event as further evidence of Maduro's slipping grip on a country whose infrastructure has suffered deeply in recent years, the government has blamed Washington and even Senator Marco Rubio himself. As The Times reported in another recent story, U.S. sanctions have hindered Venezuela's ability to import and produce the fuel required for thermal power plants that may have backed up the hydroelectric dam that recently malfunctioned, causing the nationwide power outage.
Mark Weisbrot, co-director of the Center for Economic and Policy Research, criticized Maduro's economic policies, but told Newsweek that U.S. sanctions were "the main problem" and have "been absolutely devastating for several reasons: They decimated oil production, causing a further sharp decline in imports, including necessities such as food, medical supplies, medicine, and spare parts needed to keep the economy running. They also cut off most credit, which further accelerated the depression and then hyperinflation.
"Many observers dismiss the impact of these sanctions because the economy was already in a deep recession before Trump's August 2017 executive order," he continued. "However, if someone has pneumonia and you surround his house and prevent him from getting medical treatment, you would certainly be convicted of homicide, and a defense that he might have died anyway would not be taken seriously."