Marco Rubio Mocks Venezuela Government Blaming Him for Power Outage: 'Must Have Pressed the Wrong Thing on the Electronic Attack App
Senator Marco Rubio mocked the Venezuelan government's attempts to blame a sudden nationwide blackout on him and the United States, which has launched a pressure campaign to oust President Nicolás Maduro.
As a malfunction at the Guri hydroelectric dam plunged thousands of Venezuelans into darkness Thursday, Maduro vowed that "the electric war announced and directed by American imperialism against our people will be defeated." He blamed National Assembly head Juan Guaidó, an opposition leader who has proclaimed himself president in a move recognized by the U.S. and a number of its allies in the region and beyond.
Venezuelan Communications Minister Jorge Rodriguez, however, specifically held Rubio responsible during a televised address. The Florida Republican has repeatedly called for regime change in the Latin American country, but later Thursday, he issued a sarcastic tweet to deflect the claims.
"Tonight the "Baghdad Bob" of #Caracas @jorgerpsuv revealed I caused the nationwide & ongoing electric power outage in #Venezuela. My apologies to people of Venezuela. I must have pressed the wrong thing on the "electronic attack" app I downloaded from Apple. My bad," Rubio wrote.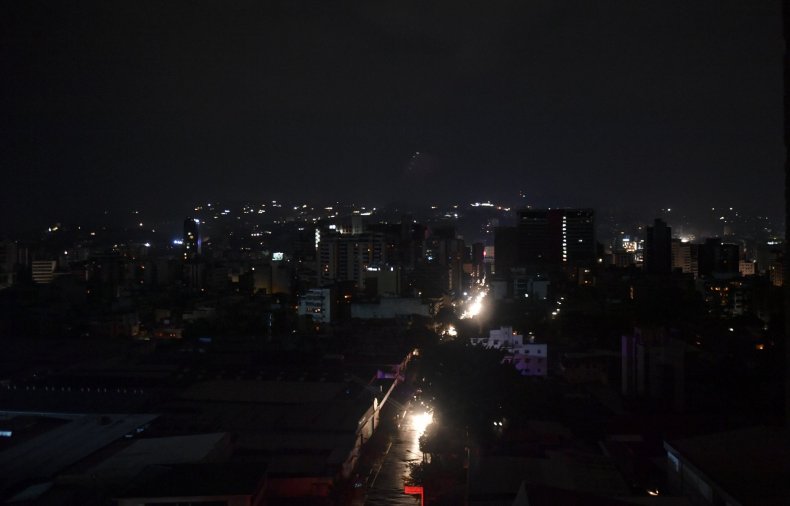 Rubio went on to post additional tweets ridiculing Maduro and his administration, including Rodriguez, who he again compared to "Baghdad Bob" in a follow-up tweet. The moniker was a reference to former Iraqi Information Minister Mohammed Saeed al-Sahhaf, who offered daily press briefings up to the onset of the Iraq War, often denying reports the invading U.S.-led forces were succeeding in taking the capital.
Maduro has drawn comparisons between the current White House's efforts to get him to step down and former President George W. Bush's campaign to discredit Iraqi President Saddam Hussein. Charged by his detractors with corruption, human rights abuses and election fraud amid an unprecedented economic crisis, Maduro has accused Guaidó and other opposition figures of conspiring with foreign powers, such as the U.S. and neighboring Colombia, to foment unrest and conduct a military coup against him.
Guaidó, who has openly called on the Venezuelan armed forces to defect, recently returned without incident from a Latin American tour. Vice President Mike Pence had warned of "swift action" should he be arrested at the Caracas airport, while President Donald Trump and other administration officials have repeatedly warned that "all options are on the table," including military action, to unseat Maduro.
Rubio has previously advocated for the use of force against Venezuela. The lawmaker told a Senate Foreign Relations Committee hearing Thursday that "the Maduro regime is a clear danger and threat to the national interests and, I would argue, national security of the United States."
U.S. efforts to bring Guaidó to power have been backed by allies such as the European Union, Albania, Argentina, Australia, Canada, Brazil, Chile, Colombia, Costa Rica, Georgia, Guatemala, Honduras, Israel, Panama, Paraguay and Peru. Maduro retains the recognition of Belarus, Cambodia, Cuba, Bolivia, China, Iran, Nicaragua, North Korea, the Palestinian National Authority, Russia, Turkey, Serbia, South Africa, Suriname and Syria.
Officials in Moscow have been among the most vocal opponents of Washington's attempts to overthrow Maduro. During a press briefing Thursday, Russian Foreign Ministry spokesperson Maria Zakharova criticized mounting U.S. sanctions on Venezuela and Cuba. She commented: "How would the U.S. economy develop if just 10 percent of the sanctions, restrictions and embargoes that apply to these countries were applied to Washington? There would be nothing left of the economy at all. You need to understand the conditions in which the peoples of these countries live and try to survive."