Venezuela Goes Dark as Government Blames 'Sabotage' for Nationwide Blackout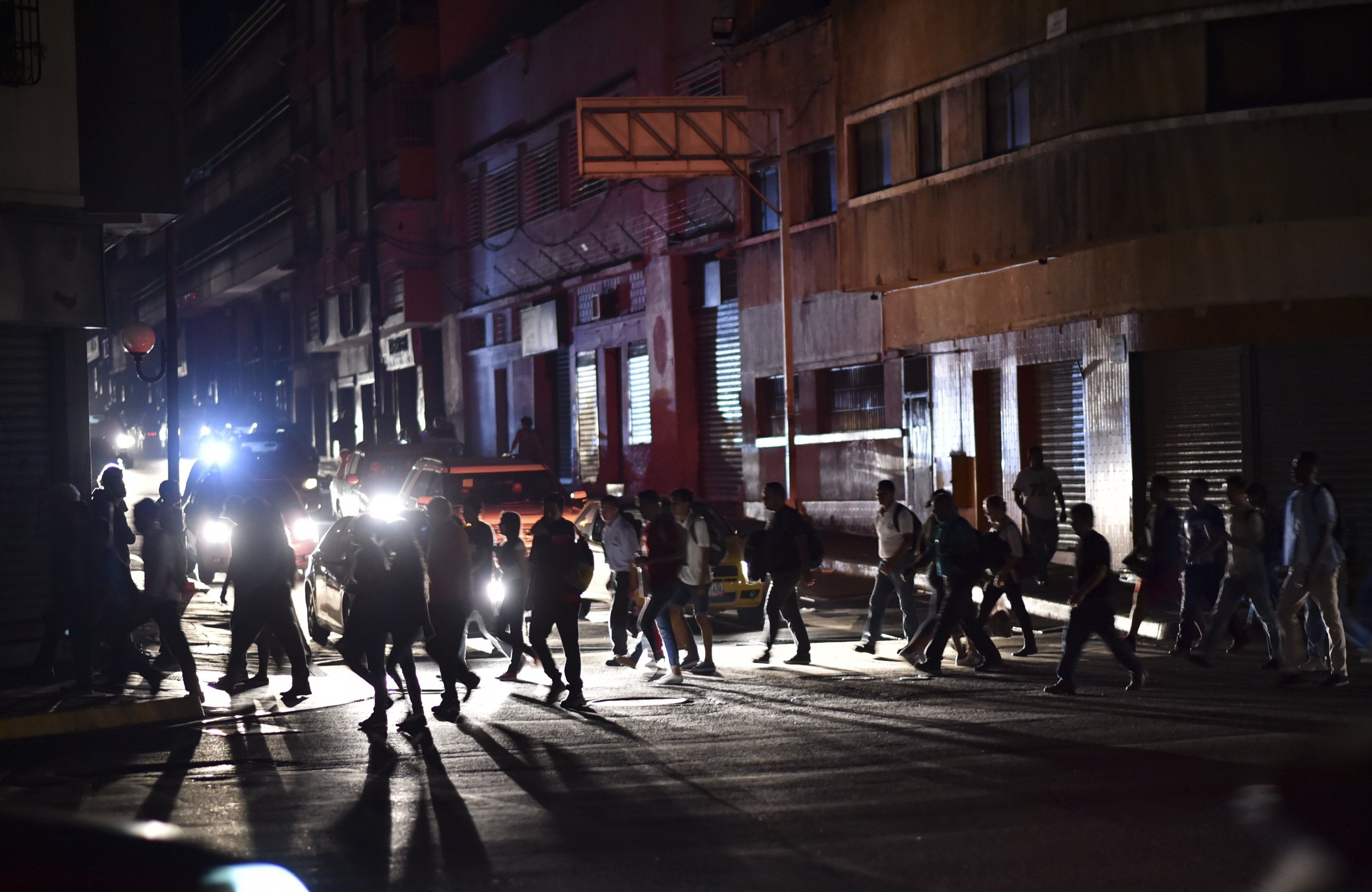 Venezuela was plunged into darkness after a major failure in the national power grid, one that embattled President Nicolas Maduro blamed on anti-government saboteurs.
Crowds in the capital city of Caracas flooded into the streets amid the darkness, Reuters reported, forced to walk home from work because the city's metro system was shut down and the few buses quickly became overloaded.
The South American nation is in the grips of a political crisis with two men claiming to be its legitimate president. Maduro, who succeeded revolutionary leader Hugo Chavez after his death in 2013, won last year's presidential election amid accusations of irregularities, suppression of critics and a boycott by much of the opposition.
Arguing that Maduro is an illegitimate dictator, 35-year-old Juan Guaidó—the leader of the opposition-controlled National Assembly—used a clause in the national constitution to declare himself interim president until new fair elections could be held.
The U.S. and a host of South American and European nations have thrown their support behind Guaidó, while Russia, China and others have said they supported Maduro. The two men are now in a tense standoff, with Guaidó and his international backers working to undermine Maduro and convince the country's powerful military—thus far loyal to Maduro—to switch sides.
The oil-rich nation has been battling economic crises since well before the constitutional crisis erupted this year. The collapsing price of crude oil and economic mismanagement has left enormous holes in the national budget, while hyperinflation, unemployment and goods shortages have pushed more than 3 million people to flee the country.
Blackouts are a fact of day-to-day life, but the widespread nature of Thursday's incident was unusual. Reuters cited local media and Twitter reports, which said the blackout affected Caracas and 15 of the country's 23 states.
Maduro blamed "sabotage" at a hydroelectric dam that supplies much of the nation's power. The dictator had previously blamed his country's economic woes on a U.S.-led "economic war." But critics have cited corruption among officials and under investment in the national power grid as the cause, Reuters reported.
Information Minister Jorge Rodriguez blamed a right-wing extremist cyber attack for the outage, according to The Associated Press. He called for "a little bit of patience… If you're in your home, stay in your home. If you're in a protected space or at work, it's better for you to stay there."
Electricity Minister Luis Motta issued a statement on state television, claiming, "They've attacked the generation and transmission at the Guri [hydroelectric dam], the backbone of the electricity system." He did not specify who "they" were nor did he offer any evidence. Motta also said power would be restored within roughly three hours.
Guaidó expressed his anger at the power failure. "How do you tell a mom who needs to cook, an ill person who depends on a machine, a worker who should be laboring that we are in a powerful country without electricity?" he asked. "Venezuela is clear that the light will return with the end of usurpation."