U.S. Takes New Action Against Venezuela as Russia and China Warn Trump Administration to Stay Away
"The United States announced Friday new political and diplomatic actions against the Venezuelan government, defying fresh warnings from Russia and China to stay away from the country's political crisis.
The Treasury Department rolled out new sanctions on six of Venezuelan President Nicolás Maduro's security officials accused of being "associated with the obstruction of humanitarian aid deliveries," followed by an announcement by State Department special representative to Venezuela Elliot Abrams that the U.S. would also be restricting "dozens more" visas for members of Maduro's government and their family members. The U.S. has withdrawn recognition of the socialist leader, instead endorsing National Assembly head Juan Guaidó, who has claimed the presidency and called on Maduro to step down.
Maduro has alleged the international caravans claiming to carry food and medicine actually carried weapons meant to empower opposition forces and spark a coup against his leadership, suspicions shared by some of his international allies, including Moscow and Beijing. Following a United Nations showdown Thursday that saw rival U.S. and joint Chinese and Russian resolutions vetoed, concerns were raised that diplomatic failures could lead to military action, something the Trump administration has repeatedly warned was "on the table."
Chinese Foreign Ministry spokesperson Lu Kang warned earlier Friday against "external intervention in the internal affairs of Venezuela and military interference in Venezuela" and Russian Foreign Minister Sergey Lavrov told reporters that same day that "there is not a single country, with the exception of one or two closest allies of the United States, which would support or allow for the option of military intervention in Venezuela."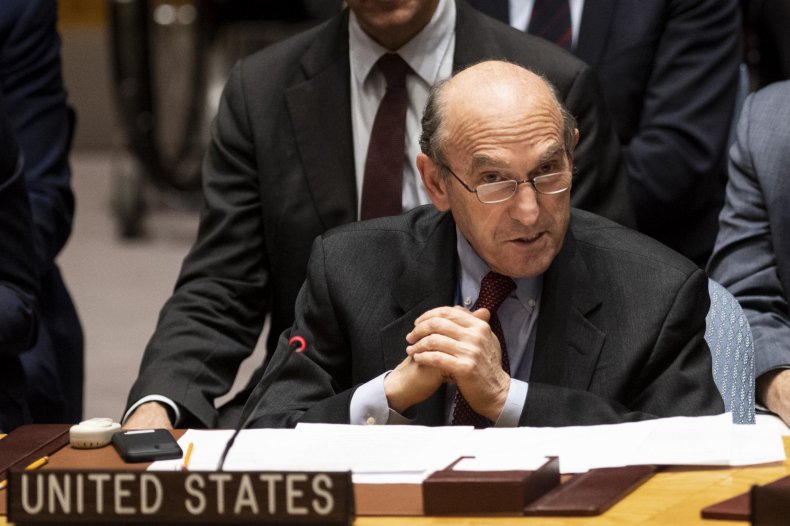 Lavrov further accused the U.S. of attempting to arm the Venezuelan opposition and specifically targeted Abrams. The diplomat had previously been indicted and pardoned for lying to Congress about his role in the 1980s Iran-Contra Affair, by which members of President Ronald Reagan's administration illicitly sold weapons to Iran and used the funds to support anti-communist militias in Nicaragua, one episode in a decades-long history of U.S. efforts to defeat leftist forces across Latin America.
"Elliot Abrams just escalates the situation that provokes an explosion and bloodshed in Venezuela to justify military intervention as the U.S. wishes," Lavrov said at the press conference, alongside Venezuelan Vice President Delcy Rodríguez in Moscow.
Abrams responded to these remarks at a briefing of his own later that day in Washington, saying, "I don't think he actually believes that we are attempting to do that and I think, as you know, we are not attempting to do that." The envoy said that "the United States is pursuing a policy of economic, financial, political, diplomatic pressure on the de facto regime in Venezuela in support of Juan Guaidó, the interim president of the National Assembly of the Venezuelan people."
"We continue to say and, we always will, that all options are on the table, because they always are, but I think anyone who actually looks at American policy in Venezuela could not reach that conclusion," he added.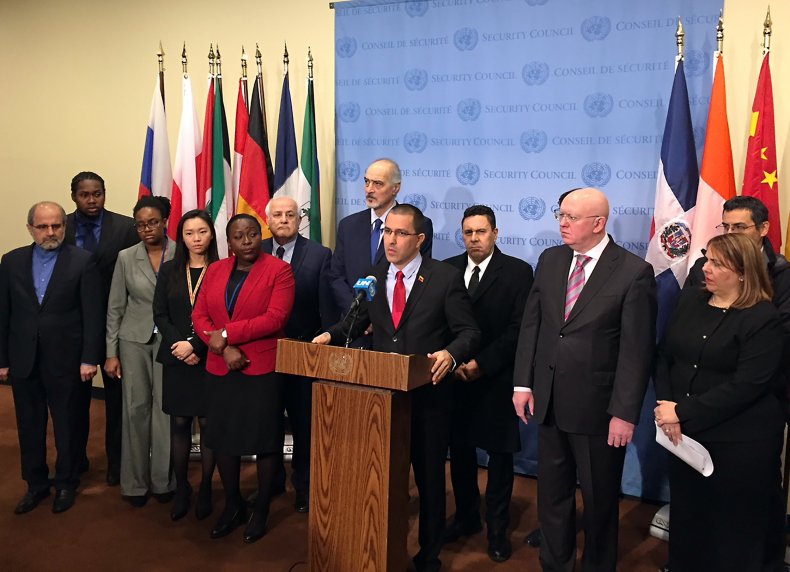 Venezuela's unrest was rooted in a deteriorating economic situation, blamed by the opposition on Maduro's financial mishandling and corruption and by his government on U.S. sanctions and foreign meddling. Washington and Caracas have been hostile since Maduro's predecessor, Hugo Chávez, was elected in 1999 and survived a 2002 coup attempt reportedly linked to U.S. officials such as Abrams.
Both Maduro and Guaidó have the recognition of over a dozen foreign governments, with many others—such as the U.N.—simply calling for calm and restraint.
Among Maduro's supporters were Belarus, Cambodia, Cuba, Bolivia, China, Iran, Nicaragua, North Korea, the Palestinian National Authority, Russia, Turkey, Serbia, South Africa, Suriname and Syria, while those who backed Guaidó included the U.S., the European Union, Albania, Argentina, Australia, Canada, Brazil, Chile, Colombia, Costa Rica, Georgia, Guatemala, Honduras, Israel, Panama, Paraguay and Peru.