China Praises Venezuela's Response to Crisis, Backs Russia Against U.S. 'Military Intervention' There
China praised the Venezuelan government's response to a mounting political crisis that threatened to erupt into widespread violence, and joined Russia in warning the United States not to step in.
Beijing and Moscow are among the world governments that have continued to recognize Venezuelan President Nicolás Maduro after National Assembly leader Juan Guaidó declared himself leader last month in a political challenge recognized by Washington and its allies. As Guaidó's Saturday deadline for Venezuelan security forces to accept U.S. aid was dismissed by Maduro as a foreign plot, clashes at the border prompted international anxieties.
China blamed foreign meddling. "We have noticed that in recent times, the Venezuelan government has maintained calmness and restraint and has spared no effort to maintain domestic peace and stability and to effectively avoid large-scale bloody conflicts," Chinese Foreign Ministry spokesperson Geng Shuang told reporters.
"If the so-called 'humanitarian aid' supplies are forcibly delivered to Venezuela and then a violent conflict is triggered, it will have serious consequences, which no parties want to see," he continued. "China opposes military intervention in Venezuela and opposes any behavior that has led to tensions in Venezuela or even caused unrest."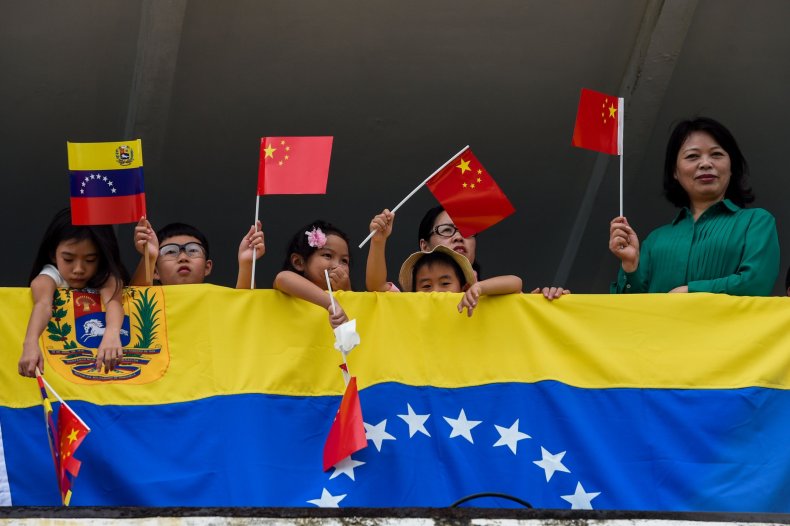 President Donald Trump has left military action "on the table" in forcing Maduro to step down amid allegations his government mishandled the country's failing economy, perpetrated human rights abuses and rigged elections. Trump, who has already expanded sanctions against Maduro's government, said last week that sending troops to Colombia, an entry point for U.S.-sent supplies, was a possibility.
The Venezuelan president accused Trump of attempting to stage what his government considered to be the latest of several U.S.-backed coup attempts against the oil-rich, socialist-led nation in Latin America, which has also been the venue for decades of U.S. intervention against leftist forces. That viewpoint was backed by Russia, which in December 2018 sent nuclear-capable bombers to Venezuela for training in a show of support, and has repeatedly warned the U.S. to stay out of Venezuela.
Moscow has remained ambiguous on whether it would offer military support should Caracas ask for it—as Syrian President Bashar al-Assad did in 2015—but confirmed as recently as last week that such a request had not been made. Still, in a development reminiscent of the crisis in Syria, Russian Foreign Ministry spokesperson Maria Zakharova claimed Friday that "the U.S. and its NATO allies are considering the possibility of buying a large batch of weapons in one of the Eastern European countries in order to provide them to the Venezuelan opposition."
"This is what they mean when they talk about delivering humanitarian aid," said Zakharova, who also suggested that Ukraine may be involved and that the weapons would be slipped in via a neighboring country.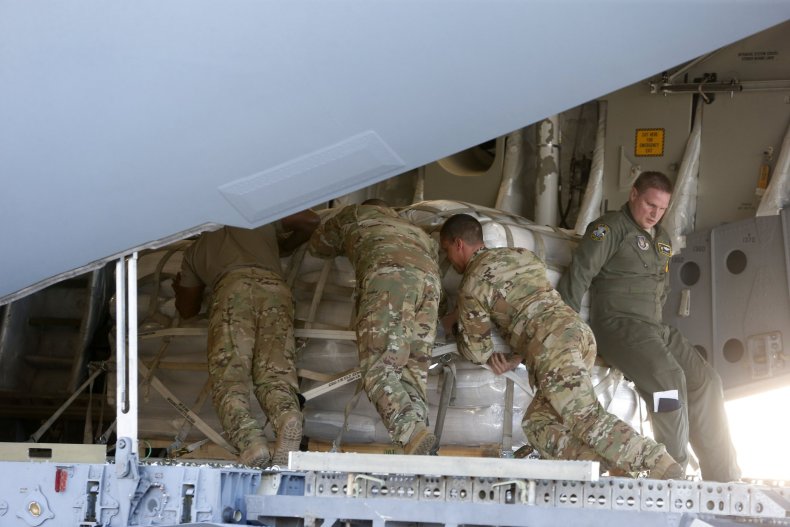 Maduro's fears of such an operation have prompted him to begin sealing Venezuela's borders, including the one it shares with Brazil, a far-right-led American ally that publicly floated the idea of bringing in a U.S. military base in response to Venezuela's relationship with Russia. As Venezuelan opposition figures approached the border Friday, national guard figures intercepted them, allegedly opening fire with rubber bullets that led to the death of one woman and at least a dozen more injured.
Elsewhere along the western border with Colombia, two concerts were arranged, both for and against the Venezuelan government. In the Colombian border city of Cucuta, U.K. billionaire Richard Branson organized a "Venezuela Aid Live" festival for supporters of Guaidó. A rival, pro-government "Hands Off Venezuela" show, reportedly featuring up to 150 artists, will take place less than two miles away, in San Antonio, Venezuela.
Maduro still has the support of fellow regional socialist allies Bolivia, Cuba, El Salvador and Nicaragua, as well as others abroad, including Belarus, Cambodia, China, Iran, North Korea, the Palestinian National Authority, Turkey, South Africa and Syria. Guaidó has been endorsed by the U.S. and most of Latin America, along with the European Union, Albania, Australia, Georgia, Israel and Japan.