President Donald Trump has stoked further speculation about potentially using military action to pressure regime change in Venezuela by sending troops to Colombia.
The Trump administration recognized National Assembly head Juan Guaidó as "interim" leader of Venezuela last month, a challenge to socialist Venezuelan President Nicolás Maduro, who has accused the White House of plotting a coup against him. The U.S. has since expanded sanctions against Maduro's government and the country's state-owned oil company, with the president asserting that "all options are on the table."
After sanctions were announced at a press conference last month, observers noticed White House national security adviser John Bolton held a note pad with the phrase "5,000 troops to Colombia" written on it, raising the possibility of a U.S. military deployment to Venezuela's neighbor to the west. (To Venezuela's east is U.S.-backed, right-wing-led Brazil.)
Asked Wednesday if he planned to send troops to Colombia, Trump simply responded, "You'll see."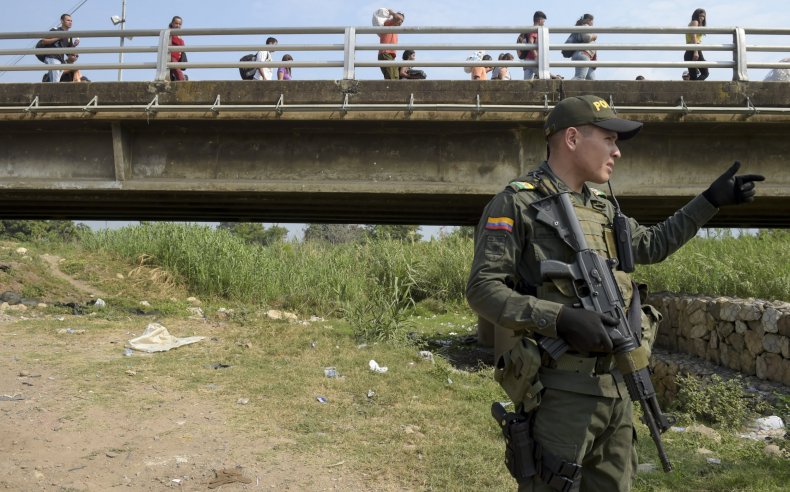 Trump made the remark following a meeting with Colombian President Ivan Duque at the White House. Bogotá has been a leading ally of the U.S. and Latin American effort to unseat Maduro and has taken in scores of Venezuelans fleeing deteriorating economic conditions at home, where unparalleled hyperinflation and massive shortages have plagued the onset of Maduro's second term earlier this month.
It was upon this backdrop—along with ongoing accusations of state-sanctioned election fraud—that Guaidó declared himself the acting president last month. Most other Latin American states recognized the move, while fellow leftist-led Bolivia, Cuba, El Salvador—set to get a new anti-Maduro president in June—and Nicaragua backed the current government in Venezuela. Mexico and Uruguay have also retained their recognition of Maduro and have offered to mediate between the government and opposition.
Maduro has also received backing from Belarus, Cambodia, China, Equatorial Guinea, Iran, North Korea, the Palestinian National Authority, Russia, Serbia, South Africa, Syria and Turkey. In addition to the U.S., Guaidó was endorsed by the U.S., Canada, most of the European Union, Albania, Australia, Georgia, Israel and Morocco.
Moscow has been among the most vocal critics of Washington's handling of the crisis in Caracas, which received Russian jets in a show of solidarity as recently as December, but officials have said that Maduro's government has not yet requested military assistance. The Venezuelan leader, however, has rallied the military—which continues to support him—in the face of U.S. threats.
On Thursday, Venezuelan Communications Minister Jorge Gonzalez claimed to have unraveled a vast conspiracy involving opposition leaders, business entrepreneurs, foreign governments and defecting military personnel, at least two of whom had apparently confessed on camera. The plot involved last August's explosive drone assassination attempt on Maduro, a military coup and U.S. military action.
The U.S. has for decades sought to suppress leftist political forces across Latin America, but has portrayed its most recent attempt as a humanitarian act. Maduro has so far refused foreign aid at the border, claiming it to be part of the plan to depose him.