Russia Says U.S. Attempts to Overthrow Venezuela Using Its Own Military Are 'Unheard of'
A senior Russian diplomat has hit back at the U.S.'s reported attempts to oust the Venezuelan government by turning the Latin American state's armed forces against it.
The U.S. has recognized National Assembly head Juan Guaidó's claim to the presidency since the opposition leader declared himself "interim" leader last month, challenging the position of Venezuelan President Nicolás Maduro, a close partner of Russia. President Donald Trump, who has already rolled out sanctions against Maduro has reiterated that "all options are on the table" when it came to ousting the socialist leader, including military action.
Reuters then published a report Friday citing a senior White House official who claimed that the U.S. was "still having conversations with members of the former Maduro regime, with military members, although those conversations are very, very limited."
Responding to these remarks on Monday, director of the Russian Foreign Ministry's Latin America Department Alexander Shchetinin condemned what he called "unheard of interference in the affairs of a foreign state," warning that officials in Washington were "only thinking about it as it applies to themselves" in comments carried by the state-run Tass Russian News Agency.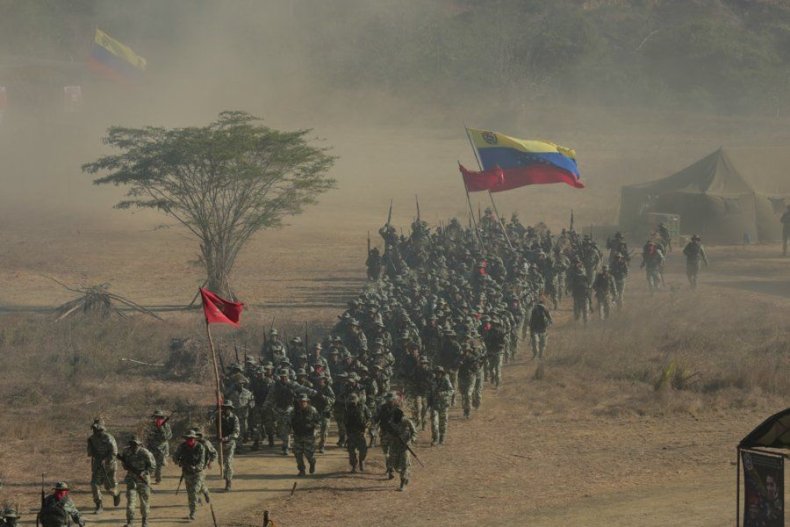 That same day, Shchetinin participated in an international affairs committee meeting of Russia's upper house of parliament on the subject of Venezuela. Committee chair senator Konstantin Kosachev told journalists after the discussion that "external pressure on Venezuela to change power remains, and it may even increase," according to the Interfax news outlet.
"It is also obvious, and we agreed on this in our committee today, that the direction of Russian policy on Venezuela—which is focused primarily on protecting the fundamental principles of international law, denying interference in the internal affairs of sovereign states and, through this, protecting the sovereign right of the people of Venezuela to determine their fate—is true and remains unchanged," he added.
The U.S. has an extensive history of intervening in Latin America, especially in opposition to leftist governments and movements across the region. Maduro has long accused Washington of plotting alongside local opposition members to depose him, as the CIA allegedly tried to do against his predecessor, late President Hugo Chávez, in 2002.
During a press conference Thursday, Venezuelan Communications Minister Jorge Rodriguez mapped out what he claimed to be a vast conspiracy to spark a military coup including opposition leaders, businessmen, foreign governments and defected military personnel, some of whom appeared to confess on camera following their arrest. Guaidó has appealed to the armed forces, calling on them to turn their back on Maduro as the country's economic crisis deepens with the recent political unrest.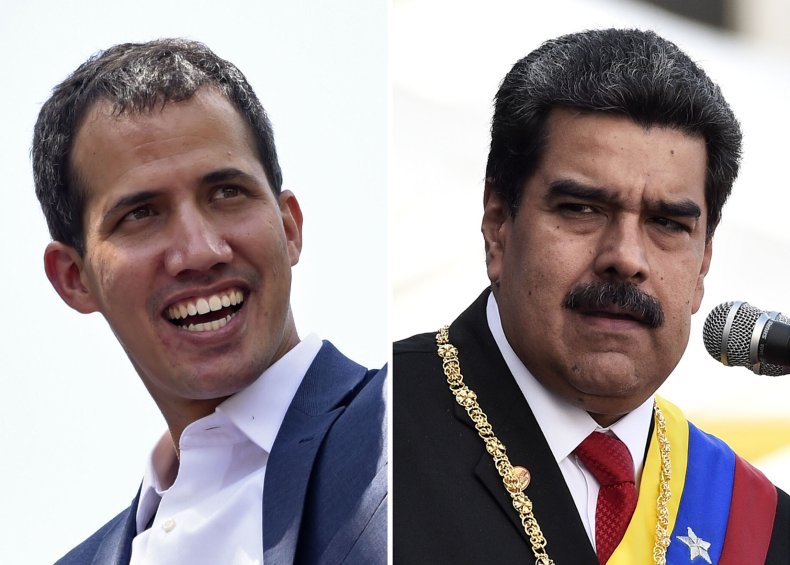 Guaidó's decision to claim the presidency came after quiet trips to neighboring, right-wing-led Colombia and Brazil, as well as the U.S., The Associated Press reported. He sought to capitalize on growing protests against the Venezuelan government as Maduro began his second six-year term amid a backdrop of unprecedented hyperinflation and crime rates, major shortages of essential goods and services and persistent accusations of election fraud and human rights abuses.
Maduro has received support from fellow left-wing-led Bolivia, Cuba, El Salvador—which recently elected an anti-Maduro populist on a conservative ticket—and Nicaragua, along with Saint Vincent and the Grenadines and Suriname in the nearby Caribbean cultural sphere. Maduro has also drawn support from Belarus, Cambodia, China, Equatorial Guinea, Iran, North Korea, the Palestinian National Authority, Russia, Serbia, South Africa, Syria and Turkey. On the other hand, Guaidó's allies include nearly every other Latin American state, along with the U.S., Canada, most of the European Union, Albania, Australia, Georgia, Israel and Morocco.
Maduro was also backed by Mexico and Uruguay, but the latter has hosted international talks designed to resolve the presidential dispute peacefully. In a situation reminiscent of the international standoff that followed the 2011 rebel and jihadi uprising in Syria—where the U.S. sponsored opposition fighters against a government later backed by Russia—Washington and Moscow have introduced rival resolutions in the United Nations.
Shchetinin also said Monday that the Venezuelan government has not asked for military support from Russia, as Syrian President Bashar al-Assad did in 2015. He noted, however, that there was a "great" difference between the situation in Venezuela and that of Syria.