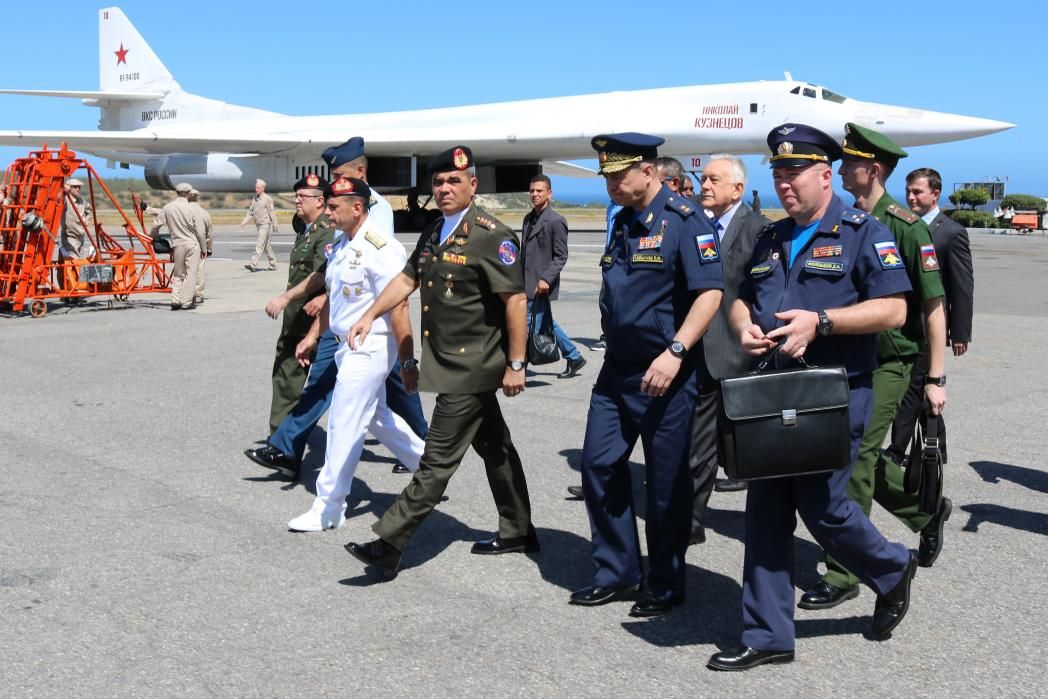 Russia has set out to enhance its influence across Latin America, once a Western bastion of Soviet support, as hopes of a rapprochement with the United States fade and a new, risky plan to counter its global influence is put into place.
The appearance of nuclear-capable Tupolev Tu-160 strategic bombers in Venezuela last month garnered much media attention as the Russian flight coincided with a hardening U.S. stance against the ailing, socialist-led South American nation and White House threats to withdraw from a Cold War-era treaty banning the deployment of intermediate-range missiles. Days later, in a development even more reminiscent of that historic battle of superpowers, a report surfaced in the Nezavisimaya Gazeta newspaper suggesting that Moscow may commit to establishing a full-fledged base on its ally off of the Caribbean.
Russia has also reached out to other left-wing nations Nicaragua and Cuba, where talks of a potential Russian military installation were similarly floated by officials. These three socialist states in the region form what White House national security adviser John Bolton dubbed the "troika of tyranny" in a November speech in Miami. Bolton, the architect of the extended "axis of evil," which included Cuba and Libya alongside Iran, Iraq and North Korea in the aftermath of the 9/11 attacks, vowed a hard line against these governments.
As President Donald Trump's promises of a reset in U.S.-Russia ties continue to more closely resemble a hardening of the world's leading military powers toward one another, Russian President Vladimir Putin is looking west to test the extent of his country's resurgent global clout, and the limits of his rival's commitment to pursuing goals seen by Moscow as provocations in its own backyard.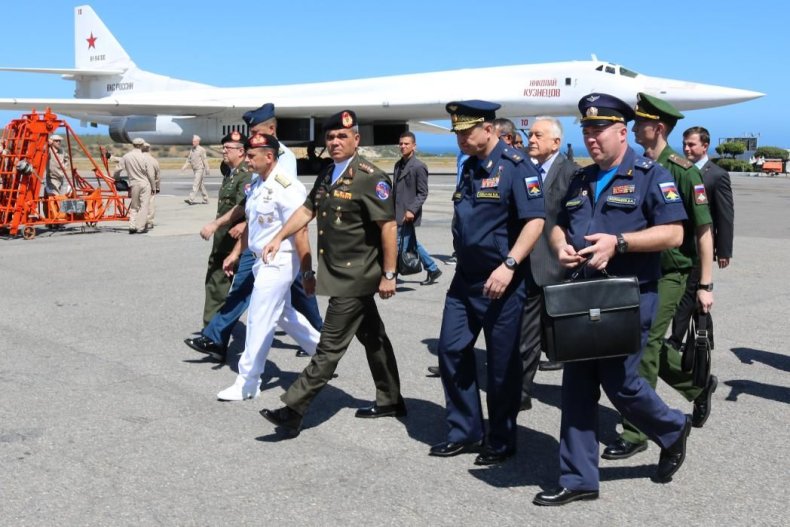 The U.S. has an extensive history of intervention in Latin America, where nearly every country has been deeply affected in some way, shape or form by Washington's policies. The U.S. military became especially engaged in the mid-20th-century as leftist movements mobilized against foreign influence, prompting Washington to back coups against leftist leaders and sponsor right-wing state suppression to stamp out socialist activities. These events, which peaked with Central America's bloody civil wars in the 1980s, served as ripe propaganda for the Soviet Union and its global supporters, who painted the U.S. as an imperialist power.
This U.S. role continued through the 21st century, albeit in a more muted fashion. The reign of late Venezuelan President Hugo Chávez nearly came to a sudden end after a 2002 coup that was later shown to have ties to the CIA. Chávez, already an outspoken critic of Washington, held on to this grudge for the rest of his life, blaming the U.S. for its hostile stance even as his nation's economy collapsed under an economic crisis. After his death, in 2013, Nicolás Maduro continued to blame the U.S. under even more dire financial circumstances and, under Trump, in the face of an administration that publicly toyed with the idea of regime change.
Russia's incentive for expanding its interest in the Western hemisphere is clear amid the current geopolitical security climate. As Vladimir Rouvinski, the director of the Center for Inter-Disciplinary Studies at Colombia's Icesi University, explained to Newsweek, Latin America represents the "near abroad" for Washington much in the same way that Europe, a continent that has become dominated by the U.S.-led NATO Western military alliance, does to Moscow.
The Kremlin has long viewed the so-called "color revolutions" that shook former Soviet Republics and the Balkans as being directly linked to U.S. meddling. This suspicion of Washington's involvement abroad only grew as the U.S. backed efforts to overthrow governments across the Middle East, where Sunni Muslim insurgencies quickly erupted in the resulting instability.
As Russia intervened in Syria and Ukraine to thwart what it considered Western plots against its interests, Moscow may be gearing up to preempt any sort of U.S. action against Venezuela—where Maduro claimed during a speech Wednesday that he was facing a coup attempt by U.S.-backed Colombia and its allies—while at the same time promoting its own agenda abroad.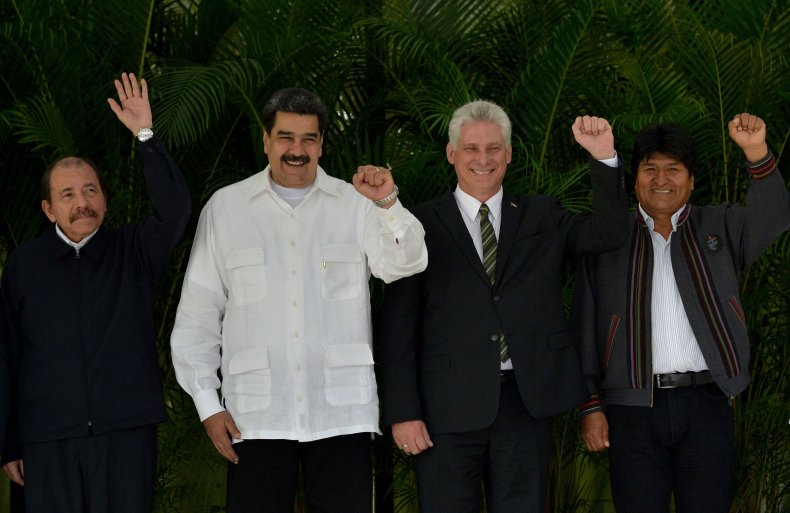 "I think Russia clearly sees Venezuela as an important piece of its foreign policy, and not without reason," David Smilde, a sociologist and Latin America expert at Tulane University and a senior fellow at the Washington Office on Latin America, told Newsweek. "It is taking advantage of a country that is desperate for support, to secure lucrative contracts providing access to Venezuela's energy assets and more recently gold. In the process, it can use Venezuela to pressure the United States.
"The recent visit to Venezuela by nuclear-capable bombers is a Russian reminder to U.S. President Donald Trump of what could happen if he pulls out of the 30-year-old nuclear non-proliferation START treaty," he added. "In addition, Putin's foreign policy largely amounts to supporting authoritarian governments worldwide, that can be presented as a network of allies with alternative forms of governance, which he can use to deflect demands at home for more democratic rule."
The objectives line up, but as Smilde noted, "None of this translates into broader Russian influence in the region. To the contrary, a number of countries have expressed alarm."
Moscow's outreach has yet to translate into a tangible military presence and would likely find fertile ground only in countries actually still touting the anti-imperialist fervor that swept Latin America during the Cold War and once again with the so-called "pink tide" of the late 1990s and early 2000s. More recently, the continent was gripped by a conservative wave that has had an opposite effect for countries like Brazil, which has just shaken off a left-leaning leadership in a radical swing to the right.
The election of far-right Brazilian President Jair Bolsonaro has, in fact, given the U.S. a new ally in the region. A vocal critic of leftist ideology across Latin America, Bolsonaro said just last week that he was considering inviting the Pentagon to build a base in Brazil in response to Russia's embrace of countries such as Venezuela.
In line with major U.S. fears of Russian and Chinese influence popping up around the world, Air Force Chief of Staff General David Goldfein said in November that "we are looking at cooperation where we can and pushing back aggressively where we must" and that, in Latin America, "certainly we keep an eye on their activities." Still, the Trump administration's failure to nominate ambassadors for several regional countries, including Brazil, and various shakeups in Washington have damaged trust in U.S. commitment as Moscow presented itself as an alternative.
Russia has experimented with expanding Latin American ties on prior occasions, as it did with a regional naval tour in 2008, but failed to follow through with any broader plans. Rouvinski said that previous outreach centered around pressuring the U.S. at a time when relations between the countries were more amicable. But, as he explains, "This time Russia is losing all hope that it would be possible to improve relations with the United States."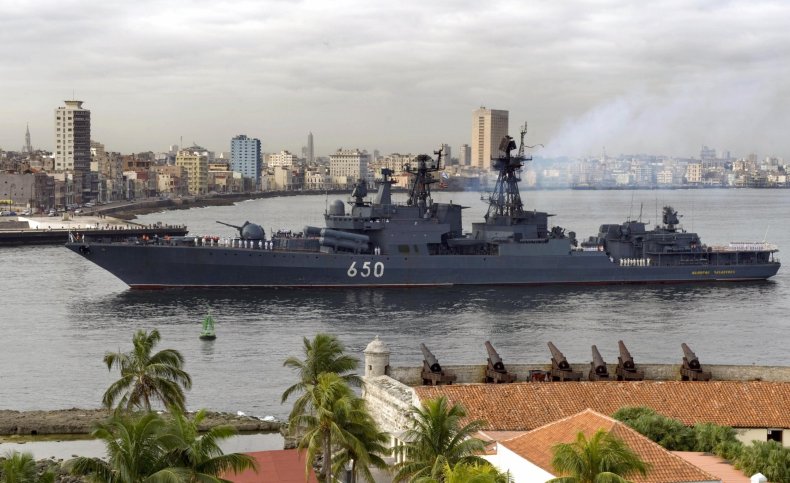 As Smilde noted, Russia's growing pessimism was partially rooted in the State Department's apparent silence over Russian attempts to begin negotiations for renewing the START agreement that limits the nuclear arsenals of both countries. Trump has voiced opposition to deals made by prior administrations and has already vowed to scrap the 1987 Intermediate-range Nuclear Forces (INF) treaty that bans the deployment of nuclear and conventional missile systems with ranges between roughly 310 and 3,400 miles—far less than the distance between Washington and Caracas.
Writing for The Hill last week, RAND Corp senior fellow and former U.S. diplomat William Courtney argued, "If Russia were to seek to station nuclear forces or infrastructure in the hemisphere, a major diplomatic and military crisis could develop."
"Russia is increasing its role in impoverished Venezuela by acquiring sizable oil and gold assets in return for cash bailouts," Courtney added, noting that recent Russian diplomatic "remarks suggest that military ties may also thicken. In case they do, the U.S. might wish to develop contingency policy options."
Trump's disregard for arms control treaties has also inspired comparisons to the Cuban Missile Crisis among officials in Moscow. This 1962 standoff occurred when the U.S. blocked Soviet ships carrying missile components to secret sites on the Caribbean island and was only settled after Washington agreed to withdraw its own weapons from Turkey in exchange for Moscow's dismantling of the positions in Cuba. At the time, the Soviet Union had a global reach and often conducted the kinds of Caribbean deployments seen last month alongside Venezuela, while NATO's reach did not extend nearly as far east in Europe.
With Russia rebuilding its international might, however, Putin vowed to "restore balance" in the military sphere should the U.S. scrap the INF. For now, Moscow's footprint remained comparatively limited to what its resources would allow, including soft power initiatives like the growing popularity of Russian cultural centers and state-run networks like RT. Rouvinski noted, however, that Russia was likely to escalate "if the price was right."
"This is kind of a crossroads for Russia," Rouvinski told Newsweek. "As long as relations with the U.S. are tense, Russia will do what it takes to pressure it in Latin America."