Donald Trump's 'Impulsive' Syria Withdrawal Is a Mess, but There's Little More U.S. Can Do There, Experts Say
President Donald Trump's abrupt decision to end a limited United States military presence in Syria has sparked widespread confusion and debate, but it follows a long-troubled policy leaving few better options, experts have said.
Trump's declaration last month of a U.S. exit following the "defeat" of the Islamic State militant group (ISIS) was immediately met with criticism in Washington, where many senior foreign policy and defense officials sought an indefinite stay in the region to continue or expand the fight against adversarial forces. It was also met with backlash abroad, where Pentagon-backed allies felt abandoned in the face of lingering threats. Still, the president's decision came amid domestic and foreign fatigue of seemingly "endless wars" with unclear goals that only grew more muddled with the anticipated pullout.
"The absence of process and the absence of a strategy are just lethal to U.S. interests," Jane Harman, who serves as director, president and CEO of the Washington-based Wilson Center said Thursday during a press call. "A defensible strategy is 'We're leaving the region,' but I don't know that that's our strategy either. I think that the reaction that Trump took was, by all accounts, impulsive."
Citing an 18th century classic by Irish author Jonathan Swift, Aaron David Miller, vice president for the Wilson Center's New Initiatives and Middle East Program, echoed the sense that clarity was lacking in Washington's decisionmaking process in the region, saying "I believe, not just with respect to Syria, that at times we kind of resemble a modern-day Gulliver, wandering around in the Middle East tied up by smaller and larger powers whose interests aren't our own, and tied up by our own illusions."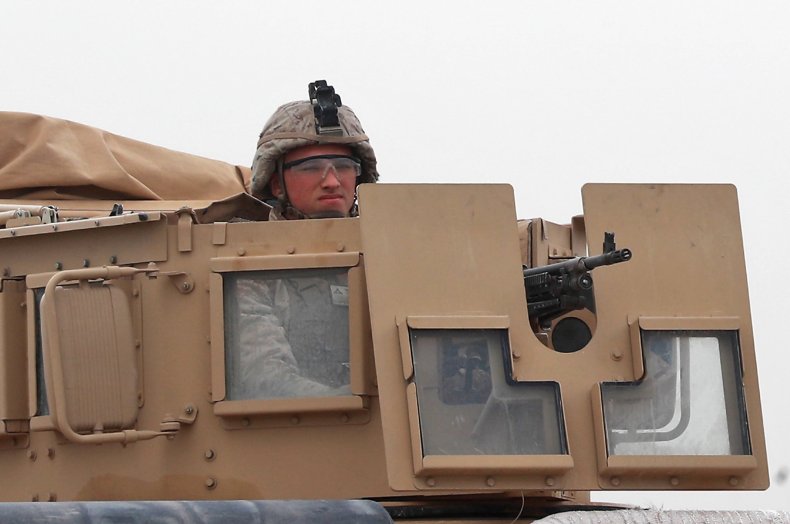 U.S. priorities in Syria have shifted drastically throughout the country's nearly eight-year civil war. Former President Barack Obama, who greenlit U.S.-led NATO Western military alliance efforts to support insurgents in the ousting of Libyan leader Muammar el-Qaddafi in 2011, began to tacitly support opposition forces looking to overthrow Syrian President Bashar al-Assad as part of another rebel and jihadi uprising that same year. Syria's insurrection quickly spread throughout the country, forcing the government to retreat to the west.
Islamist forces soon began to dominate the ranks of loosely-affiliated anti-government groups and organizations affiliated with Al-Qaeda, and later ISIS, seized control of towns and major cities, sparking infighting among elements opposed to Assad, whose Iranian ally mobilized Shiite Muslim militias to help fight on his behalf. As ISIS took up to half the country in 2014, the U.S. began to focus less on deposing Assad and formed an international coalition to begin bombing the militant group.
The Obama administration also began to reconsider its support for Syrian rebel groups, which critics such as Trump himself at the time likened to the very jihadis the U.S. had been warring against. In October 2015, just as Russia entered the fight in support of Assad, the Pentagon officially teamed up with a largely Kurdish formation known as the Syrian Democratic Forces, a move that angered Turkey, which considered the group's core factor—the People's Protection Units (YPG) Kurdish militias—to be affiliated with a separatist insurgency led by the Kurdistan Workers' Party (PKK) at home.
The U.S.-led coalition's fight against ISIS peaked in the first half of 2017, just as Trump came to office. Unlike Obama, Trump saw Russian President Vladimir Putin as a potential ally in the fight against ISIS, though allegations of Assad using chemical weapons led to U.S. airstrikes on two occasions in April of 2017 and 2018, splitting the two world powers. Still, ISIS lost nearly all of its territory due to the separate U.S.-backed and Russia-backed campaigns, leaving only an isolated pocket in the east. That demolition apparently satisfied Trump's threshold for pulling Troops out, but also potentially left Kurdish fighters at the mercy of Turkey and the Syrian insurgents it sponsors.
Describing her visit in Syria back in October 2015, The Washington Post's Beirut bureau chief Liz Sly shared Thursday her initial observations "that this is not going to end well." She said that "regardless of whatever outcome, whatever policy was decided after the defeat of ISIS it was always going to be complicated and horrible for somebody." As the U.S.-backed Syrian Democratic Forces established control over northern Syria, Turkey has attacked Kurdish settlements and sponsored elements of the once-CIA-backed opposition to do so as well.
"Unless America is prepared to fight an ongoing and endless war in a part of Syria where the partners and allies it has are disliked by every other regional player and many of the local residents—I don't think America was prepared for that," Sly said. "On the other hand, just announcing that you are walking out is also a recipe for some kind of new conflict in the area that could bring god-knows-who fighting into the area.
"This issue of the betrayal of the Kurds, America set itself up for this by aligned so closely with them in the first place," she added. "It does look like a terrible betrayal, and it is a betrayal, there's no question about it, because these guys fought and died alongside Americans and now America's walking away from them. But there are so many other interests in that area that went disregarded that I don't see how it was ever going to end any differently."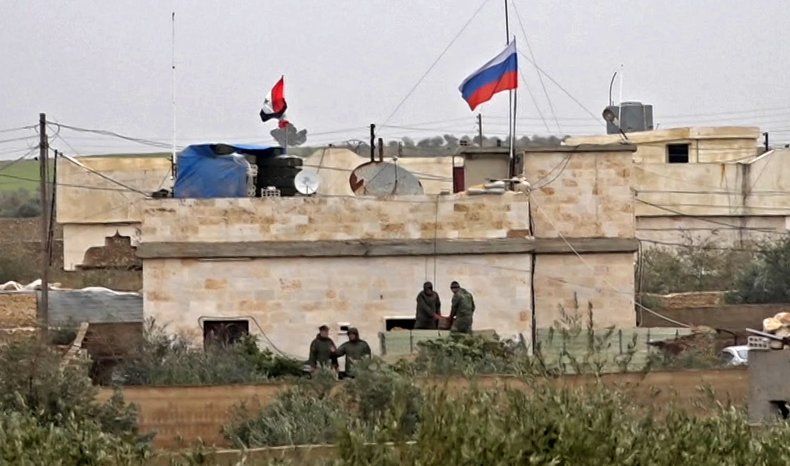 On the other hand, Middle East Institute senior fellow Robert Ford, the last U.S. ambassador to Syria, argued: "I do not think it is a betrayal of Syrian Kurds for the Americans to withdraw." Recalling his own experiences at the onset of the U.S.-Kurdish alliance, he said that the partnership was "in the Syrian Kurds's interest to fight ISIS, they were not doing it as a favor to the United States and it was a tactical alliance" with "no long-term commitments" as he was assured by the Obama administration.
The Syrian Democratic Forces have described Trump's announcement as a "stab in the back," though they have already begun investing in alternatives. Faysal Itani, a resident senior fellow with the Atlantic Council's Rafik Hariri Center for the Middle East, noted that much discussion has centered around "this unspeakable betrayal of the Kurds who fought with us against ISIS," but "if you leave aside this sort of moral dimension of that, frankly the Kurds are not fools."
"They never took the U.S. presence for granted," Itani added. "In fact, they've been trying to make inroads with the regime for a couple of years now and those efforts are only going to increase as they try to hedge against Turkey, which is what their main problem is."
Unlike the Islamist-led Syrian insurgency that has been largely beaten back to the northwestern province of Idlib, the Kurdish elements of the Syrian Democratic Forces have remained relatively indifferent on Assad's status. Though negotiations between the two factions have stalled over a debate to which Kurdish-controlled regions could remain autonomous, they have fought together at times against rebels and jihadis and view Turkey as a common foe.
Shortly after Trump's announcement, the Syrian Democratic Forces' political wing sent delegations to Damascus and Moscow in hopes of securing protection against Turkey, which has separately agreed to form "security zones" in Kurdish-held areas following conversations with Trump. Council on Foreign Relations senior fellow and former White House coordinator for the Middle East Philip Gordon argued that such a "premature, out-of-the-blue" withdrawal would "not only betray the Kurds, but undercut whatever leverage they might have in their negotiations with the Damascus regime." Still, Syrian troops and Russian military police have begun to assume control of positions in southern Manbij a move Ford said was key to maintaining stability amid political and ethnic tensions in the area.
"I think the Americans do a terrible disservice to the Syrian Kurdish community to discourage them from cutting a deal with the Bashar al-Assad government in Damascus," Ford said. "I have no love for Bashar al-Assad and his henchmen, but the reality is that there will be no stability in northeastern Syria until the Syrian government sends its forces back in and re-establishes some sort of gradual authority over that area."
While Ford argues that the relationship between Washington and Damascus "is pretty much destroyed," he said "there is a country that is well-placed" to mediate between the Syrian government and Kurds, "and that is Russia, and they are doing it."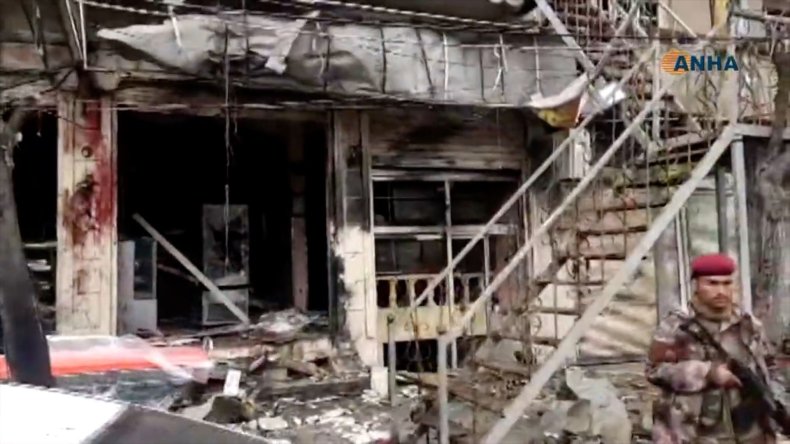 Though ISIS's standing military presence has been largely limited to a far eastern enclave in Deir Ezzor province and the opposition was mostly quarantined in Idlib and neighboring Aleppo's Afrin border district, ongoing unrest persists across the majority Arab, yet Kurdish-controlled third of Syria administered by the Syrian Democratic Forces. This became fatally evident on Wednesday when a suicide bomber killed four U.S. personnel and, according to the U.K.-based, pro-opposition Syrian Observatory for Human Rights, up to 5 local partnered forces and 10 civilians.
The attack, the deadliest to hit the U.S.-led coalition since its campaign began in 2014, was claimed by ISIS, but like other bombings and assassination attempts in the area, Sly says such operations were "shrouded in mystery." A U.S. soldier was previously killed in Manbij by a roadside bombing in March 2018, just days after a prior announcement by Trump in which he said he wanted a timely exit from Syria.
Should the U.S. go through with it this time around, new points of contention would likely emerge on the ground. Turkish Foreign Ministry spokesperson Hami Aksoy railed against both "provocations" by the Syrian government and the "YPG's efforts of letting the regime in Manbij," Turkey's Hurriyet Daily News reported Friday.
Regional Arab powers have also begun rebuilding ties with Damascus in an apparent effort to curb both Turkish and Iranian influence in Syria and, though countering Tehran was often spouted as a primary goal by Washington officials, Gordon said "there's thin legal basis even for the acknowledged mission of the U.S. presence in Syria, there is no legal basis domestic or foreign for a counter-Iran mission."
Since the 9/11 attacks of 2001, the U.S. has launched a series of overlapping conflicts across the globe under the mandate of "War on Terror." Brown University's Watson Institute for International and Public Affairs found in a November report that the U.S. has spent nearly $6 trillion on these wars, which have directly contributed to the deaths of at least 500,000 people.
"We think we have a moral ethical image obligation to try to fix everything, but the reality should be painfully tragically clear to everyone by now that we can't," Miller said. "We constantly wrap ourselves around these inflated goals without the means at our disposal to achieve them and, until that is fixed and it may never be because we're Americans, whatever that means, we're going to continue to wander around like Gulliver, and it's not the motives of the others in the region so much, but the illusions we continue to believe in ourselves."