Consumer prices in Venezuela rose 833,997 percent over the past year as the South American country failed to get a grip on crippling hyperinflation amid its long-term economic crisis.
The data was published in a report by the country's opposition-controlled Congress, Reuters reported.
Though the monthly inflation rate slowed from 233 percent in August to 148 percent in September, the country remains on course to reach the 1 million percent inflation predicted by the International Monetary Fund (IMF) by the beginning of 2019.
The IMF has predicted that 2019 will bring even worse news for the country, and suggested inflation could top 10 million percent by the end of the year.
In August, President Nicolas Maduro introduced a new currency by slashing five zeroes off of the old bolivar, increased the minimum wage and value-added tax and reduced fuel subsidies. But these policy steps have failed to arrest the hyperinflation that has wracked the nation in recent years.
Opposition lawmaker Angel Alvarado called the inflation figure "scandalously high." Since the central bank stopped publishing official economic indicators around three years ago, the opposition-controlled legislature has become the only source of data.
Venezuela was plunged into financial crisis five years ago by a collapse in the price of crude oil, the export of which made up a significant chunk of the government's income.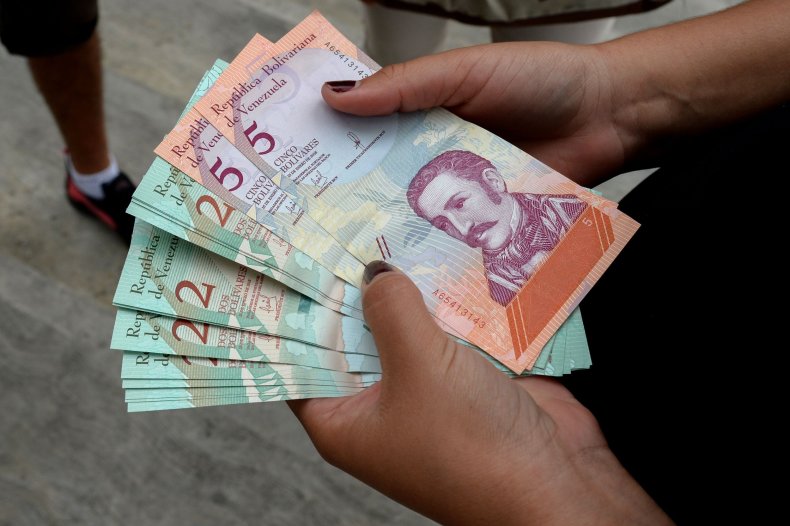 For many years—first under Hugo Chavez and later Maduro—the left-wing government subsidized various industries using oil revenues. This enabled the government to enforce strict price controls, making its leaders popular with the country's poor working class.
Collapsing oil prices meant this was no longer feasible, resulting in the cost of day-to-day goods spiraling out of control. Citizens are now facing severe shortages of food, fuel, medicine and other basic goods.
Around 2 million Venezuelans have already fled the country to escape the dire conditions, many across the borders into Brazil and Colombia, while others have traveled further afield into Ecuador and even the U.S. The influx has given rise to tensions between refugees and their hosts, which have at times spilled over into violence.
The embattled Maduro—who survived an assassination attempt using exploding drones earlier this year—blames a U.S.-led "economic war" for the country's troubles. He has accused fellow Latin American leaders—particularly Colombian President Juan Manuel Santos—of conspiring with Washington to bring down his administration.
Reuters noted that monthly inflation rates could spike once more as the holiday season approaches thanks to annual bonuses paid to state workers, which will boost their purchasing power and spending.