Venezuela Shuts Down as Citizens Grapple With New Currency
Venezuela slowed to a standstill on Tuesday as citizens grappled with a newly introduced currency, which the government hopes will address the crippling inflation wreaking havoc on day-to-day life in the South American nation.
Thousands of businesses closed their doors and many people stayed home, wary of the chaos such a dramatic overhaul could produce. The "sovereign bolivar" was launched on Monday as a revaluation and renaming of the old bolivar, the BBC said.
Monday was declared a bank holiday by President Nicolas Maduro, and the new notes were rolled out to the public for their first day of use on Tuesday. The introduction of the sovereign bolivar allowed the government to knock five zeroes off the value of the old bolivar, nominally reducing inflation by around 90 percent immediately, according to The Washington Post. For example, the price of a cup of coffee in Caracas dropped from 2.5 million bolivars to 25 sovereign bolivars.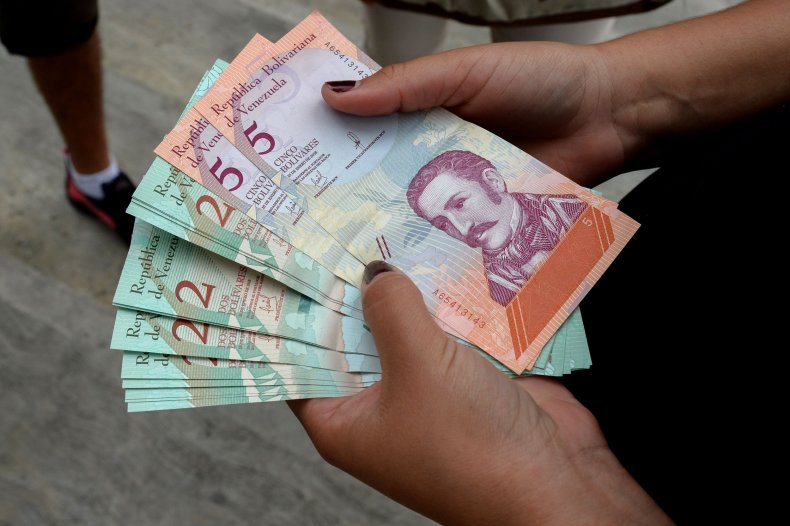 But many citizens struggled to get their hands on the new notes, with the BBC reporting that some in the capital were restricted to only 10 sovereign bolivars per day by cash machines.
Anti-Maduro groups called for a strike to protest the turmoil. Opposition leader Andres Velasquez said 60 percent of private-sector workers were involved, warning it was "only the first step of a series of protests that will end with a call for a general strike that lasts indefinitely." However, many of the shops that closed did so reportedly out of confusion over the new currency rather than in protest.
A range of other measures were introduced alongside the new currency, as Maduro's government attempts to prevent total economic collapse. The minimum wage will be increased by 34 times as of September 1, value-added tax will be increased and fuel subsidies reduced.
Maduro also said the sovereign bolivar would be tied to a new cryptocurrency called the petro. The government says the petro is linked to the country's oil reserves, but observers have been skeptical as to its validity. The U.S. government has already banned Americans from trading in the cryptocurrency, and the ICOindex.com trading site has branded the petro "a scam."
The economic crisis has sparked a mass exodus of citizens. Already, some 2.3 million have fled, and the United Nations estimates that as many as 5,000 people have been departing each day. Many have found their way to neighboring Colombia, Ecuador and Brazil, where growing numbers of refugees have been creating tension with local residents. In Brazil earlier this week, the government was forced to deploy soldiers to protect Venezuelans after they were attacked by angry Brazilians.