Venezuelan Refugees Face Violence and Xenophobia as They Flee Economic Crisis
Venezuelan refugees have been attacked and left in limbo as they attempt to escape economic turbulence rocking their nation.
Ecuador has clamped down on the wave of thousands of refugees flooding across its borders in recent months by tightening border controls, only allowing those with passports to enter. In Brazil, which briefly sealed its northern border to refugees entering earlier this month, a mob reportedly torched a Venezuelan refugee camp and drove hundreds of immigrants back across the border on Saturday. The attack occurred after a restaurant owner was allegedly stabbed and robbed by Venezuelan criminals.
According to the BBC, more than 1 million Venezuelans have arrived in Colombia in the past 15 months, and some 4,000 have been arriving at the border of Ecuador every day for the past few weeks. More than 7 percent – 2.3 million – of Venezuela's population has left the country since 2015, the United Nations has said the Guardian reported. About half a million have arrived in Ecuador alone this year.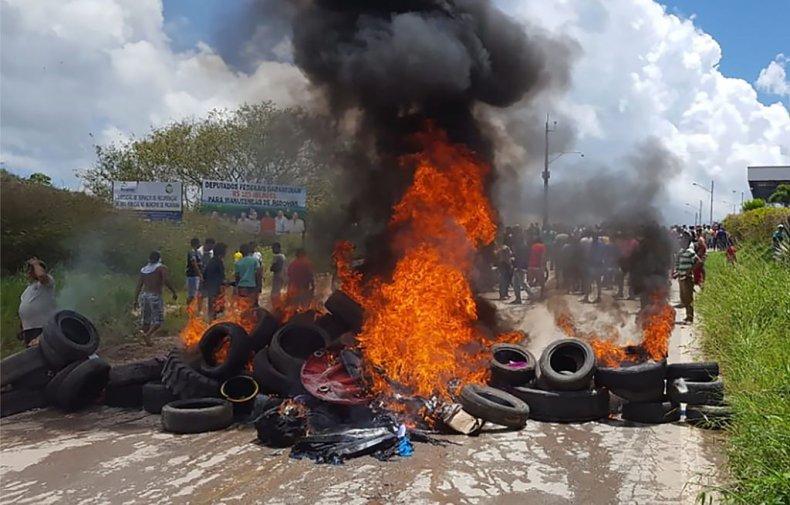 Venezuelan President Nicolas Maduro has blasted the immigrants, calling them "slaves and beggars" who are tricked into menial labor in neighboring South American countries. However, reports interviewing those who have fled reveal a starkly different reality.
"Getting here was tough, but I have to battle for my family," Daniel Luquez, 27, who made his way some 1,200 miles to Ecuador using one leg and crutches in a desperate effort to earn money to cover his daughter's cancer treatment, told the Guardian .
Luquez, whose leg was amputated after a car accident six years ago, explained that he first tried to work in Colombia, but left after he was attacked by locals and told Venezuelans were not wanted there.
Such xenophobia appears to be spreading in South America, with hundreds of Ecuadorians in the border town of Tulcán marching last week in protest against the influx of refugees.
"You can help five, 10 or 20 Venezuelans but you can't help ... 10,000," Jairo Pozo, a business owner behind the protest, said, arguing that the refugees are stealing jobs and wallets in the already economically depressed Ecuadorian city. Other locals argue that the media has sensationalized a few cases of Venezuelan criminals, while also raising concerns about their country's "arbitrary" border controls.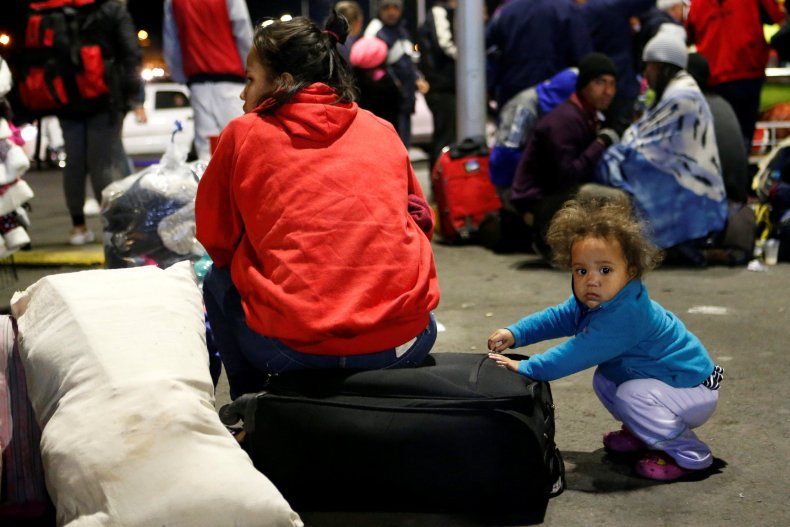 However, as an economic crisis grips Venezuela—driving inflation to nearly 1 million percent —lawlessness has risen and some have turned to crime in desperation. As Maduro struggles to maintain control of the country, police and military officials have been abandoning their posts as their paychecks have stopped coming. Repression of basic freedoms and rampant corruption has also risen, with experts suggesting some criminals actually work with government officials.
Recent reports have even highlighted a rise in Venezuelan pirates operating the Caribbean. According to the organization Oceans Beyond Piracy, piracy jumped a dramatic 163 percent in the region last year.
Meanwhile, refugees are caught in limbo, unsure of what the future holds. Gabriel Malavolta, a 50-year-old mechanic, left Venezuela a few days ago with his fiance. However, their plans have been thrown off by Ecuador's new entry requirements. Although Malavolta has a passport, his fiance only has an ID card.
"I don't know what we're going to do, but we can't go back. I'm not sending my fiance to go back and go hungry," he told Reuters. "You've no idea what it's like [in Venezuela]," he said. "Whole families eat from the trash."