U.S. and Venezuela Trade Accusations Over Failed Coup Attempt, Raising Tensions in Latin America
Tense ties between the United States and Venezuela worsened over the weekend after the Latin American country captured two U.S. citizens, who as part of a band of rebels, attempted to overthrow the socialist government in a cross-border raid. Now officials from Washington and Caracas are pointing fingers toward one another over the fallout of the ill-fated operation.
The attempt to infiltrate Venezuela and overthrow Maduro over the weekend reportedly resulted in the deaths of several would-be insurgents as well as the arrest of others, including two former Green Berets operating on behalf of a Florida-based security company called Silvercorp. Venezuelan President Nicolás Maduro argued Monday the U.S. government had a direct hand in the incident, saying the White House delegated preparational activities to the Drug Enforcement Agency and operational activities to Silvercorp.
President Donald Trump and Defense Secretary Mark Esper told reporters Tuesday the U.S. had "nothing to do" with the blundered invasion. In statements sent to Newsweek, the DEA said it "had no involvement in this weekend's events" and the State Department affirmed the White House and Pentagon's positions.
"As President Trump and Secretary Esper said, the United States Government was not involved in recent events in Venezuela," a State Department spokesperson told Newsweek.
The spokesperson said U.S. officials "are aware of reports of the arrest of two U.S. citizens in Venezuela," but declined to comment further on the pair "due to privacy considerations."
Silvercorp founder Jordan Goudreau, a former Green Beret, has claimed responsibility for orchestrating the plot, as well as the actions of former Special Forces members Airan Berry and Luke Denman, who are being detained in Venezuela.
"We are making efforts to learn more, including about the activities of two U.S. Citizens who are reportedly in the custody of the former regime, as well as Mr. Goudreau," the State Department spokesperson told Newsweek.
As for Maduro, with whom the Trump administration cut ties in January of last year, the State Department spokesperson warned of "a major disinformation campaign underway by the Maduro regime, making it difficult to separate facts from propaganda." The spokesperson pointed specifically to "the timing of these events" in relation to reports of dozens killed and injured at a prison riot in Venezuela's Los Llanos facility.
Venezuela's closest regional ally, Cuba, was being eyed by U.S. officials, as well.
"We will also be looking closely into the role of the Maduro regime in this melodrama and especially of the very large Cuban intelligence apparatus in Venezuela," the spokesperson told Newsweek. "The record of falsehoods and manipulation by Maduro and his accomplices, as well as their highly questionable representation of the details, argues that nothing should be taken at face value when we see the distorting of facts. What is clear is that the former regime is using the event to justify an increased level of repression."
Responding to Newsweek's question at a press conference Wednesday, Maduro vehemently rejected this characterization of what he called an "armed incursion, prepared by mercenary groups, by the Silvercorp company, in the United States, under from Donald Trump, acknowledged as such by U.S. citizens."
"The only ones dedicated to misinformation, manipulation and to permanent attack and aggression against Venezuela is the United States," Maduro said, calling on U.S. media to conduct "a serious, professional, balanced and independent investigation" into what one Washington Post article described as "a Bay of Pigs-style fiasco."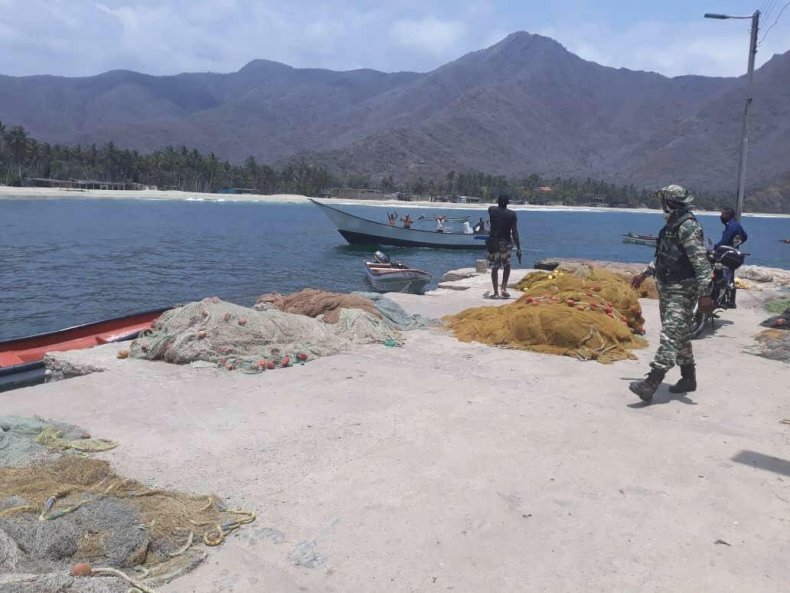 A senior official from Havana's embassy in Washington who requested anonymity from Newsweek also referenced the CIA-backed invasion of communist-ruled Cuba attempted by former President John F. Kennedy in 1961.
The official accused the State Department of intensifying pressure against Havana since December 2018 as part of the "National Security Council's new plot linking relations with Cuba to plans for overthrowing the governments of Venezuela," the official argued. Around this same time, then-national security adviser John Bolton began referring to Cuba, Venezuela and Nicaragua as a "troika of tyranny" and Russia stepped up military support to Venezuela.
"It went along with the pretense that Cuba was responsible for whatever was happening in Venezuela," the official told Newsweek. "We immediately rejected that ludicrous argument and requested evidence from the U.S. Intelligence Community to sustain such a statement. No answer was provided."
"A year and a half later, when all attacks against the Constitutional government of Venezuela have failed, the State Department keeps looking for a scapegoat to explain the fiasco and Cuba is mentioned again," the official added.
No evidence links the Trump administration to Silvercorp's plan. Goudreau's extensive contacts with high-profile figures opposed to Maduro were detailed in an Associated Press report published Friday. The article associated Goudreau with longtime Trump bodyguard Keith Schiller, defected Venezuelan Major General Clíver Alcalá and activist Lester Toledo, who worked as the humanitarian coordinator for Venezuela's opposition-controlled National Assembly leader Juan Guaidó.
Guaidó declared himself the country's rightful president last January, charging Maduro with corruption and electoral fraud in a move backed by Washington and dozens of partners in the region and abroad. On Monday, Guaidó also claimed he had no role in this weekend's failed plot, but called on Maduro to treat those captured in accordance with respect for human rights.
Tensions were already building between Washington and rivals in Caracas and Havana rivals in the weeks ahead of the operation whose U.S. renegades Maduro compared to Rambo, the titular character of the famous Hollywood film series involving a loose soldier fighting in foreign countries.
Since supporting Guaidó, the Trump administration has escalated efforts to oust Maduro, mostly through economic and political means but not ruling out military force. either. Days after the Justice Department indicted the Venezuelan president and some of his top officials on narcoterrorism charges, Trump announced early last month a new enhanced counter-narcotics deployment in the Caribbean and Eastern Pacific meant to both crack down on cartels and to further pressure Maduro into stepping down.
Trump said the anti-drug fleet would also prevent criminal organizations from exploiting the coronavirus pandemic to bring push narcotics across the region and one senior administration official defended this strategy at the time, telling Newsweek that cartels may actually spread the virus themselves. Other U.S. officials, however, told Newsweek then that the counter-narcotics mission had been developed months before and had nothing to do with COVID-19.
Last week, Newsweek cited Venezuelan and Cuban officials who accused the Trump administration of using the counter-narcotics U.S. military operation as a guise to threaten their governments as the COVID-19 crisis worsened in the U.S.
Maduro inherited a historic boom in Venezuela's economy after Chávez's death in 2013, but growth soon declined rapidly, recovering only briefly before falling sharply again in 2017, the same year the Trump administration instituted new sanctions against Caracas. Ravaged by hyperinflation, supplies shortages and other overlapping crises that now include the coronavirus.
Secretary of State Mike Pompeo has accused Maduro of suppressing reporting on the true extent of the coronavirus crisis in Venezuela, one of the countries on which New York-based free speech advocacy group PEN America sounded the alarm in a statement coinciding with World Press Freedom Day on Sunday. On Wednesday, Pompeo reiterated that "there was no U.S. Government direct involvement" in this weekend's operation against Venezuela.
"If we had been involved, it would have gone differently. As for who bankrolled it, we're not prepared to share any more information about what we know took place," Pompeo told reporters, adding all efforts were being made to retrieve the two arrested U.S. nationals.
Pompeo told reporters last week that in Venezuela "the multilateral effort to restore democracy is continuing to build momentum" and that his staff had updated plans to reopen Washington's shuttered embassy in Caracas. "As soon as Maduro steps aside, I am confident that we will raise that flag again in Caracas," Pompeo said.
The U.S. military also faced COVID-19 woes in its recent counter-narcotics deployment in the region. Last month, Arleigh Burke-class destroyer USS Kidd was forced to abort its Eastern Pacific mission and return to San Diego last month in response to a sailor testing positive for the infectious illness upon a medical evacuation that necessitated the support of a partnering country in the region, as Newsweek reported.