U.S. Calls Iran 'Greatest Threat' After Warning About Hidden Missile Cities
The United States has responded to a warning from the head of the maritime branch of Iran's elite Revolutionary Guard after he touted the country's vast hidden missile complexes he said were capable of deterring any attack.
Revolutionary Guard Navy commander Rear Admiral Alireza Tangsiri told Iranian magazine Sobh-e Sadeq that his forces established "underground cities" armed with missiles onshore and offshore along the coasts of the Persian Gulf and the Gulf of Oman, calling them "a nightmare" for Iran's foes, especially the U.S. He said his forces were in possession of advanced, long-range missiles and that new weapons were on the way to better protect Iran's shores.
Reached for comment, the Pentagon referred Newsweek to the State Department, where a spokesperson criticized the Tangsiri's remarks.
"Iran claims to want good relations with its neighbors, yet it continues to threaten them with even greater levels of violence," the spokesperson told Newsweek. "Iran is the greatest threat to peace and security in the Middle East. Statements like this demonstrate clearly that the Islamic Revolutionary Guard Corps and its leaders are a destabilizing force in the region."
Iran has occasionally shown off a sprawling series of underground tunnels and command centers involved in the country's missile program, the largest and the most advanced in the Middle East. Some analysts have attempted to geolocate these facilities and, while Tangsiri acknowledged Sunday that Iran's foes were aware of the military's hidden missile sites, he said they had "inaccurate information."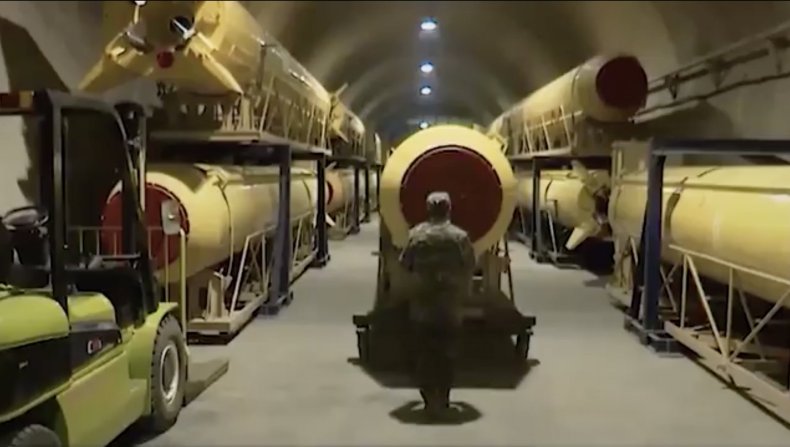 Iran's continued pursuit of missile technology was among the reasons cited by President Donald Trump in his decision to leave a multinational nuclear deal in 2018. His administration has since laid heavy trade sanctions on Tehran, accusing it of secretly seeking nuclear weapons and of funding foreign militias.
The U.S. exit was accompanied by a significant rise in tensions across the Persian Gulf, where Tehran and Washington have both stepped up military activities near the world's most important maritime oil chokepoint. The U.S. has blamed Iran for a series of unclaimed acts of sabotage against international oil tankers last in the Gulf of Oman and a missile and drone strike against Saudi oil facilities last year, which led to the establishment of a U.S.-led coalition several countries including Australia, the United Kingdom, Saudi Arabia and the United Arab Emirates.
Iran has sought to rally a bloc based on cooperation and non-interference but has so far been unable to gather significant regional support. Iranian Foreign Minister Mohammad Javad Zarif told the Institute for International Political Studies' virtual Mediterranean Dialogues session Monday that he regretted the ongoing lack of unity among Iran and its neighbors, some of which purchase significant amounts of weapons and equipment from the U.S.
"I believe the greatest sadness of my career is that I haven't been able to get through to our neighbors that we need to live together, that we cannot live without each other, that we will be neighbors forever and we have to find a way to live together and not rely on outsiders for our security," Zarif said.
He urged the U.S. to repeal its sanctions, which have complicated efforts for remaining parties to the deal to comply. Secretary of State Mike Pompeo has urged China, the European Union, France, Germany, Russia and the United Kingdom to abandon the agreement altogether and to ensure the extensions of a United Nations arms embargo against the country, which has eyed upgrades to its increasingly indigenous arsenal ahead of the restrictions lifting in October.
Iran has shown off its missile capabilities in operations such as assaults against the Islamic State militant group (ISIS) in Syria and a retaliatory strike against U.S.-led forces in Iraq after the killing of Revolutionary Guard Quds Force commander Major General Qassem Soleimani in January.
At home, however, new questions of security have emerged as a series of murky events written off as industrial incidents prompted speculation as to whether or not the Islamic Republic may be under attack from within, outside or both.
An explosion last week rocked a site of Tehran that Iranian officials said was an industrial site in Parachin but analysts have pointed out appeared much likelier to have come from a missile production facility in nearby Khojir. Days later, a blast killed up to 19 people at a clinic in the capital's north and, days later a new centrifuge center at the Natanz nuclear site went up in flames another suspected blast officially reported as a fire.
BBC Persian, however, revealed afterward that some of their journalists had been sent messages from a group calling itself "Homeland Cheetahs." The previously-unknown organization reportedly informed the news outlet of the upcoming attack, claiming to be comprised of a covert faction of dissenting members within the Iranian security apparatus itself and to have targeted Natanz specifically because it was not underground making damage there hard for the government to hide.
Iran has dismissed reports of foul play. However, the official Islamic Republic News Agency warned last week that the U.S. and Israel would face consequences if it was discovered that the two countries had any hand in the affair.
The U.S. and Israel have set out to block Iran's chance of becoming a nuclear power, something Tehran has always denied seeking. Israel has neither confirmed nor denied its role in the Stuxnet cyberattack that targeted Iranian nuclear sites such as Natanz since at least 2010 and a series of assassinations of Iranian nuclear scientists that same year through 2012.