Iran Tests New Navy Missiles, Boosts Fast Attack Fleet to Challenge U.S.
Iran has tested new naval missiles and boosted its fleet of fast attack craft in a challenge to the U.S. military presence in the Persian Gulf and surrounding waters.
The Iranian navy announced Thursday that it successfully fired domestically developed short- and long-range missiles, the latter of which hit targets at a distance of about 174 miles, as part of the "Ramadan Martyrs" exercise held in the Sea of Oman and the northern Indian Ocean. The drills were held 40 days after a deadly sea training accident claimed the lives of 19 sailors off Iran's coast and senior military officials lauded the latest war games.
Iranian navy commander Rear Admiral Hossein Khanzadi said the new, advanced weapons proved Iran's "upper hand in countering any threat against the system and the people and strengthened the self-confidence of Iran's armed forces."
Rear Admiral Habibollah Sayyari, deputy coordinator for the Iranian army, said the maneuvers showcased Iran's "clear path of self-reliance" in spite of "oppressive sanctions" on Iran's international weapons trade imposed by the United Nations since 2010.
Iranian Deputy Defense Minister Qassem Taghizadeh also lauded the indigenous capabilities developed despite the arms embargo and called for the development of more naval assets such as Ghadir and Fateh submarines, echoing earlier remarks by Khanzadi. Taghizadeh also discussed furthering naval missile capabilities, which have been recently touted by Iran's other navy—that of the elite Revolutionary Guard.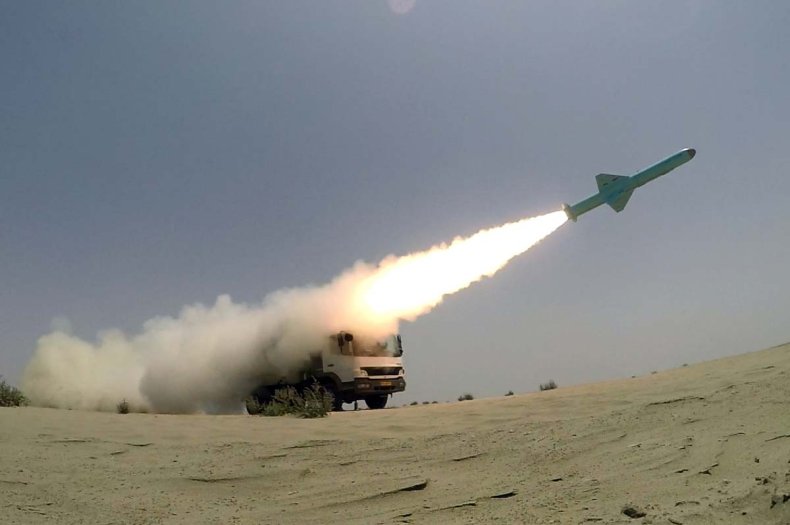 The Revolutionary Guard has for years engaged in tense encounters with the U.S. Navy in the Persian Gulf and frictions have worsened significantly since President Donald Trump pulled out of a 2015 nuclear deal two years ago and imposed heavy sanctions on the Islamic Republic. In April, Trump threatened to "shoot down" Iranian boats harassing U.S. vessels after Revolutionary Guard fast-attack craft encircled Fifth Fleet warships.
Responding to Trump's comment, Iranian mission to the U.N. spokesperson Alireza Miryousefi told Newsweek at the time that "Iran has proven that it will not succumb to intimidation and threats, nor will it hesitate to defend its territory, in accordance with international law, from any and all aggressions."
Last month, the U.S. Navy issued new guidance warning mariners to steer clear of its ships in the Persian Gulf region. Days later, the Revolutionary Guard received up to 112 fast attack boats during a ceremony held in the southern port city of Bandar Abbas.
These ships were seen in satellite imagery shared Wednesday by Forbes. The vessels appeared to include missiles boats such as four Kashdom Chinese-origin C-14 catamarans and one North Korean-origin Zulfiqar. Four new models also appear to be included, along with a mini-submarine known as an Extra-Large Uncrewed Underwater Vehicle and other equipment such as two swimmer delivery vehicles and 38 gunboats armed with multiple-launch rocket systems.
While the U.S. has left the nuclear deal, fellow signatories China, France, Germany, Russia and the United Kingdom remain parties alongside Iran to it and the agreement allows for the lifting of the U.N. restrictions on Iran buying and selling weapons. As the Iran deal faces a serious test among remaining signatories, Washington wants these sanctions extended indefinitely.
U.S. special representative on Iran Brian Hook told a virtual Council on Foreign Relations event Tuesday that "the right policy is to have an arms embargo in place that doesn't have a definite date fixed." Last week, Secretary of State Mike Pompeo discussed "the importance of extending the UN arms embargo on Iran" in a call with U.N. Secretary-General António Guterres.
With time running out, however, China and Russia—which held joint naval drills alongside Iran late last year—have eyed potential arms sales with the Islamic Republic.