Donald Trump Threatens to 'Shoot Down and Destroy' Iran Ships Amid Tensions in Persian Gulf
President Donald Trump has instructed the U.S. military to use force against armed Iranian vessels that have recently engaged in tensions with the Navy's Fifth Fleet in the Persian Gulf.
"I have instructed the United States Navy to shoot down and destroy any and all Iranian gunboats if they harass our ships at sea," Trump tweeted Wednesday.
The tweet came one week after as many as 11 fast-attack craft of Iran's Revolutionary Guard appeared to approach and circle a group of U.S. warships including the USS Lewis B. Puller expeditionary mobile base vessel and Island-class USCGS patrol boat Maui as they transited the Persian Gulf.
The Fifth Fleet accused the Revolutionary Guard of conducting "unsafe and unprofessional actions," while the elite Iranian force argued it was the U.S. Navy that was responsible for "illegal, unprofessional, dangerous and even adventurist behavior" both during the April 15 and in allegedly blocking its Shahid Siyavoshi ship in separate encounters a week before.
Trump's tweet sparked anger among Iranian officials, especially as both Washington and Tehan battled the novel coronavirus disease known as COVID-19.
"In the midst of a global coronavirus pandemic when all attentions worldwide is to combat this menace, the question is what the US military is doing in Persian Gulf waters, 7000 miles from home," Iranian mission to the United Nations spokesperson Alireza Miryousefi told Newsweek. "Iran has proven that it will not succumb to intimidation and threats, nor will it hesitate to defend its territory, in accordance with international law, from any and all aggressions."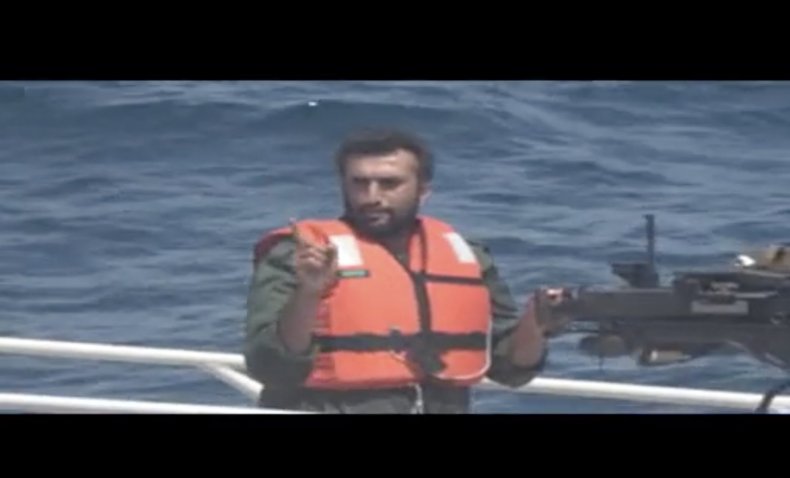 The U.S. Navy struggled to curb the coronavirus pandemic that has also hit Iran hard. Brigadier General Abolfazl Shekarchi told the Iranian Students' News Agency that, "instead of bullying others today, Americans must do their best to save those who are infected with the coronavirus."
"Trump is more concerned about the upcoming election and public opinion than he is about the fact that he has not been able to answer the many questions asked by the governors of the United States," Alaeddin Boroujerdi, a member of Iran's parliamentary National Security and Foreign Policy Committee told the same outlet in reference to the ongoing dispute between the federal and state governments in handling the world's worst coronavirus outbreak in the United States.
"Trump's motto was to choose economy and oil, which he failed to achieve, so by launching a new political game, he wants to divert public opinion from the internal crisis of the United States and the shortcomings in various fields," he said. "He may even do something stupid to make the issue more serious."
Any new U.S. attack "would receive a greater response than Ayn al-Asad," Boroujerdi added.
The Pentagon warned, however, it was ready to implement the president's directive.
"Every capability we deploy, every ship that deploys in harm's way has the inherent right of self-defense," Vice Joint Chiefs of Staff Chair Air Force General John E. Hyten told reporters Wednesday. "What that means is we see a hostile act, if we see hostile intent, we have the right to respond up to and including lethal force."
"I liked that the president warned an adversary, that's what he's doing, he's providing a warning," Hyten added. "If you wanna go down that path, we will come and we will come large, so don't go down that path, that's what he is saying, he's saying it in clear, uncertain terms. We understand that direction and every commander that is deployed has the ability to execute that."
The Persian Gulf, a body of water critical for international shipping and transport, has been a source of friction for Washington and Tehran's throughout their four-decade feud and has again become a focal point for their dispute since Trump's 2018 exit from a nuclear deal that granted Tehran sanctions relief.
Rival U.S. Central Command and Iranian Revolutionary Guard forces consider one another to be terrorist organizations, complicating the rules of engagement. Though their navies have not fought directly since the final days of the 1980s Iran-Iraq War, the U.S. killing of Revolutionary Guard Quds Force commander Qassem Soleimani at Baghdad International Airport in January prompted a retaliatory Iranian missile strike on U.S. forces stationed at Iraq's Ayn Al-Asad airbase and calls for a more aggressive effort to expel the Pentagon from the Middle East.
Iran's armed forces, both the elite Revolutionary Guard and conventional military, have increasingly boasted improved, domestically-produced equipment as Washington and Tehran's dispute worsened.
"Wherever the Americans have been present, insecurity has arisen, and we do not know where the presence of the United States has led to security," Revolutionary Guard naval commander Rear Admiral Alireza Tangsiri said Monday as he touted new maritime capabilities Monday such as anti-ship missiles ranging beyond 430 miles and vessels three times faster than those of the U.S.
Rear Admiral Hossein Khanzadi, chief of Iran's regular navy, also discussed enhancing his fleet to better confront the U.S. in remarks made Friday. He called for the development of a nuclear-powered submarine.
But on Tuesday, before Trump's tweet, the Revolutionary Guard exhibited unprecedented technology on land by successfully launching the Noor military satellite into orbit. "Today, we can see the world from space," Revolutionary Guard commander Major General Hossein Salami said at the launch pad.
Washington considers such space-launch efforts to be linked to Iran's ballistic missile development, a field that—along with the Islamic Republic's funding of militias across the region—prompted the White House's exit from the nuclear deal and the "maximum pressure" campaign of economic and political coercion that's followed.
U.S. sanctions include restricting Iran's ability to export oil, an effort that's resulted in Iranian threats to close the Strait of Hormuz, the world's most important maritime oil traffic chokepoint. The Pentagon has expanded its patrols of the region since last year, when international oil tankers were struck in the nearby Gulf of Oman by two yet-unclaimed acts blamed by Washington on Tehran.
The U.S. has also blamed Iran for a drone and cruise missile claimed by Yemen's Houthi militia against Saudi oil fields in September. In Iraq, Washington considers Tehran to be behind paramilitary rocket attacks on U.S. and allied troops.
These clashes, along with last year's Iranian shootdown of a U.S. Navy drone over the Persian Gulf, have sparked concerns of a larger confrontation between the two longtime foes.
"The President's inconsistent messaging and incoherent responses to Iran's action in Iraq and the Persian Gulf are making an already dangerous situation more volatile," Ariane Tabatabai, Middle East fellow at the Washington-based German Marshall Fund think tank told Newsweek.
"What this situation calls for is a steady hand," she added.
This article has been updated to include comments from Iranian mission to the United Nations spokesperson Alireza Miryousefi and Joint Chiefs of Staff Vice-Chair Air Force General John E. Hyten.