Iran Says Its Missiles Can Hit Ships More Than 400 Miles Away, Has Boats Three Times Faster Than U.S. Navy
Iran's elite Revolutionary Guard announced enhanced capabilities for its naval fleet, including extended anti-ship missile range and faster vessels capable of outpacing its top rival, the United States.
Iranian Revolutionary Guard Navy commander Rear Admiral Alireza Tangsiri said Monday that his forces now "have a variety of surface-to-surface missiles with a range of 700 km [more than 430 miles] produced domestically." He also touted the production of new warships, such as the 55-meter catamaran-style helicopter carrier inaugurated in 2016, along with other vessels that are said to be capable of reading speeds of up to 90 knots, or "three times faster than American vessels."
"Wherever the Americans have been present, insecurity has arisen, and we do not know where the presence of the United States has led to security," Tangsiri said.
He referenced the recent encounter in which up to 11 armed Revolutionary Guard fast-attack craft appeared to approach and circle ships of the U.S. Navy's Fifth Fleet in the Persian Gulf, arguing that "contrary to international regulations, the Americans blocked the way for our vessels and refused to respond to the radio, which was met with a powerful confrontation by our forces."
The Fifth Fleet has alleged that it was Iran's Revolutionary Guard that initiated what the Navy group described as an "unsafe and unprofessional interaction," ignoring repeated warnings for more than an hour and a half. The Persian Gulf has for decades been a flashpoint for U.S.-Iran tensions, which have escalated during the past year.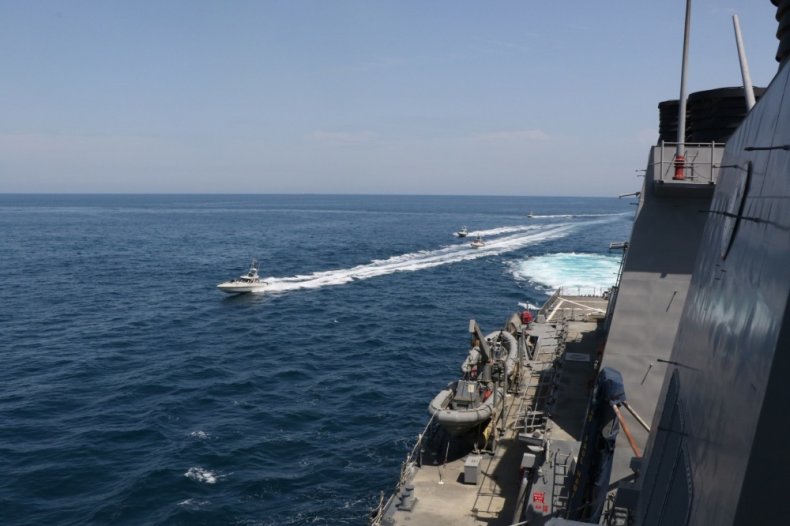 Since walking away from a 2015 multilateral nuclear deal with Iran two years ago, President Donald Trump has tightened and enforced a "maximum pressure" campaign against the Islamic Republic, accusing it of funding foreign militias and pursuing destabilizing missile technology. The White House has sought to completely sever Tehran's trade ties, triggering unrest across the Persian Gulf and Strait of Hormuz, the world's most important maritime oil traffic chokepoint.
Iran has two seaborne forces deployed to the Persian Gulf, that of the Revolutionary Guard and that of the country's conventional armed forces. Rear Admiral Hossein Khanzadi, commander of Iran's regular navy, also praised the country's domestic defense industry on Friday and discussed plans to develop a nuclear-powered submarine to challenge U.S. forces that already uses such technology in the Persian Gulf.
Tangsiri warned Tuesday that any incident involving nuclear ships could contaminate the waters of the Persian Gulf, proving disastrous not only for international shipping but the water resources of Arab states relying on desalination plants.
Iran's Revolutionary Guard had announced anti-ship capabilities ranging up to only 300 kilometers, or about 186 miles. A report published by the U.S. Defense Intelligence Agency mentioned models such as the Khalij Fars, Hormuz 1 and Hormuz 2, which are based on the Fateh-110 short-range ballistic missile and could pose a major threat if combined with Iran's militarized speedboat fleet and other Iranian military assets.
"Its swarms of small boats, large inventory of naval mines, and arsenal of antiship missiles can severely disrupt maritime traffic in the Strait of Hormuz—a strategic chokepoint critical to global trade," DIA Director Robert P. Ashley Jr. said of Iran's military in a preface to the November report. "Each of these forces are becoming increasingly survivable, precise, and responsive."
Iranian supreme leader Ayatollah Ali Khamenei has long banned the production of nuclear weapons by Islamic ruling, but the country has against stepped up uranium enrichment as the international nuclear agreement was strained. European signatories have struggled to normalize trade with Iran due to U.S. sanctions as fellow parties China and Russia blamed the U.S. for stirring up tensions in the region.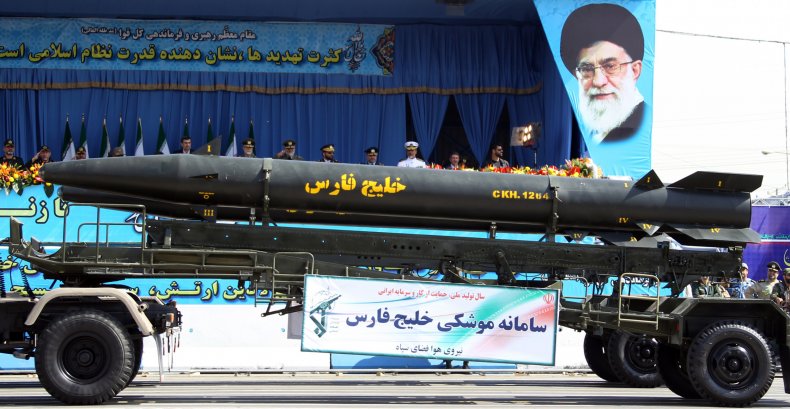 Tehran has eyed both Beijing and Moscow for potential arms deals come October when a United Nations Security Council weapons ban was set to expire. The three nations conducted joint naval exercises near the Indian Ocean and Gulf of Oman late last year in maneuvers recently seen in footage aired Friday on Iranian television.
Iran has sought to also secure support from regional Arab states more closely aligned with the U.S., but Iranian President Hassan Rouhani's vision of a Coalition for HOPE, or Hormuz Peace Endeavor, has yet to manifest as countries like Bahrain, Saudi Arabia and the United Arab Emirates instead joined the Pentagon-led International Maritime Security Construct.
On Thursday, Secretary of State Mike Pompeo discussed what he called "Iran's destabilizing behavior" on consecutive phone calls with his counterparts from Kuwait, Qatar and the UAE.
While the relationship between Washington and Tehran remains rocky in the Persian Gulf, it was in Baghdad where the two exchanged their first direct hostilities in decades. In January, a U.S. drone strike killed Revolutionary Guard Quds Force commander Major General Qassem Soleimani, prompting a retaliatory Iranian missile strike on Iraqi bases housing U.S. and allied troops.
Iraq has continued to witness clashes between the U.S. and local militias aligned with Iran and their mutual foe, the Islamic State militant group (ISIS) has sought to take advantage of the unrest, as well as the ongoing novel coronavirus pandemic, to further its own goals.