Global Coronavirus Pandemic Creates New Paths for Militants, Rebels and Gangs to Establish Legitimacy, Report Says
The novel coronavirus pandemic presents new challenges for both governments and the forces confronting them, but militants, rebels and gangs are finding ways to use the crisis to their advantage by using it to establish legitimacy and further challenging overburdened state institutions, a conflict monitor has found.
The Armed Conflict Location & Event Data (ACLED) Project follows violence and protests around the world and since mid-March has set out to analyze how the coronavirus is influencing some of these restive regions through its COVID-19 Disorder Tracker (CDT). The new project seeks to "monitor changes in demonstration activity, state repression, mob attacks, overall rates of armed conflict, and more" as they relate to the pandemic that has infected more than 2 million people worldwide.
The latest CDT bulletin, tracking events from March 29 through April 4, included spotlights spanning multiple continents. In Latin America, Mexican drug cartels are contending with border closures disrupting their drug trade and leading to new violence among competing factions. Across parts of Africa and the Middle East, the Islamic State militant group (ISIS) is taking advantage of the chaos caused by the new coronavirus to foment discord by stepping up attacks.
ACLED research director Roudabeh Kishi, who leads the CDT project, pointed to these two trends as examples of how "armed, organized groups not only adapt to shocks—both internal ones as well as external ones, like COVID-19—but also can use them to further their goals."
Such irregular forces are not just stirring up trouble, however. Many are also finding ways to fill the gaps left by official institutions struggling to cope with the public health burden imposed by the pandemic.
"In regard to conflict, one of the more surprising developments has been in seeing non-state violent actors take on governance roles—like criminal gangs in Brazil enforcing curfews, or the Taliban disseminating PPE, or Hamas establishing quarantine facilities," Kishi told Newsweek.
"Such steps can build legitimacy for actors, expanding their support base," she added. "Such steps, coupled with continued efforts to combat state forces, can make such adversaries increasingly difficult to defeat."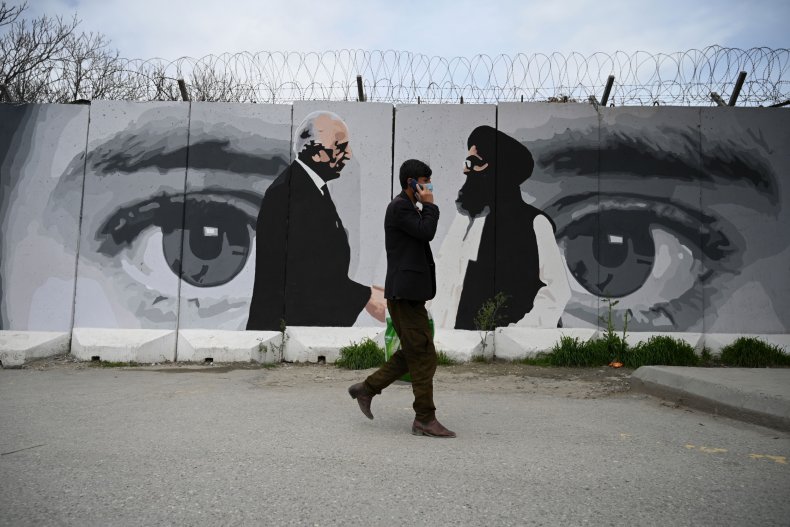 In Afghanistan, longtime enemies the United States and the Taliban have both urged the government to release militant prisoners amid concerns that they could be exposed to the pathogen. The release of detainees was outlined in a historic peace deal signed in late February by the U.S. and the Taliban insurgency it has tried to crush since 2001 but the administration of Afghan President Ashraf Ghani was excluded from the negotiations as the Taliban has yet to recognize Kabul's central authority.
Talks between the two rival Afghan factions were supposed to begin last month but have been repeatedly delayed amid mutual suspicions. With little progress made in spite of pressure from the U.S., the Taliban suspended its involvement in the dialogue last week, a move that the latest CDT report said "raises concerns over a new escalation of violence."
Elsewhere, warrings sides have already broken or outright ignored the United Nations' calls for ceasefires amid the pandemic.
"Of course we've seen the most direct link between the virus and the course of a conflict in the announcement of ceasefires in light of the pandemic—though their efficacy has been anything but consistent across cases," Kishi told Newsweek.
The most recent CDT write-up saw belligerents fight on unabated in Libya and Yemen. Al-Qaeda too ramped up violence in Yemen, targeting the Ansar Allah, or Houthi, movement that is engaged in a five-year war with a Saudi-led coalition. Across the Gulf of Aden, Somalia's Al-Qaeda-linked Al-Shabab assassinated a regional governor and executed suspected spies as the militants defied U.N. pleas for a pause in bloodshed as COVID-19 caused casualties across the globe.
While Southeast Asia saw continued clashes between security forces and insurgents in Indonesia, Myanmar and the Philippines, Thailand's Barisan Revolusi Nasional Melayu Patani separatists declared what ACLED described as a "de facto ceasefire," though the group itself did not use that exact term, nor did it reference U.N. appeals to stop fighting.
Around the world, demonstrations were also impacted by the new coronavirus spread in different ways. While the disease effectively halted the momentum of months-long protests in countries like Chile and Iraq, Kishi explained that many protesters found ways to express themselves in non-traditional manners.
"Demonstrations from cars have been seen in South Korea and Philadelphia, pot-banging protests can be heard in Brazil, coordinated one-person protests have been seen in Russia, protests from balconies can be seen in Spain, online protests were reported in Taiwan—all showing that people have been trying to adapt to continue making their voices heard despite the current obstacles in their way," Kishi said.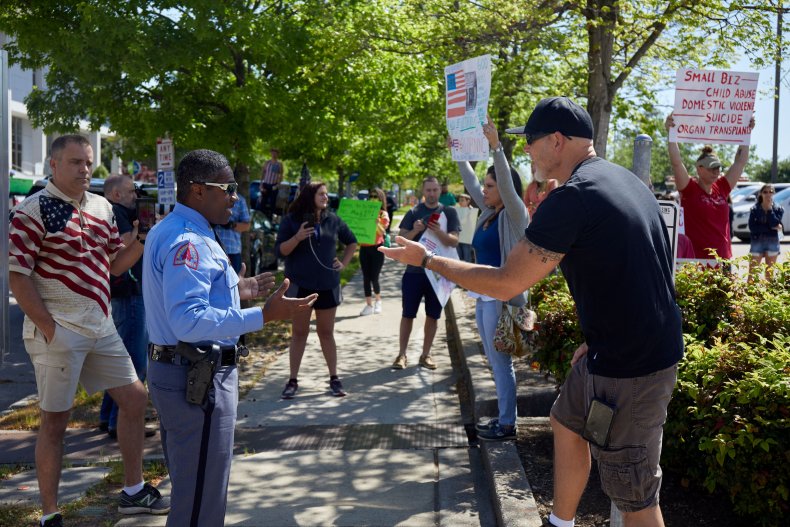 The United States, the nation hit worst by COVID-19, is not featured in the CDT project. However, earlier this year, the country was included alongside Africa's Sahel region, Mexico, Yemen, India, Somalia, Iran, Afghanistan, Ethiopia and Lebanon on ACLED's annual list of Ten Conflicts to Worry About. The January report warned of a "developed, democratic political system at risk of turning violent" in the U.S., because of worsening political violence on the backdrop of mass shootings, hate crimes and police brutality.
Kishi, who authored the U.S. section of that list alongside ACLED communications manager Sam Jones, said she and her colleagues "hope to extend coverage to the region soon, especially in the lead up to the elections later this year." While she explained how the country has "yet to see violent political instability in the wake of the pandemic, as it primarily seems that people are waiting and being patient for now," she highlighted some worrying trends.
"There have been stark disparities in where and who has been most affected thus far; there has been eroding trust in government institutions; and there is a concern over authoritarian practices with an election coming forward," Kishi told Newsweek. "These are all concerns—compounded by the possible economic depression that will be sure to influence very clear 'winners' and 'losers' in its wake.
"In the U.S., there are many communities who might consider themselves to benefit from disorder: some to keep what they have; others to draw attention to the disparity in how people live and the risks that they endure," she added. "As such, all of these concerns do not bode well for ensuring stability going forward."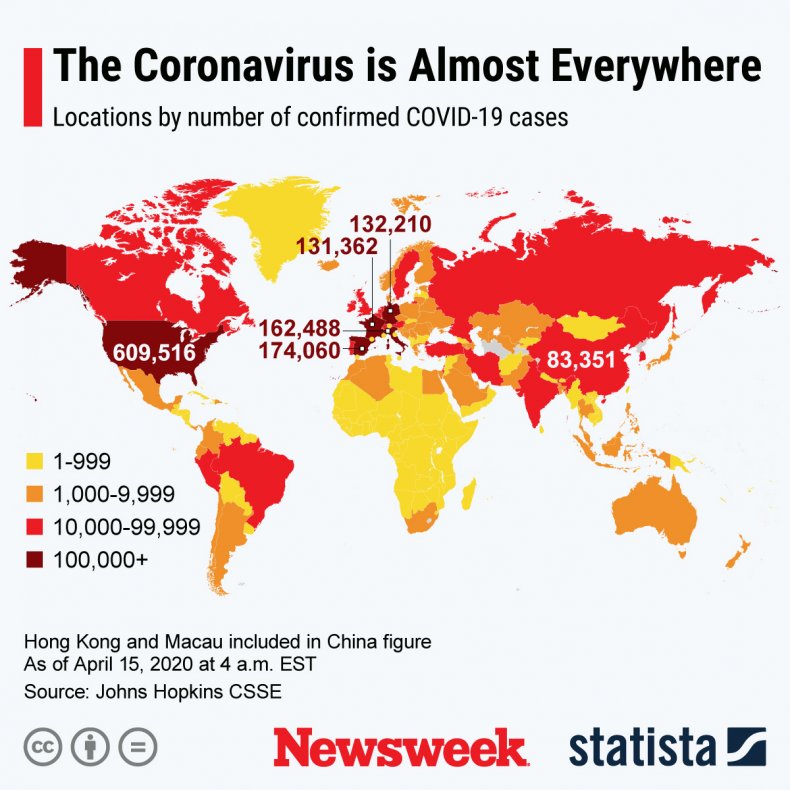 The above graphics were provided by Statista.