Russia vowed to support Venezuela in its campaign to counter U.S.-backed regime change after the Pentagon sailed warships nearby in the Caribbean to challenge the Latin American country.
On Wednesday, Russian Foreign Minister Sergey Lavrov called Venezuela his country's "reliable friend both in Latin America and in the international arena as a whole" during a meeting with Venezuelan counterpart Jorge Arreaza in Moscow.
The city hosted foreign guests to commemorate the 75th anniversary of the end of World War II. Lavrov noted the strategic partnership between the countries, saying "bilateral relations are progressing in such spheres as energy, industry, agriculture, high technology, pharmaceutics and military-technical cooperation."
The Venezuelan Foreign Ministry said the two sides "strengthened the ties of brotherhood and cooperation," according to a statement.
Venezuelan President Nicolás Maduro is facing pressure from Washington and its allies to step down. But Lavrov recognized the socialist country as "a mainstay for countering the attempts to draw the region back into the 19th century and to impose the Monroe Doctrine"—referring to a two-century U.S. policy of intervention in Latin America.
"We strongly support your commitment to combating foreign diktat and any attempts at blatant interference in the domestic affairs of a sovereign state, opposing any attempts at a forced regime change," Lavrov said.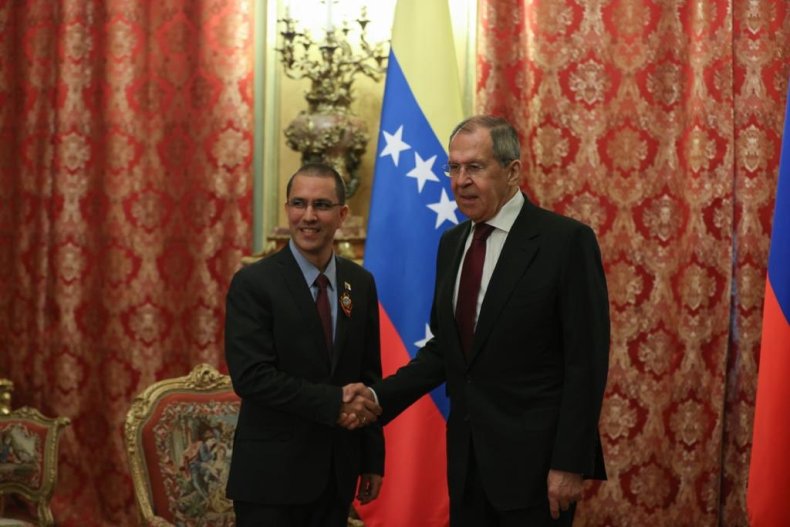 On Tuesday, U.S. Navy Arleigh Burke-class guided-missile destroyer USS Nitze conducted what U.S. Southern Command (SOUTHCOM) called a "freedom of navigation"operation designed to challenge "an excessive maritime claim" by Caracas.
SOUTHCOM said that the warship sailed outside of a 12-nautical mile zone recognized internationally as Venezuela's territorial limit. The USS Nitze "lawfully navigated an area the illegitimate Maduro regime falsely claims to have control over, a claim that is inconsistent with international law," according to a news release.
"The United States will continue to fly, sail and operate wherever international law allows, preserving the rights, freedoms and lawful use of the sea and airspace guaranteed to all nations," said SOUTHCOM commander Navy Admiral Craig Faller said in a statement. "These freedoms are the bedrock of ongoing security efforts, and essential to regional peace and stability."
Contacted for further information, SOUTHCOM spokesperson Jose Ruiz told Newsweek that this "freedom of navigation operation was not related to any specific event, it was completed without incident, and there was no contact with any Venezuelan vessels."
"Regarding the international waters where the operation took place, USS Nitze conducted the Freedom of Navigation (FON) operation in order to challenge Venezuela's excessive maritime claim of security jurisdiction from 12 to 15 nautical miles along its coastline and prior permission requirement for military operations within the Exclusive Economic Zone, which are contrary to international law," Ruiz added.
The operation was the second of its kind this year near Venezuela and the first since the U.S. announced in April the Enhanced Counter-Narcotics Operations designed to curb the flow of drugs through the Caribbean and Eastern Pacific Ocean. Officials from Cuba, Venezuela and the U.S., however, have told Newsweek that the operation was intended to place further pressure on Maduro and distract from the ongoing novel coronavirus outbreak at home.
Early last month, two ex-Green Berets were those who attempted an armed incursion into Venezuela blamed by the Maduro administration on Washington, which accused Caracas of spreading misinformation.
Tensions rose further weeks ago with the arrival of five Iranian tankers delivering 1.5 million barrels of gasoline and related components to Venezuela, whose sinking economy has continued to struggle under strict U.S. sanctions. Iran, which is also subject to tight U.S.-imposed economic restrictions, defied warnings from the Trump administration in carrying out the shipment.
On Wednesday, Secretary of State Mike Pompeo announced that the Treasury Department would add the captains of the five Iranian ships to the Office of Foreign Asset Control's Specially Designated National and Blocked Persons List. Both Iran and Venezuela were also accused of supporting terrorism in the State Department's Country Reports on Terrorism 2019 released that same day.
While Iran and Venezuela are both subject to U.S. "maximum pressure" campaigns, their leaders have signaled some willingness to talk with the Trump administration in recent days. After President Donald Trump appeared unenthusiastic about backing Venezuela's opposition leader Juan Guaidó and suggested he may be willing to meet with Maduro in an interview with Axios on Friday, the Venezuelan president said he would sit down with Trump.
Trump clarified on Monday, however, that such a meeting would be to ensure the Maduro's departure, a policy in place since January of last year when the U.S. cut ties with his government and instead endorsed Guaidó in the wake of joint Russian-Venezuelan drills in the Caribbean. Trump has continued to accuse Maduro of corruption and human rights violations.
"Unlike the radical left, I will ALWAYS stand against socialism and with the people of Venezuela," Trump tweeted. "My Admin has always stood on the side of FREEDOM and LIBERTY and against the oppressive Maduro regime! I would only meet with Maduro to discuss one thing: a peaceful exit from power!"