Iran Seeks Deals with Russia and China To Build Coalition to Resist U.S.
Iran is seeking to extend a 20-year deal with Russia at the same time that the Islamic Republic negotiates a quarter-century agreement with China, signaling a new push to establish an international coalition against U.S. economic and political pressure.
Iranian Foreign Minister Mohammad Javid Zarif arrived Tuesday in Moscow for talks in which he sought the renewal of a two-decade agreement for cooperation between the two countries. The contents of the pact were not made public but it follows a landmark deal involving oil and arms sales, as well as nuclear cooperation signed on March 12, 2001, by Russian President Vladimir Putin and former Iranian President Mohammed Khatami.
Putin spoke with his contemporary Iranian counterpart Hassan Rouhani ahead of Zarif's arrival in a conversation Thursday that covered the novel coronavirus pandemic, the Iran nuclear deal, the war in Syria and bilateral topics including "the implementation of large joint energy projects."
The agreement, which Zarif said both sides "agreed to conclude," comes about a week after the leak to various news outlets of an 18-page document purported to be the draft of a comprehensive deal with China. This deal, the contents of which Iranian officials have said have yet to be finalized, included about $400 billion of Chinese investment in Iran's energy sector and infrastructure.
The interests of Tehran, Moscow and Beijing appear to be converging in a way that experts say could prove a challenge to the United States' attempts to maintain dominance over international order.
"The three countries find themselves coming together for both strategic and pragmatic reasons," Guy Burton, an associate professor at Official Vesalius College in Brussels, told Newsweek. "Strategically, they share a common aversion to a U.S.-led world order. Pragmatically, it makes sense to work with each other."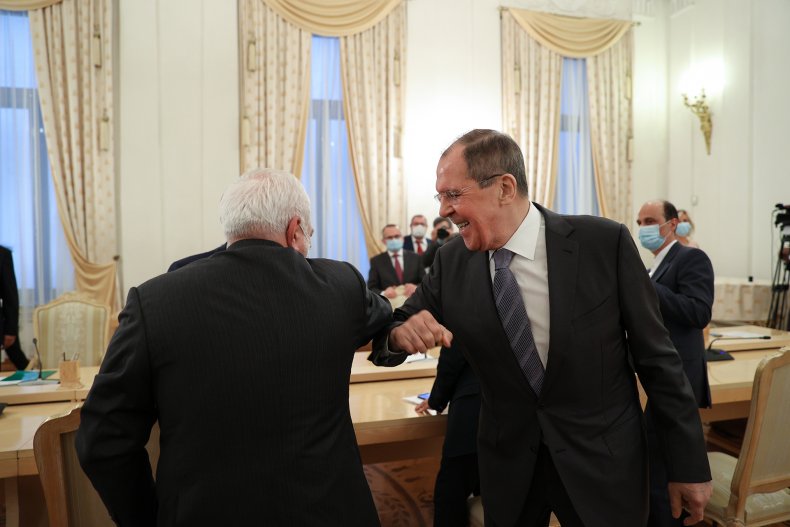 Iranian President Hassan Rouhani's administration initially embraced closer ties with East and West as he helped to forge an unprecedented nuclear deal signed by China, France, Germany, Russia, the United States and the United Kingdom. Trump's 2015 exit, however, was followed heavy sanctions on Iran that have impeded on Europe's willingness to do trade with the Middle Eastern country.
Hamidreza Azizi, a visiting fellow at the German Institute for International and Security Affairs, said the U.S. strategy has forced Tehran's hand in entering Moscow and Beijing's fold. He called the recent deals "something totally unprecedented in the history of the Islamic Republic, as a political system which was based—among other things—on the idea of rejecting alliances with great powers."
"Meanwhile, this happens at the same time as disagreements and political conflicts between Russia and China on the one hand and the U.S. on the other have been increasing; so, Iran apparently also sees a proper situation at the international level to move forward with this new foreign policy vision," he added.
Russia and China have in recent years forged an increasingly tight strategic partnership involving energy, economics and defense. This relationship has the potential to reshape the international balance of power and has raised deep concerns for Washington, which has levied sanctions on both countries to varying degrees in an attempt to contain its strategic competitors.
Like Iran, however, Russia and China have responded with defiance. Moscow and Beijing have pressed forward with ambitious projects abroad, including an emboldened presence in the Middle East. Late last year, Iran joined Russia and China for an unprecedented series of naval exercises in the Indian Ocean in spite of high tensions in the Persian Gulf.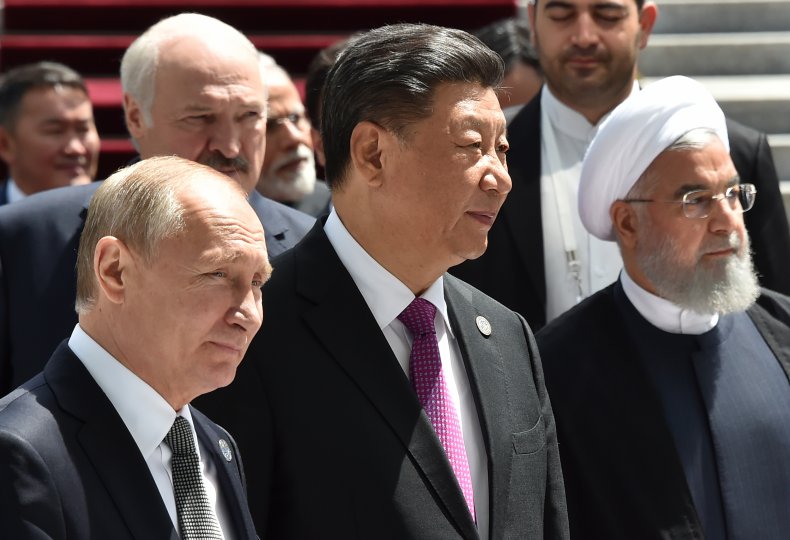 But Russia and China—secular powers that do not share Iran's revolutionary ambitions in the Middle East—have been careful not to strain diplomatic and economic ties with Iran's regional foes such as Israel and Saudi Arabia. Iranian officials also emphasize that their country's international dealings have more to do with advancing its own interests than with inflicting harm on any adversaries.
"Iran pursues foreign policy in line with its national interests," Iranian mission to the United Nations spokesperson Alireza Miryousefi told Newsweek.
"Both China and Russia have proven to be valuable partners, including in the economic field, and any cooperation agreement with either nation will be transparent, and beneficial to both parties as well as to the larger region," he added. "Our cooperation with China and Russia is not against any country in the region or beyond."
While Tehran's deals come at a time of hardship for the Islamic Republic, they also coincide with a difficult period for Washington. The U.S., struggling with the coronavirus and the recession caused by it while managing civil unrest, has also pursued hardline, unilateral foreign policy that has created conditions for countries such as Iran, Russia and China to find common ground.
"U.S. policy in the Trump years—mainly in the Middle East but also beyond—have succeeded in driving U.S. rivals into each other's arms," Michael Kugelman, deputy director of the Asia Program and senior associate for South Asia at the Wilson Center, told Newsweek.
"We should view these emerging deals as pushback and payback against the U.S., but also as U.S. rivals sensing an opportunity—with America increasingly absent and unpopular around the world—to strengthen their own power at a moment when the world order is in flux and rudderless," he added.
Correction July 24, 2020, 11:47 a.m.: This story has been updated to reflect the reported figure of Iran's draft deal with China. It is $400 billion.