Can Iran Get China and Russia's Military Support? U.S. Rivals Play Cautious Game Near World's Most Important Oil Route
Iran has sought wider international partnerships in countering President Donald Trump's self-styled "maximum pressure" campaign against the Islamic republic, looking especially for more help from the U.S.' two top competitors, Russia and China.
General Ghadir Nezami Pour, chief of international affairs and defense diplomacy for the Iranian military's general staff, told the country's Mosalas magazine Saturday that Iran has "begun joint exercises with other countries, and for the first time since the Islamic Revolution, we will hold joint naval exercises with Russia and China as the two major powers in the northern Indian Ocean and the Oman Sea." The announcement came at a time of especially heightened tensions in the nearby Persian Gulf.
Exactly a week earlier, crucial Saudi oil sites were targeted by attacks claimed by Yemen's Ansar Allah, or Houthi, the Zaidi Shiite Muslim movement that's been battling a coalition led by the kingdom, but both Washington and Riyadh have increasingly blamed Iran itself. Tehran, which also denies direct ties to the Houthis, has dismissed any accusations of its alleged involvement in the strikes.
Facing a U.S.-led "International Maritime Security Construct" joined by Australia, Bahrain, Saudi Arabia, the United Kingdom and the United Arab Emirates, Iranian President Hassan Rouhani introduced his plans Sunday for a "coalition for hope" called the "Hormuz Peace Endeavor." At a small meeting of journalists in New York, Iranian Foreign Minister Mohammad Javad Zarif later revealed invitations would be extended to all countries along the critical Strait of Hormuz⁠—as well as to Russia and China.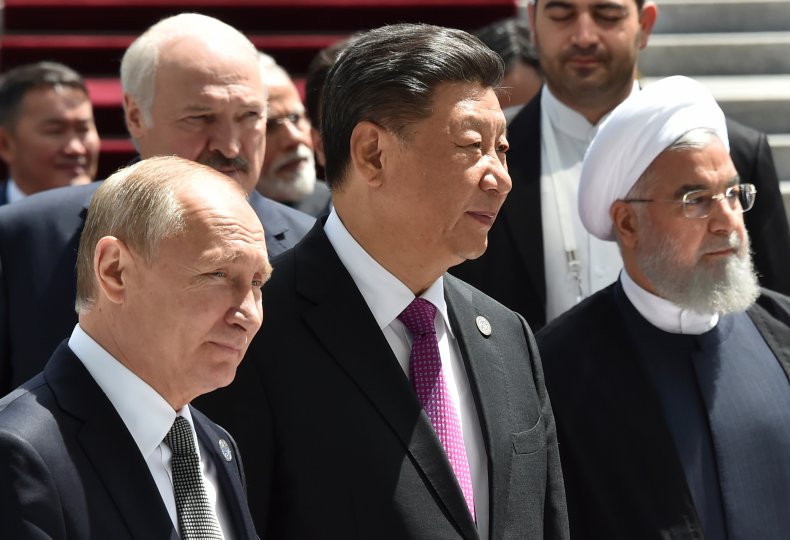 Russia and China joined the U.S. and Iran's 2015 nuclear deal, which was also endorsed by the European Union, France, Germany and the United Kingdom. Trump abandoned the deal last year and, though European powers have struggled to live up to their commitments under threat of Washington's subsequent sanctions on Tehran, Moscow and Beijing have maintained regular business ties with the revolutionary Shiite Muslim state.
The regional head of Crimea, a territory annexed by Russia from Ukraine in a 2014 move that triggered a wave of economic and political blowback from the West, even suggested last month Iran be allowed to use the contested territory to bypass other channels in selling its oil abroad in defiance of U.S. sanctions. Moscow and Tehran have also expanded military cooperation, signing a memorandum of understanding to deepen their naval ties in July.
At that ceremony, Iranian naval commander Rear Admiral Hossein Khanzadi first revealed plans for joint Iran-Russia navy drills in the northern Indian Ocean. Earlier this month, Zarif confirmed the reports, adding that "maybe other countries will also be interested in joining these drills," as quoted by the state-run Tass Russian News Agency.
Moscow has not confirmed its participation in such maneuvers, but already worked alongside Tehran in Syria. Various Russian officials have expressed skepticism toward the expansion of U.S. military assets in the region as a response to accusations of Iran's "bad behavior," instead calling for de-escalation and backing Tehran's vision for a robust regional dialogue.
China has expressed a similar point of view, joining Russia in both condemning the strikes on Saudi Arabia's Abqaiq and Khurais oil facilities, while at the same time cautioning countries against blaming Iran preemptively. Asked Monday about Beijing's potential involvement in upcoming exercises with Tehran and Moscow, Chinese Foreign Ministry spokesperson Geng Shuang offered a vague response, telling a news briefing only that "the Chinese armed forces maintain normal exchange and cooperation with armed forces of other countries."
He referred reporters to the Chinese military, which has yet to release any information regarding the exercises.

Jacopo Scita, an H.H. Sheikh Nasser al-Mohammad al-Sabah doctoral fellow at Durham University's School of Government and International Affairs, pointed out "that the news of the possible joint navy drill came from Iranian sources and has not been reported or confirmed by Chinese and Russian state media," though he did note that "an Iranian high-profile military delegation visited China in the past weeks, where they were invited to visit a marine base and navy facilities in Shanghai."
"It is quite obvious that Chinese and Iranian officials discussed military cooperation, technologies, and even future joint drills. However, I believe it is unlikely that such a drill will happen soon, especially given the very sensitive moment in the Persian Gulf," Scita told Newsweek. "China has always been very careful to balance its position between Iran and Saudi Arabia and, in the aftermath of the Aramco attack, a major naval exercise with Iran and Russia in the Sea of Oman will send a message not attuned to Beijing's usual posture."
"The impression is that Iran is really trying to picture its relationships with Russia and China stronger than what they actually are," he explained, calling it part of "an Iranian attempt to put pressure on both the U.S., dismissing the idea that 'maximum pressure' is isolating Iran, and on Russia and China too, in the attempt of pushing the two countries to support Iran more openly and actively."
Farhad Rezaei, an Iran-focused defense and security analyst based in Ottawa, told Newsweek that "Iran probably wants to send multiple messages."
"First, to show that its has the support of China and Russia if attacked by the United States, especially since this announcement comes at a time when Washington declared it would send more forces and missile defense capabilities to Saudi Arabia (following the strikes on the Aramco oil facilities, which was attributed to Iran)," he explained. "Second, Iran also tries to reassert its presence in the waters with help of the Chinese and Russians especially since the announcement of the drill coincides with Washington's declaration that it is forming a naval mission with the other regional countries including Saudi Arabia and UAE."
Like Scita, however, he noted that "there are a number of issues that should be taken into consideration" when it came to speculation about a growing axis among Iran, Russia and China.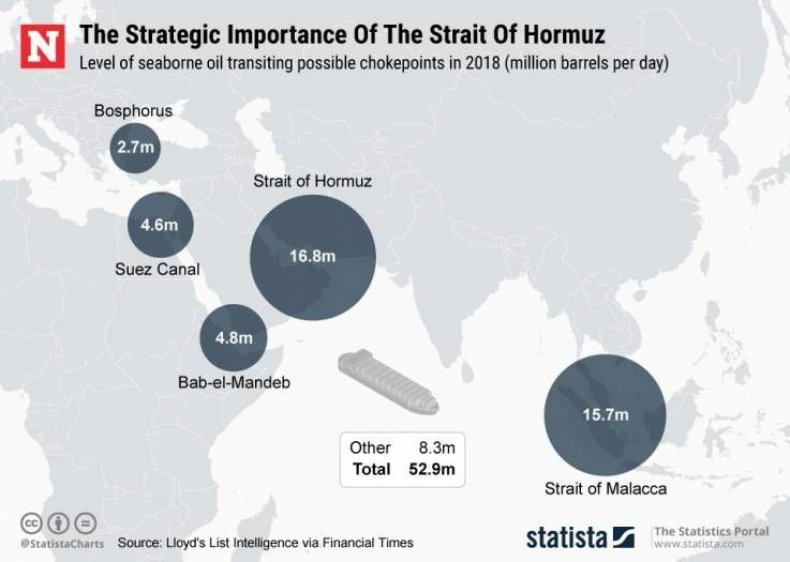 "First, China and Russia are also partners of Saudi Arabia and Israel as well, and they are not happy with Iran's harassing of the kingdom and its verbal attack on Israel," Rezaei told Newsweek. "Second, the Chinese are not happy with Iran's actions in the waters and its alleged attack on Aramco, because that will cause a remarkable increase in the oil price."
Russia may be a major oil-and-gas-producing nation, but China continues to rely on imports from the Middle East. Scita explained that "Beijing keeps buying Iran's oil despite sanctions partly in the attempt to lower the chance of an escalation in the Persian Gulf—which will jeopardize China's energy security and its approach to the region."
So far, however, both Moscow and Beijing have largely blamed the recent unrests on Washington's decision to leave the nuclear deal in the first place, and both powers have sought to rein in what they saw as a hegemonic U.S. military power gradually growing around the world's most important maritime oil chokepoint.
Rezaei added: "Regardless of Iran's intention, the drill is part of Russia and China's collective security concept for the Gulf's waters to remove the U.S. military presence from that region."