China and Russia Are Getting Along Better Than Ever, the U.S. Has Only Made It Easier for Them
China and Russia have forged a strategic partnership that has only grown tighter as the United States tried to curb their geopolitical rise — it's far from a perfect relationship, but experts say they appear determined at improving it as they seek to expedite a global economic shift to the East.
Moscow and Beijing's history lends itself to complex ties between two geopolitical powerhouses that have both worked with and against one another in the modern era. Today, they find themselves at the dawn of what many analysts are calling a multipolar world in which Washington feels its post-Cold War dominance is threatened, and that may just be the case, but only if working together remained in its two top challengers' best interests.
Velina Tchakarova, head of the Austrian Institute for European and Security Policy, coined the term "Dragonbear" back in 2015 to describe what at the time was still an emerging trend. She told Newsweek that this "is neither an alliance nor a marriage of convenience, but rather a temporary asymmetric relationship, in which China is predominantly the agenda-maker while Russia is mostly the agenda-taker."
In this dynamic, "China provides the liquidity and Russia provides the natural resources and the necessary know-how in key fields such as diplomacy, defense, space, etc.," Tchakrova said, adding that "a new connectivity is being explored and expanded such as in the Arctic, Central Asia and beyond to balance the U.S.-dominated global supply chains."
"The Dragonbear is about counterbalancing arising centrifugal forces in all fields — from global economy, finance and trade, to diplomacy and political links, to military, defense and strategic alliances," she added. "But it also has a lot to do with the countries' overlapping understanding that the world is in a system transformation, whose results are unpredictable and whose implications might be very dangerous for them."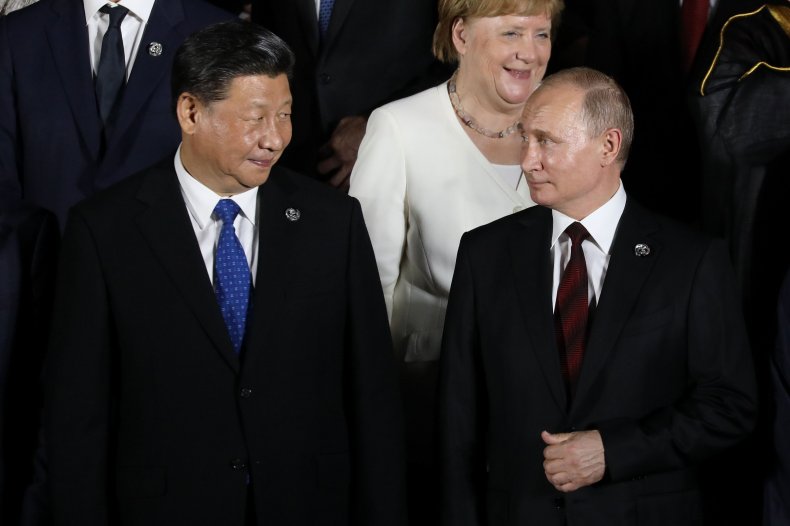 Since the 1960s Sino-Soviet Split that turned the world's two largest and most powerful communist powers against one another, the U.S. and traditional Western allies have scarcely worried about the emergence of such a cohesive bloc in the East. The fall of the Soviet Union, however, saw an almost immediate improvement in China and Russia's relationship with a series of treaties signed in 1994, 1996 and 2001 — then less than a year into President Vladimir Putin's first term.
Over a decade later and just months before Xi Jinping came to power as general secretary of the ruling Chinese Communist Party, the two countries signed the 2012 Strategic Partnership. Xi made his first-ever state visit as president to meet Putin the following year and in 2014 they signed a more potent sequel to their previous strategic partnership pact, paving the way for tight ties between two men who have been in power.
The pair have been practically inseparable ever since, meeting up to 30 times, and often declaring how their nations' ties are at "their highest level in history." At the working level, however, there's been a catch. Oleg Remyga, head of the China Unit and professor of the EMBA for Eurasia program at SKOLKOVO business school, told Newsweek that "there's a lot of mutual chemistry between the leaders, but if we look deeper at the economic ties, there is still a lot to be developed."
Remyga noted that Chinese investors officially have only put up $16 billion toward Russia during 2011-2017, "less than 3 percent of Chinese investment abroad." He explained how China has yet to offer Russia badly-needed funds in its infrastructure, instead favoring energy, agriculture and real estate. He also said that the $100 billion overall trade figure recently attained by the two was still "not so big."
Russia's relatively small economy and "high-risk" classification in China's financial sector made it a difficult partner. Remyga explained, however, that the countries have begun exploring "a new way of cooperation" on a regional, rather than the national level that has seen some "pretty good deals" appearing, especially as Washington began to press Beijing as it did Moscow.
With the U.S. cracking down on China's ascendency in economics and defense, Beijing has turned to Moscow as a vital partner in Xi's Belt and Road Initiative (BRI) that imagined new infrastructure projects across Asia and extending into Africa, Europe and even Latin America. In turn, Russia saw an opportunity in bolstering Putin's own Eurasian Economic Union (EEU) project.
"Between the BRI and the EEU, integration of those two projects is developing pretty good," Remyga told Newsweek, pointing to such ambitious projects as the Meridian highway that span over 1200 miles to connect existing junctions on Russia's borders with Kazakhstan and Belarus to create a new intercontinental road linking Europe to China.
"If it goes well, it will be a good example for big cooperation between the BRI and EEU," he added, also underscoring their efforts to move away from the U.S. dollar and conduct more deals in their national currencies, as well as the euro.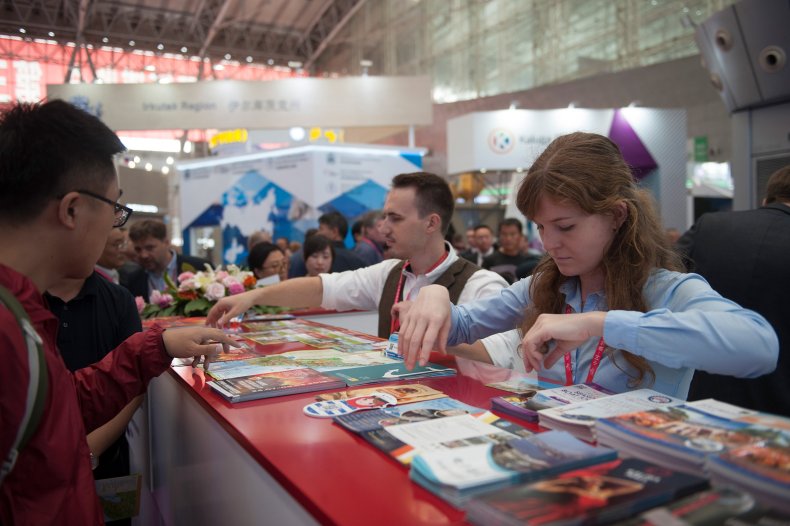 Tchakarova concurred that "there has been an agreement between China and Russia to merge the BRI and EEU in Central Asia in order to prevent third actors from entering the region or expanding their clout there as well as to accommodate Sino-Russian relations in the region." However, Tchakarova argued that "the symbiotic relationship between BRI and EEU has remained predominantly rhetorical and with a symbolic significance for the bilateral relations."
"China has interest in a defense cooperation with Russia due to Russia's possible transfer of advanced technologies and sophisticated weapons. Possible military cooperation is also a basis for the strategic bilateral ties," Tchakarova told Newsweek. "Russia still needs a powerful ally due to its isolation in the West, whereas China seeks a dependable junior partner to increase its international clout."
Remyga put this equation even more simply, describing China as "a big guy walking around with a lot of money" and Russia as the "big guy walking around with big guns." He explained how Chinese officials "are pursuing a multi-dimensional foreign policy and are not eager to be involved in any military conflicts, they diversify their positions, they talk with every country, trying to avoid harsh situations, but nowadays by taking a global position with their economy China needs allies to protect its investments abroad."
In a conversation with Newsweek in May, the Lowy Institute's Asian Power and Diplomacy Program director Hervé Lemahieu pointed out that "even though Russia only accounts for 2 percent of China's global trade flows, Moscow is crucial to China's resource security."
"China now imports 589 million tonnes of oil equivalent annually, making it the largest net importer of energy in the world. Russia has become an indispensable and strategically aligned energy supplier for China to mitigate against potential energy disruptions." Lemahieu said at the time. "Russia, in turn, has prioritized China as its leading defense partner in the region, above historically warmer relationships with Vietnam and India. Some 28 percent of Russia's military joint training exercises in the last five years have involved China."
These included their debut drills in the Mediterranean, an East-focused joint exercise with Mongolia considered to be the largest in Russia's modern history and even a new counterterrorism exercise that saw longtime rivals India and Pakistan—traditional partners of Moscow and Beijing, respectively—train alongside one another for the time ever.
"The number of joint exercises may be more and more, but there is no one talking about an about a NATO-type military alliance between China and Russia because there is no need for it," Remyga told Newsweek. "On the one hand, China needs Russia to support its interests in the Pacific: the issue of Taiwan still important, it has not been settled, another big challenge for China is that lots of oil, liquefied natural gas, coal and other energy resources crucial for Chinese economy goes through Malacca Strait—imagine if the U.S. puts its warships there to block China from getting even some of this."
"On the other hand, Russia does not want to be involved in military conflicts in Asia —Moscow needs economic cooperation here," he added, recalling last month's first-ever joint Sino-Russian military patrol that saw South Korea and Japan scrambled their jets after accusing Moscow of sending one of its warplanes over an island claimed by both Seoul and Tokyo.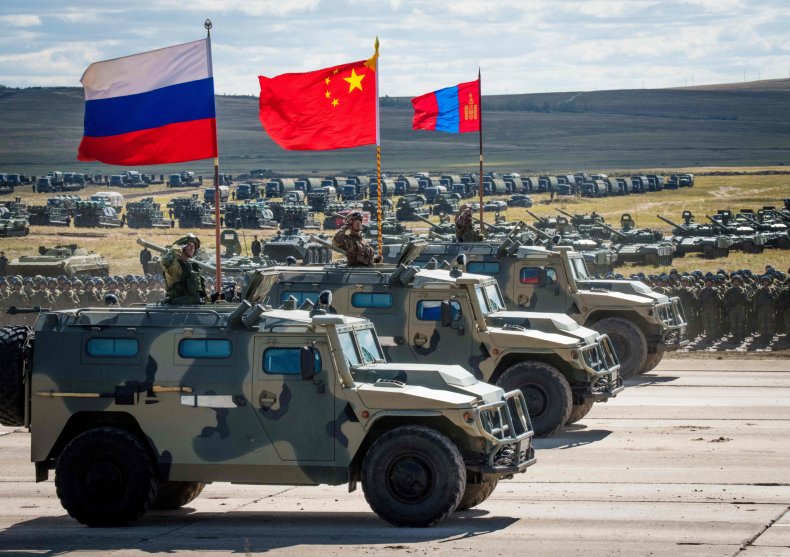 Already causing major concerns is recent unrest in an even more vital chokepoint for global maritime oil traffic, the Strait of Hormuz, where tensions between the U.S. and Iran have played out amid the backdrop of disruptions to commercial shipping. On the other side of the world from this, the U.S. and its allies have targeted another China-friendly government by offering political support to an opposition leader in Venezuela, home to the world's largest proven oil reserves in which Beijing has invested billions.
Though the U.S. itself has become largely energy independent, as President Donald Trump often touts, the country has still continued to ensure its lasting influence over the flow of resources across the globe. This, coupled with advanced U.S. missile defense systems in Eastern Europe and the Asia-Pacific that could be soon be paired with medium-range and intermediate-range missile systems following this month's collapse of the 1987 Intermediate-range Nuclear Forces (INF) Treaty has continued to provide common ground for increased Sino-Russian cooperation as a means of avoiding total domination.
Tchakarova went as far as to describe China and Russia as "natural rivals," saying "they deliberately avoid addressing issues that contain certain historical hostilities or might unleash serious tensions in their bilateral relations" and only "shifted towards comprehensive coordination in various fields following the isolation of Russia in the West (Georgia war 2008, Ukraine war 2014) as well as the newly emerging competition between the USA and China."
With Washington appearing to only harden its positions on both fronts, however, Moscow and Beijing have continued to defy expectations of an imminent rift. Tchakarova added: "So long as the Dragonbear shares the common interest in opposing the U.S. in every possible field, the systemic coordination of actions and measures between China and Russia will continue despite emerging bottom-up tensions in areas of intersection of their national interests."