Russia May Be Testing U.S. Military's World Order with Air Fight Over Asia
Warplanes from Russia and China brushed airspace claimed by both South Korea and Japan Tuesday in a rare, dramatic episode that reportedly saw shots fired in what may be the latest instance of Moscow challenging the Pentagon's global military order.
The South Korean military's Joint Chief of Staff released a statement claiming that Russian and Chinese military "invaded" the Korean Air Defense Identification Zone (KADIZ), a stretch of international airspace outside South Korea's territory, and that two Russian military aircraft then "invaded" South Korean territorial airspace over the disputed Liancourt Rocks, known to South Korea as Dokdo and to Japan as Takeshima. In response, South Korea scrambled jets and "took tactical action including dropping flares and firing a warning shot."
"This is the first time Russian military aircraft have invaded our airspace," an official from the Joint Chiefs of Staff was cited as saying in the press release.
South Korea's Yonhap News Agency provided even more dramatic details, citing one official as saying that South Korean F-15Ks and F-16Ks fighter jets first "fired some 10 rounds of flares and 80 warning shots" after the Russian Beriev A-50 airborne early warning and control aircraft failed to respond to warnings against its encroachment and then, when it re-entered South Korean airspace shortly after, the defending aircraft took "stronger military actions involving around 10 flares and 280 warning shots."
The account was entirely denied by Moscow, which has forged closer ties with Beijing and has a history of testing Washington and its allies in regions where tensions were running high.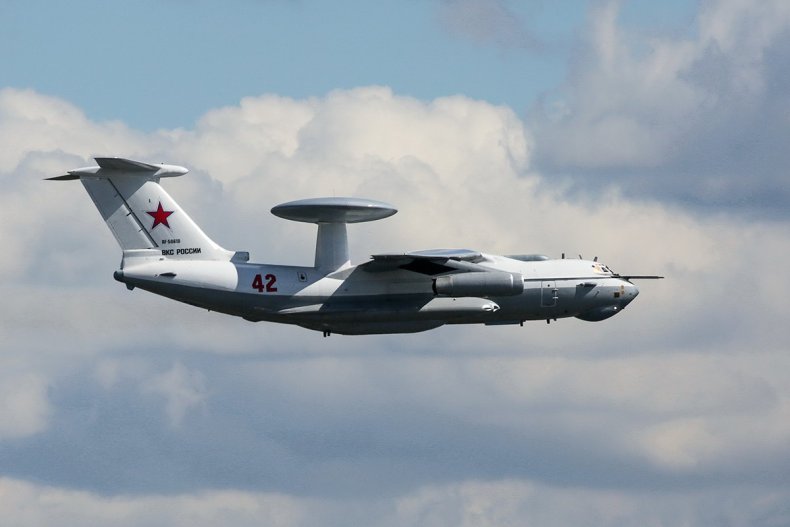 The state-run Tass Russian News Agency cited the Russia Defense Ministry as saying that Chinese H6-K and Russian Tu-95MS bombers were "air patrolling the planned route over the Sea of Japan and the East China Sea" in what was their "first joint air patrol by long-range aircraft in the Asia-Pacific region." It added: "The flights were performed as part of implementing the provisions of the military cooperation plan for 2019 and were not directed against third countries."
The ministry maintained that "according to flight data, there were no violations of other countries' airspace" and also dismissed its South Korean counterparts' reports of warning shots, arguing that "this would have triggered an immediate response" on the part of the Russian pilots. Russia has been involved in numerous buzzing incidents and interceptions in other parts of the world, including near the borders of the U.S-led NATO Western military alliance in Europe, and even off the coast of Alaska.
Chinese Foreign Ministry spokesperson Hua Chunying said at a press briefing that she was "not aware of the specific situation" regarding Tuesday's aerial event but noted that the word "invaded" should be "used with caution" as China and South Korea are "are friendly neighbors and the situation is not clear yet."
Backing up South Korea's allegations of provocative Russian behavior, however, was Japan, which at the same time felt Seoul had no right to come to the defense of the Liancourt Rocks that were claimed by Tokyo as well. The Japanese Defense Ministry said its forces "responded by launching fighters urgently" and issued a detailed report purporting to show the flightpaths of China's H6-K as well as Russia's Tu-95MS and the A-50 that Japan too said "invaded" the contested islands.
The rival deployment of South Korean and Japanese jets to protect the same land from an alleged Russian intrusion came amid a bitter falling out that has threatened ties between two close U.S. allies in the Asia-Pacific region. A South Korean court case ruled last year in favor of compensation for Japan's use of Koreans as requisitioned workers and comfort women"—considered slave laborers and sex slaves by Seoul—during World War II, practices for which Tokyo has said it already provided compensation through past agreements.
As this dispute boiled over into a trade spat that further divided South Korea and Japan, top U.S. rivals Russia and China have only grown closer over the past year. The debut of their joint drill over a region already brimming with sensitive security issues may represent a new stage in their partnership, which has also played out in opposition of U.S. interests in the Middle East.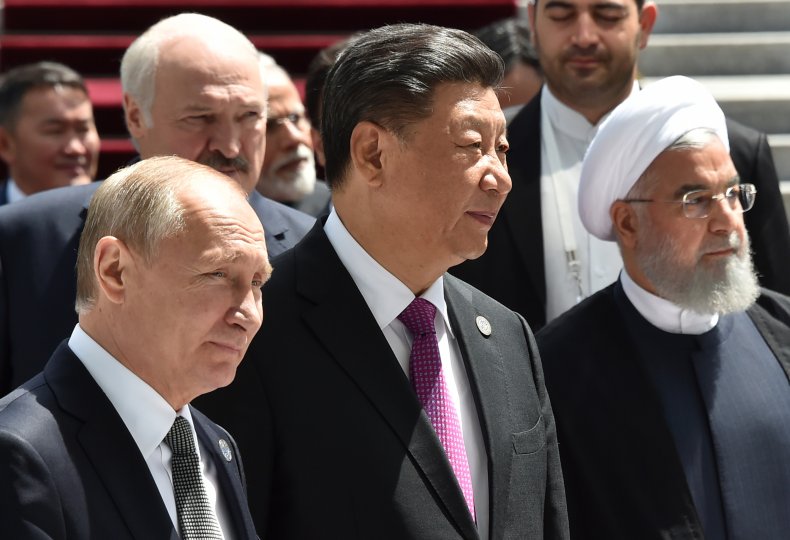 Moscow and Beijing's common interests weren't limited to the Asia-Pacific, where they both oppose the Pentagon's unparalleled, expanding infrastructure and its deployment of advanced defense systems. China and Russia were also signatories of the 2015 nuclear deal forged by the U.S. and Iran, as well as the European Union, France, Germany and the United Kingdom. The diplomat landmark promised Tehran sanctions relief in exchange for curbing its nuclear program, now on the verge of collapse after President Donald Trump abandoned it last year and left the remaining parties struggling to normalize trade ties with Iran.
Among the few countries in support of Trump's decision were Israel and Arabian Peninsula monarchies such as Saudi Arabia and the United Arab Emirates. These countries have backed Trump's claim that the deal did not go far enough in stopping Iran's ballistic missile program and its alleged support for militant groups, which they argue they are actively battling in neighboring countries.
Israel has conducted at least hundreds of strikes against suspected Iran-linked positions in Syria, where Tehran supported the government against a rebel and jihadi uprising initially backed by the U.S. and its regional allies, of which only Turkey remains the primary sponsor. In 2015, however, Russia staged a direct intervention on behalf of Syrian President Bashar al-Assad, helping the Syrian military and allies, including Iran-backed militias, to retake much of the country.
Israel continued to launch air raids, however, and one incident last September in which a Russian spy plane was accidentally downed by Syrian anti-aircraft fire responding to an Israeli attack led Russia to deploy advanced S-300 defenses and electronic warfare systems to the country. While the S-300 does not appear to have been used in response to subsequent Israeli incursions, repeated Israeli of disruptions in the country's GPS network suggested Moscow may have employed electronic methods.
Russia's installation included systems said to be "capable of combatting precision weapons—guided bombs and missiles that, perhaps, will be used by the same Israel, which has already stated that it will continue to target objects in the region" as well as tracking aircraft as far away as in Europe or Saudi Arabia as well. Around the same time these devices were being deployed in October, Norway reported signal jamming it tied to Russia during NATO's massive Trident Juncture exercise and, even prior to last fall, then-U.S. Special Forces commander Army General Raymond Thomas argued back in April 2018 that Russian personnel "are testing us every day, knocking our communications down, disabling" U.S. aircraft.
Though Russia and the U.S. were both involved in the battle against the Islamic State militant group (ISIS), they backed different sides, with Moscow joining Tehran in support of the Syrian government and the Pentagon ultimately opting to assist a mostly Kurdish alliance known as the Syrian Democratic Forces. With the jihadis largely defeated, the U.S. has focused more on dialing back Iranian influence in the region as a whole and has recently taken this effort to Iran's own shores near the Strait of Hormuz, the world's top oil chokepoint.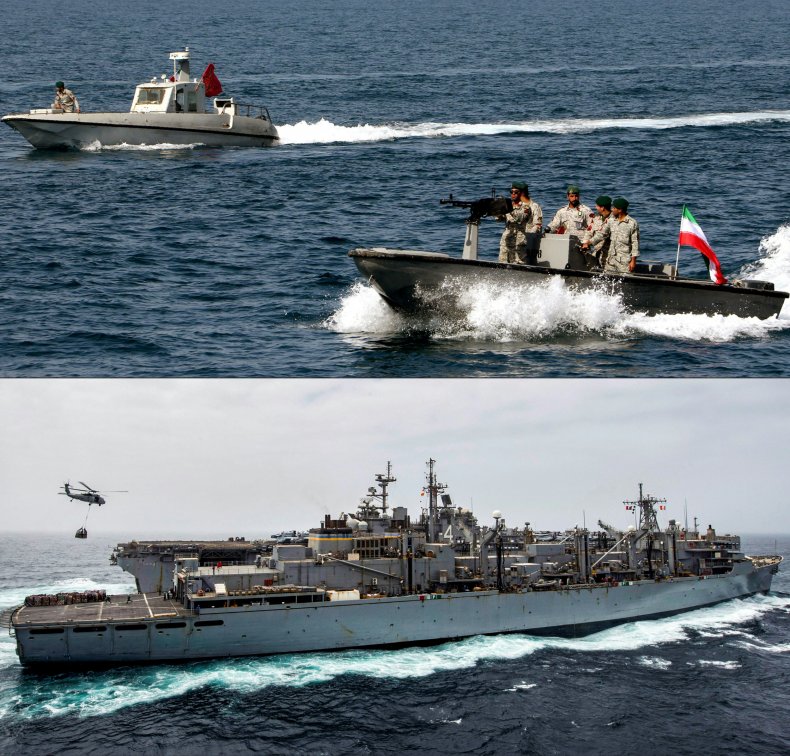 The U.S. has sent additional troops to the Middle East, including Saudi Arabia, and has deployed a carrier strike group and a bomber task force to the region in response to what it claimed was a heightened threat posed by Iran. The U.S. has also blamed the Islamic Republic for recent attacks targeting oil tankers, downing a U.S. drone allegedly in international airspace and for harassing a U.S. warship with a drone that was reportedly taken down with some of the U.S.' own electronic warfare technology.
Iran has denied these reports and claimed that the U.S. drone shot down last month by the Revolutionary Guards had entered its territory—an account backed by Russia's national security chief at a meeting last month with his U.S. and Israeli counterparts. Moscow officials have also backed Iran's explanation for seizing a U.K. oil tanker accused of not following regulations as it passed through the Strait of Hormuz weeks after the U.K. seized an Iranian supertanker charged with violating EU sanctions by attempting to transport oil to Syria.
While China, Europe and Russia have all called for calm, statements from Moscow and Beijing have mostly laid blame on Washington's decision to exit the nuclear deal for the current tensions, as well Tehran's decision to begin enriching uranium beyond limits outlined in the agreement.
In a conversation with media outlets in Latin America—another venue of clashing interests between Moscow and Washington—Russian Foreign Minister Sergey Lavrov argued that same day that "making Iran out to be the main culprit for everything that is happening in Syria, in the Palestinian territories, in Yemen or in neighboring countries, is a confrontational one."
"It does not help solve problems. I am convinced that Iran should be involved in the dialogue. We discuss this with our American and Israeli colleagues," he added. "I am convinced that we will defend this position more and more effectively because more and more countries understand the futility of any adventurous, aggressive military scenarios."