Donald Trump's Trade Wars Are Bringing Russia and China Together, Making It Easier for Them To Challenge U.S.
President Donald Trump's attempts to force Russia and China into political submission through economic restrictions have helped to empower budding bonds being forged between the top two U.S. rivals.

At a time when the Trump administration was waging a multibillion-dollar trade war with Beijing and doubling down on sanctions against Moscow, Chinese President Xi Jinping and Russian President Vladimir Putin discussed their common adversities at a plenary session Friday of the St. Petersburg International Economic Forum. The two leaders extolled the relationship between their nations, often described by both sides as being at the highest level in history.
Chinese Foreign Ministry spokesperson Geng Shuang expanded on this Wednesday at a press conference in Beijing, telling reporters that "the U.S. has been labeling itself as a champion for free trade and democratic principles in the world economy, but as its competitors become stronger, the U.S. has imposed various restrictions, including waging a tariff war, which will harm world economy."
Geng added that "Russia will work to gain more room for fair and democratic trading rules" and said both Moscow and Beijing "oppose unilateralism, protectionism and bullying practices." Together, he affirmed, the two have "agree to further deepen comprehensive strategic coordination and continue to work together to build an open world economy, uphold the multilateral trading system and safeguard the international system."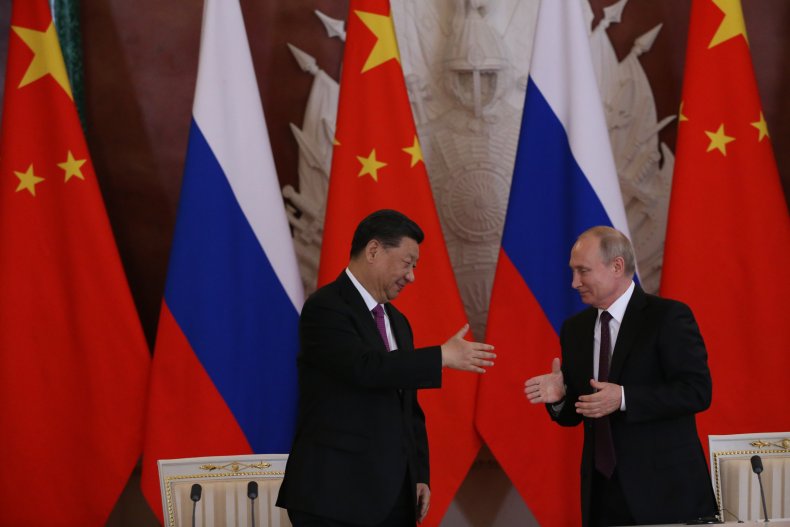 As the 2019 Asia Power Index published last month by the Sydney-based Lowy Institute revealed, China has continued to gain on the U.S.' dominant position in Asia as global economic influence moved from West to East. The report, a comprehensive study of various measures of influence and power, awarded China the highest annual improvement of any of the 25 nations ranked, though it remained a close second to the U.S. overall.
While Russia's own fifth-place score in this particular ranking was affected by its largely Eurocentric posture, Moscow did manage to influence the overall outcome by bolstering both economic and military ties with Beijing. As Herve Lemahieu, director of the Lowy Institute's Asian Power and Diplomacy Program, recently told Newsweek, "In a sense, the dynamics within the old Cold War blocs have been reversed."
"Beijing and Moscow have put old antagonisms to rest," Lemahieu said. "In many ways their bilateral partnership is on a stronger footing than the working relationships between the United States and many of its allies—whether in Europe or in Asia.
"Countries that are crucial spokes in the U.S. alliance network have experienced varying degrees of difficulty in their interactions with the Trump administration," he added. "By contrast, President Putin seems remarkably at ease as the junior partner to President Xi, within an increasingly Sino-centric order."
While the Trump administration has identified Russia and China as top adversaries in leading strategy documents due to their alleged attempts to undermine democracy and exert military pressure abroad, even traditional allies of Washington have been affected by new protectionist U.S. trade measures. Trump's tariff threats included the likes of the European Union, Canada, Mexico and Japan, frustrating even those predisposed to following the U.S.' lead.
In an attempt to capitalize on this dynamic, China and Russia have repeatedly emphasized the concept of an emerging "multipolar" world no longer dominated by the U.S. Following talks last week in Moscow, Putin and Xi signed an agreement to develop trade deals using their respective national currencies of the ruble and yuan instead of the U.S. dollar.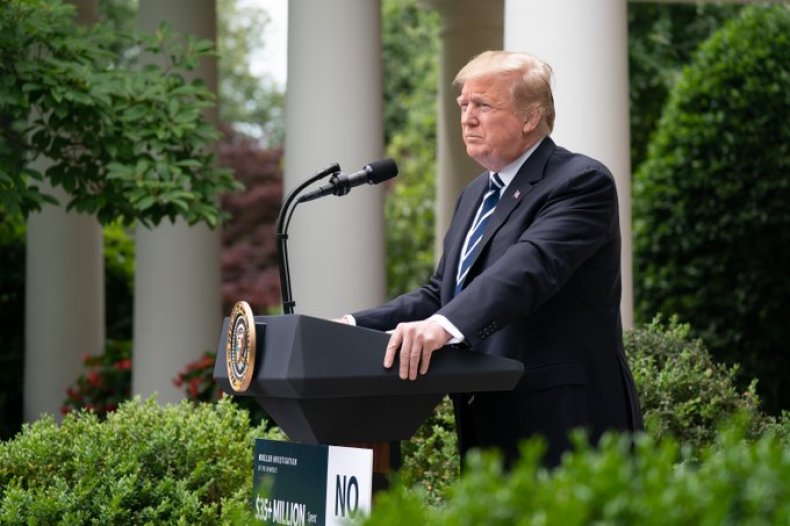 Russia and China have encouraged other countries to take similar positions, but many have struggled to do so in the face of the U.S.' unmatched influence on the global market. The EU, France, Germany and the United Kingdom all joined Russia and China in pledging to uphold their commitments to the 2015 Iran nuclear deal in the wake of the Trump administration's unilateral exit last year, but Europe has so far struggled to normalize trade with Tehran as it faced the threat of U.S. sanctions.
Moscow and Beijing, too, faced major vulnerabilities in their relationship, which continued to be marked by diverging long-term interests so far overshadowed by an immediate need for cooperation. Still, Putin and Xi have managed to cater to one another's national weaknesses. Russia has proved a key source for China's demands for energy and military experience and China has provided Russia with crucial backing on international issues, especially at the United Nations Security Council, where the two have formed a de facto voting bloc.
Many countries still share the U.S.' skepticism toward the rise of Russia and China, but continued moves viewed by allies as antagonistic may have a profound effect on the shift of global power.